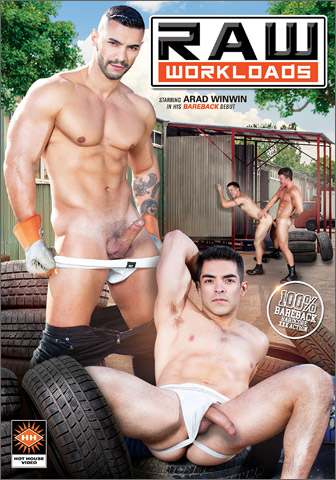 Studio: Hot House Entertainment
Directed by: Trenton Ducati
Year of Production / Release: 2019
Country of Production: U.S.A.

CAST:
Blaze Austin
Sean Duran
Cazden Hunter
JJ Knight
Zander Lane
Pierce Paris
Nic Sahara
Aston Springs
Arad Winwin
INFORMATION FROM HOT HOUSE:
When the blue-collar workers of 'Raw Workloads' get horny, all the rules go out the window and hardly any real work gets done. Sit back, and let director Trenton Ducati and these nine hung, working-class studs show off how to deliver a dick, fuck an ass bareback and take all the cum they can get from the big raw cocks of their horny co-workers and bosses. Arad Winwin finds his hired hand, Cazden Hunter, leaning against his truck instead of working. Arad teaches the slacker a lesson that involves Arad's thick raw cock balls deep inside of Cazden's tight hole. JJ Knight and Nic Sahara have been hired to organize a client's garage. The studs organize more than a cleaning when Nic bends over to get his ass stretched to the limits by JJ's massive bareback cock complete with a thick load shoved up his ass. Arad is back in action supervising another employee, Zander Lane, who's working in the storage room. When Zander notices Arad staring him down with his cock in hand, Zander takes his cue and offers up his ass until his body and face are slathered in jizz. Pierce Paris and Aston Springs are working together in the hot sun. When the heat forces them to start shedding clothes, the two studs lose interest in the work at hand and decide to fuck bare instead. Pierce stretches Aston's eager hole with his raw monster cock and pumps away until Aston crack is filled with cum. Sean Duran is searching thru a storage room for a flash drive filled with dirty content of himself. When Blaze Austin produces the drive, Sean agrees to give Blaze a taste of what's on the drive in exchange for getting it back. Blaze offers up his hairy hole and takes Sean's beefy raw meat until both studs blast their loads all over Blaze's body and big spent sack. The next time you're horny on the job, look no further than the guy next to you to give you all the 'Raw Workloads' you can handle.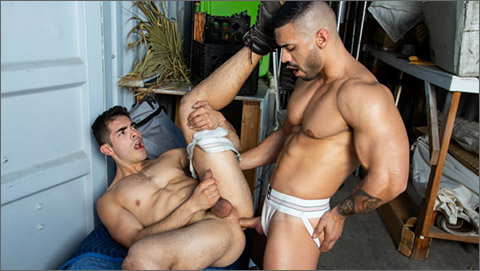 SCENE 1: Arad Winwin fucks Cazden Hunter
Arad Winwin finds his hired hand, Cazden Hunter, being lazy on the job and leaning on his truck. Arad has no time for slackers and when Cazden offers to do anything to make it up to his boss, Arad pulls out his thick, hard dick and tells his employee to get to work. Cazden needs this job so he gets on his knees to take the big, uncut dick down his throat. When Arad is rock-hard from Cazden's talented mouth, he stands his employee up and pushes him against the tool shed door. Arad can hardly wait to get a taste of Cazden's tight ass and gets to work rimming the willing stud. After opening him up with his tongue, Arad is ready to shove his raw cock deep into Cazden's bare hole. Arad bends Cazden over and starts pounding away, going balls deep with the first thrust before he picks up the pace to give Cazden the fuck of his life. Arad wants to see the look on Cazden's face as his bare cock pumps in and out so Arad flips the stud onto his back. The thrusts keep coming from Arad's cock until he fucks the cum out of his hired man and that's all it takes for Arad to let go. Arad pulls his cock out of Cazden's ass and erupts all over Cazden's freshly fucked hole. With cum leaking on Cazden's hole, Arad fucks his own load into Cazden as he shoves a dirty jockstrap into Cazden's mouth and gives him another stern warning never to touch his truck again.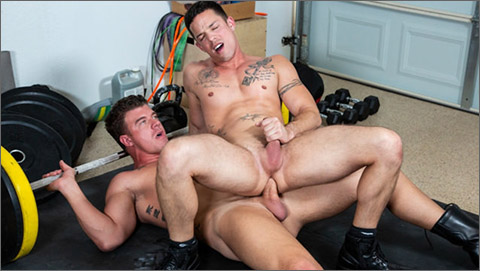 SCENE 2: JJ Knight fucks Nic Sahara
JJ Knight and Nic Sahara have been hired to organize a client's garage. After finishing the job, the two jocks play around on some gym equipment. As Nic shows JJ how many pull-ups he can do, JJ pulls down Nic's pants and starts eating his smooth hole. All the licking makes Nic rock-hard and he turns around to let JJ suck his long, uncut cock. With Nic's used-up undies pressed to his nose and Nic's dick in his mouth, JJ can't get enough of the hung stud. JJ needs his massive dick sucked too and pulls down his pants to reveal his mouth-watering monster cock. Nic can't resist the sight and gets on his knees to service JJ's pole to the base. After sucking JJ, Nic is ready for his friend in his ass and bends over to take it all. JJ slides his raw swollen dick all the way inside Nic, making the stud moan with each bareback thrust from behind. Both studs enjoy the fuck session and switch up their positions a few times until they settle on Nic getting banged on his back. JJ picks up the pace and brings the bare fucking to a frantic climax. Nic needs to cum soon and as JJ pumps his stretched-out hole, he blasts his giant load all over his ripped abs. JJ loves seeing the pleasure he's caused and pulls out to bust his nut all over Nic's spent cock and balls and then fucks the cream into Nic's throbbing ass.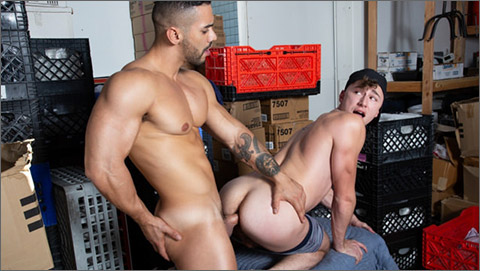 SCENE 3: Arad Winwin fucks Zander Lane
Arad Winwin gets hard watching his employee, Zander Lane, working in the storage room. When Zander finally sees Arad with his stiff dick in his hand, his only response is 'You like watching me?' A big smile comes across Zander's face and Zander gets on his knees to take Arad's cock in his mouth. He works it in and out, savoring every inch until Arad is ready to fuck Zander's bubble-butt. After a quick taste of Zander's hairy ass, Arad stands up, bends the young worker over, and plants his raw cock deep into Zander's lubed-up hole. Arad pounds him fast and bare, making Zander moan out in ecstasy. Arad's cock feels amazing popping in and out of his hole, but Zander needs the muscle stud to dig in deeper. Zander lies on his back and Arad enters him again. His muscles ripple as he continues to thrust away inside Zander's stretched hole. Arad can sense that Zander is getting close and keeps up the relentless bareback pounding until he fucks the cum out of Zander. 'Suck my dick,' Arad commands and Zander does as he's told, going ass to mouth on Arad's ready-to-burst cock. His warm mouth is all it takes for Arad to blast his load, leaving Zander's face a satisfied, sticky mess.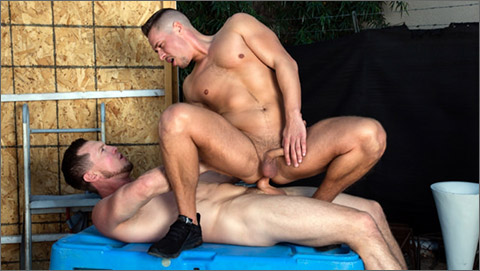 SCENE 4: Pierce Paris fucks Aston Springs
Pierce Paris and Aston Springs are working in the hot sun and decide to take off their shirts. When they get a look at each other's ripped bodies, they can no longer concentrate on the job at hand. Aston makes the first move and goes down on Pierce's monster cock, working it slowly with his tongue and taking special care with the stud's big nuts. Pierce's dick seems to never stop growing, and just as he's hitting full capacity, he knows that he needs to plant it in Aston's tight ass. Pierce bends down to take a taste of the stud before entering and gets Aston opened up and ready for his giant cock. Aston quickly offers up his hole for Pierce to own. Pierce shoves his raw cock inside and pumps hard to fill Aston with all the bare dick he can take. After taking it from behind and riding it, Aston wants to finish it off facing Pierce and his hard body. Aston lies back to let Pierce drill his prostate from a different angle. Aston's ass feels amazing, and Pierce builds to a frenzy before pulling out to cover Aston's hole with jizz. When he's done, he shoves his cum back in the hole with his giant dick and then lets Aston finish himself off. Pierce feeds Aston his cum before the two of them decide to go back to work.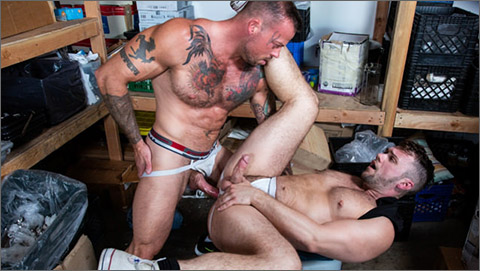 SCENE 5: Sean Duran fucks Blaze Austin
Sean Duran is looking for a hidden flash drive full of incriminating dirty content of himself when Blaze Austin enters the storage room. Blaze has the goods on Sean and the only way to get the drive back is to give Blaze a recreation of what's on the drive. Blaze gets right to his knees and works Sean's massive cock with his mouth, getting Sean hard and ready for more. Blaze knows what Sean wants and bends over to offer up his hairy hole for licking. Sean can't resist shoving his face into Blaze's crack and tongue-fucks the stud until he can no longer hold off sticking his bare dick deep into Blaze. Sean stands up and pumps the young stud hard and raw as Blaze tells Sean what to do: 'Fucking pound me! Use my ass! Fucking tear it up!' Sean takes each command seriously and fucks Blaze even harder, eventually getting Blaze on his back. Sean pumps relentlessly as Blaze squeezes his asshole and shoots a load all over his face. Blaze's tight ass brings Sean to brink and he pulls out to blow his load all over Blaze's dingy jockstrap and plump, spent balls. A dirty pig, Blaze gets between Sean's legs to go ass to mouth and clean up Sean's sticky dick with his tongue.

WATCH IT NOW / MORE INFO AT:
HOT HOUSE ENTERTAINMENT
Hot House Backroom Members can see this film anytime online.
With extensive additional photography from every scene.