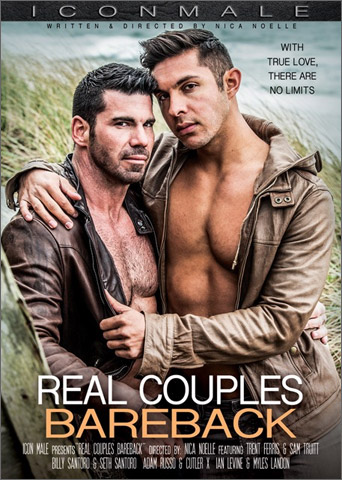 Studio: Iconmale
Directed by: Nica Noelle
Year of Production / Release: 2015
Country of Production: U.S.A.

CAST:
Cutler X
Trent Ferris
Myles Landon
Ian Levine
Adam Russo
Billy Santoro
Seth Santoro
Sam Truitt
PROMOTIONAL INFORMATION:
Come inside the bedrooms of four of gay porn's hottest real life couples and take part in the intimacy, passion and vulnerability they save only for each other. In IconMale's only bareback series, you'll witness true lovemaking with no boundaries between couples who share a mutual trust and devotion for each other.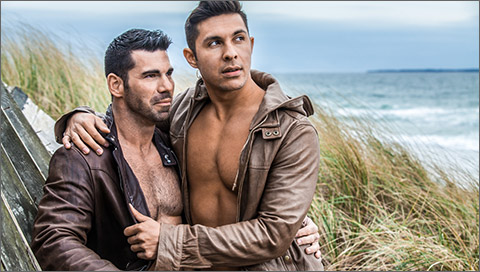 SCENE 1: Billy Santoro & Seth Santoro
Witness a true intimate encounter between porn power couple Billy and Seth Santoro. With absolutely no holding back, hot real-life passionate bareback sex follows an interview that fans won't want to miss. From the physicality of first impressions to the nurturing nature of unconditional love.
   Pulling his shirt over his head, Seth reveals his pert nipples on a smooth muscular chest. Pulling his husband close to him, Billy kisses his husband from top to bottom, kissing his smooth stomach, his hand caressing his abs up and down. Billy carefully pulls off Seth's pants, exposing toned thighs lightly dusted with hair. Sliding off his partner's briefs, his thick lips savor Seth's stiff rod from base to tip before taking his whole cut cock into his mouth.
   Seth grabs his husband's ass, before he takes Billy's shaft in hand, working his lips up and down over Billy's domed cockhead. Billy giving his husband earnest glances before kissing intently, Billy pulls Seth's thighs closer to him, urging him into a humping motion. Seth penetrates his hairy hole, pushing into him as Billy thrusts back onto his stiff rod.
   Billy climbs on top, riding his husband bareback, his hips rocking back and forth as his ass strokes the raw cock inside him.
   Propping billy up with a pillow, Seth fucks his muscular bottom with an increasing tempo. Pulling Seth into him encouragingly, the intensity builds to a crescendo, passionately making out before Seth pulls out and shoots all over Billy's abs. Seth light rubs Billy's chest and abs, Billy trembling with intensity as he cums his thick load onto his own stomach.

SCENE 2: Cutler X fucks Adam Russo
Adam just found out he's being cheated on and the trust he had in Cutler is broken. Trying to make up, Cutler leans in to kiss his resistant partner but Adam isn't ready to forgive him. Not wanting to throw their life away, Cutler needs to convince his love he wants him back.
   Trying to shift blame, Cutler brings up Adam's habit of making out with other guys at bars. Adam argues it's not the same, and doesn't want to forgive, but Cutler's insistent, passionate kiss works. They embrace, pulling off each other's shirts, Cutler kissing Adam's hairy stomach and nipples. Cutler pulls off their pants, and Adam takes the girthy black dick before him into his mouth, stroking the extra length with his hand.
   They 69, Cutler playing with Adam's balls before licking his ass, wetting down his hole, before slowly working his thick rod into his ass, bareback.
   Raw fucking Adam's ass deep, his hole is worked out to the max as the whole girthy length disappears into him. Cutler pulls Adam on top, his slick dick pushing into him from another direction. Adam rubs Cutler's ebony chest as he grabs his firm ass cheeks, plunging his cock deep into him.
   Cutler cracks a big smile, knowing the pleasure he's bringing his boyfriend. Cutler fucks him sideways, his thick cock sliding in and out of him as Adam jerks his cock. Cutler slows down the pace as Adam is about to come, teasing him. Picking back up in intensity, Adam's eyes roll into the back of his head as he's pounded out. Adam responds with a mix of pleasure and pain, the large cock almost too much for him, but bringing him closer and closer to the edge.
   Adam's whole body spasms with the release, unloading onto his stomach. Cutler and Adam make out, Adam's hand caressing Cutler's thigh as his boyfriend blows his big load all over his ebony stomach.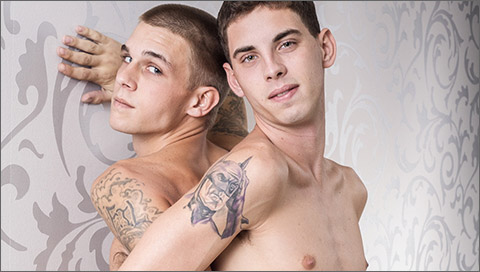 SCENE 3: Sam Truitt fucks Trent Ferris
Trent Ferris and Sam Truitt are two friends, nervously chatting about different things. Having never fooled around before, they discuss what they've been up to since they last hung out. Sexual tension is thick and both are nervous. They're open to trying different things and, breaking the ice with a kiss, they start softly. The make-out quickly increases in intensity, feeling each other's toned thin bodies.
   Taking each others' shirts off, they compliment each others' bodies. Trent reaches down into Sam's shorts, playing with his hardening cock before kissing him, nervously undoing his pants, sucking on his long dick, slowly moving his head up and down.
   Sam moves over to return the favor, sucking on Trent's dick. Slowly it changes from soft to hard. Sam sucks on his balls then moves on to his tight ass, getting it ass nice and wet.
   Trent gives him the signal to come climb on top of him, and Sam's long dick plunges into Trent's ass bareback. Trent jerks his dick as his ass slides up and down on his friend's raw dick.
   Fucking ferociously, Sam's dick slides in and out of his twinky friend's smooth hole. His thick bush tickling his asshole, as Sam fucks the cum right out of Trent's beautiful cock. Seeing him cum pushes Sam over the edge. Pulling out of Trent, he lets his thick load land on Trent's toned stomach.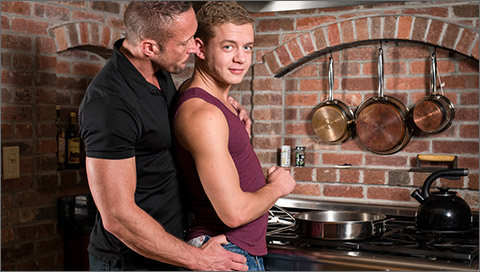 SCENE 4: Myles Landon fucks Ian Levine
Muscle Daddy Myles Landon and smooth muscle twink Ian Levine are nothing if not an unconventional pairing. Myles and Ian cuddle playfully, their taut muscular bodies pressing up against one another. Myles can't get enough of his smooth young trophy boy, his hands slick with massage oil, rubbing every inch of his body. Hands sliding down his toned back, his smooth bubble butt framed by his jockstrap are revealed. Myles strokes his thighs, servicing his boy, his tongue moving along Ian's chest and up to his ears. Kissing him passionately, Ian passively relishes the affection before Landon moved down to focus on his boy's tool and hole. Ian climbs on Myles, his cheeks spread, we see his smooth hole. Ian sucks on Myles' big uncut dick. Myles kisses Ian before, licks his ass, and sucks his dick while Ian is face down. His nose plunges into the young man's hole. Myles rubs his stiff cock on Ian's smooth hole, opening him up, he works him in and out.
   Ian moans in pleasure as the thick rod plunges into his submissive hole. Myles pulls his boyfriend close, kissing him as he pounds his ass harder and harder. Fucking in many positions before lifting Ian's ass to help position his hole, Myles fucks the cum right out of his his younger boyfriend, his hot thick load spewing onto his smooth stomach. Scooping the cum off his young friend before letting him tease himself off his tongue. Myles only increases in intensity, bringing himself closer to climax as he rails his boyfriend to bring himself to the edge.
   Holding his arms, he pounds his hole as Ian thrusts back into his throbbing dick, moving his bubble ass into his daddy. As Myles gets closer, he blows his load all over Ian's back. Ian relieved and happy that he made his boyfriend cum.

WATCH IT / DOWNLOAD IT NOW AT:
ICONMALE
On-Line Only Presentation, Members can Download the presentation for later for "off-line" viewing.
Members have access to a vast array of photos from each scene.
WATCH IT NOW AT: AEBN / SMUTJUNKIES THEATER