Studio: Falcon Studios / Jocks
Directed by: Peter Romero
Year of Production / Release: 2009
Country of Production: U.S.A.

CAST:
Scott Adler
Krist Cummings
Lance Howard
Caleb Moore
Evan Richards
Jesse Swift
INFORMATION FROM FALCON:
Bagdad by the Bay … Emerald City … Shaky Town … no matter what you call it, San Francisco is the perfect wonderland for our six thrill-seekers out for an adventure. They're like Pinocchio's wayward boys lost on Pleasure Island acting as crazy as they want and grabbing all the excitement at hand, only to discover that the only treats that'll satisfy their desires are each other.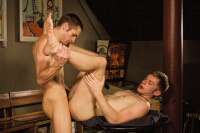 SCENE 1:
Though Lance Howard and Scott Adler hale from opposite coasts, these two have something in common. Both young studs trip the light fantastic as go-go boys at home. Going toe-to-toe, they're here to shake their moneymakers and do the humpty-dumpty dance all over each other. Scott goes gaga over Lance's big uncut cock and a smoky love fest begins. Sucking leads to rimming and then to Lance sliding his prick in and out of his buddy's ass. Scott beats himself off and jizzes across his belly while Lance continues plugging away until he shoots his load.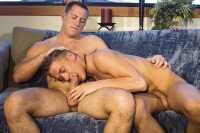 SCENE 2:
Caleb Moore and Jesse Swift are representin' the Midwest, both of them glad to have landed in San Francisco. Jesse is so hot to trot he goes down on Caleb's woody right away. Caleb sits back, head rolled back and eyes closed, enjoying every slurp lavished on his cock. Jesse positions himself onto Caleb's lap and bounces up and down his pole like a well-greased piston. Then he gets fucked from behind until Caleb shoots and cums, squeezing every drop of jism out of his piss slit. Jesse hurriedly whacks himself off and busts a nut.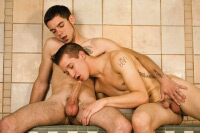 SCENE 3:
Evan Richards and Krist Cummings find themselves at a sex club, giddily sequestered in their tiled pleasure chamber. Krist thinks Evan is so hot he quickly dives onto his cock, his head bobbing up and down like a manic woodpecker. That piece of meat is so big Krist can barely get half of the shaft inside his mouth. Evan then chomps on Krist's dick a bit before he lays back so he can get his ass eaten out. He starts screwing Krist's ass making him grow dizzy with excitement, his toes pointed tensely like an electrified ballerina. The fucking continues fast and furious. It is so good, Krist can't believe how lucky he is. He jerks himself off and shoots his load; Evan follows and cums all over.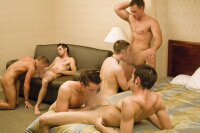 SCENE 4:
The San Francisco Big Orgy Scene has all six guys cramped on the bed, all of them craving more action, more sex. The energy is high, the excitement palpable, the enthusiasm boiling over. The action begins with Scott, Krist and Jesse chomping down on Evan's, Caleb's and Lance's cocks respectively. And then it's a move to the right as the suckers switch suckees, everyone having a blast on the big-dick merry-go-round. A frenzied fuckfest follows as Evan starts pounding Jesse's tight ass while Caleb plows Scott's hole and Lance drills Krist's chute. All's well that ends well when everyone blasts their spooge all over Krist, the human cum rag.

MORE INFORMATION OR TO WATCH IT NOW: FALCON STUDIOS