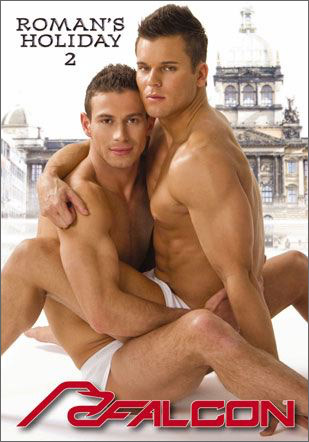 Studio: Falcon Studios
Directed by: Rolf Hammerschmidt
Year of Production / Release: 2009
Country of Production: U.S.A.

CAST:
Leon Bares
Marco Bill
Aslan Brutti
Jan Cerny
Steve Dexter
Thomas Dyk
Steve Ward (Kamil Fox)
Marcio Gonzales (Andre Lopes)
Jerry Harris
Roman Heart
Denis Reed (Pavel Matous)
Phil Sardou
Blue Prince (Denis Taylor)
FROM THE FALCON WEB SITE:
Roman's holiday includes Prague — an ideal stop for our intrepid explorer to dig up new stories.
   Prague is a city whose old cobblestones have been trodden for centuries. And while wooden saints parade through the windows of an ancient church, libidinous young sinners stroll the grounds below waiting to create their own history.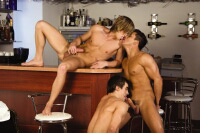 SCENE 1:
After wandering Wenceslas Square, Roman Heart finds his way to a local watering hole where bartender Phil Sardou and patron Denis Reed offer the lonely traveller a drink. Both ask Roman to "show them something" and the American is happy to oblige, letting both men take turns fondling his perfectly chiseled body. Denis goes down on Roman's rock-hard cock, slurping down every inch of his meat. Phil joins in on the fun and they take turns sucking off the roamin' visitor. Denis sticks his thick 8.5″ cock deep inside Roman's ass and fucks him doggie style while the ravenous tourist deepthroats the handsome bartender's uncut cock. Excited and spurred on by Roman's moans of pleasure, Denis starts fucking him harder and deeper. Phil takes his turn and with Roman bent over the barstool, he shoves his tool deep down his chute. The two horny Czechs shoot their loads all over Roman's chest and he answers by leaving his two new friends a parting gift of white spooge smattering the bar room floor.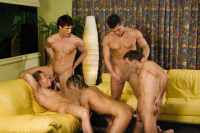 SCENE 2:
One of the disadvantages of travelling solo in a foreign city is that you're not always sure where you are. On this rainy day, Roman finds himself lost on the Charles Bridge. Though unable to speak the native tongue, Roman has no problem communicating with the locals and he asks Steven Ward directions to the museum. The hunky stud takes him under his wing and leads him instead to a private gathering where four of his friends are partying hearty … and these natives are restless. Leon Bares is busy sucking on Blue Prince's dick while Jan Cerny is guzzling down Marco Bill's pole. Steven and Roman join the action and the horny gang of six soon engage in a sizzling daisy chain suck-off. Then they break into groups of three with Blue fucking Leon as he sucks Marco's rod and Roman and Jan trading off feeding on Steven's cock. Everyone takes a turn fucking Leon's bare ass while he sucks a succession of big hard dicks. And then it's one shower of cum after the other until all of the guys are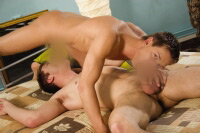 SCENE 3:
Continuing his stroll through Prague, Roman walks by Jerry Harris and Thomas Dyk, a young couple sitting on a park bench, their fingers entwined and their passions brewing. They smile as the handsome stranger passes then quickly retire to their love nest where they can hungrily explore and enjoy each other's physical treasures. Jerry starts sucking on Thomas' thick cock, wrapping his lips around the sheathed shaft and bobbing his head up and down, pleasuring them both. Soon they are 69ing before Jerry proceeds to fuck his boyfriend, ramming his cock into his fuzzy asshole. Thomas is bent in half with his ankles around Jerry's neck as they fuck and kiss and moan with pleasure. Then they switch it up and lay on their sides so Thomas can pummels Jerry's crack from behind. He pumps away before pulling out to cum all over his happy lover's neck and chest. Jerry beats his meat off himself and shoots his wad and the two lovebirds seal their romantic deed with a kiss.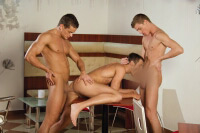 SCENE 4:
Alone in a secluded corner of a cafe, Marcio Gonzales and his friends Aslan Brutti and Steve Dexter share a drink. They don't say much and they don't need to. With big Cheshire Cat smiles and mischievous looks, they all know what's on the other's minds. The three of them quickly  fall into each other's welcoming arms and embraces, kissing and fondling, then sucking cock and eating ass. Steve continues nursing on Marcio's dick while Aslan plows him hard and fast from behind. Then he flipped onto his back laying on the table and his buddies trade places. They continue their assault from both ends with Aslan shoving his cock down Steve's throat and Marcio plugging away at his asshole. Marcio unloads gobs of his goo across Steve's thigh and Aslan follows that with his creamy contribution across Steve's chest. Then Steve jerks himself dry, shooting his wad before the three men end their session with aggressive and grateful kisses.

WATCH IT NOW AT:
FALCON STUDIOS
Falcon Members can watch scenes from this Release anytime online.
DVD Releases debut online prior to DVD Release.