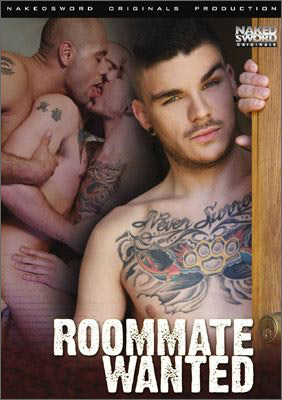 Studio: NakedSword Originals
Directed by: mr. Pam
Year of Production / Release: 2014
Country of Production: U.S.A.

CAST:
Boomer Banks
Cam Christou
Luke Harding
Liam Harkmoore
Colby Keller
Dylan Knight
Rey Luis
Joseph Rough


[jwplayer mediaid="65796″]

INFORMATION FROM NAKEDSWORD: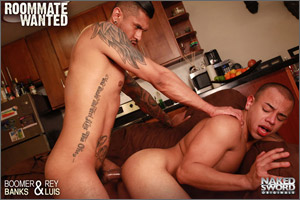 EPISODE 1 – BEAUTIFUL END UNIT: Boomer Banks fucks Rey Luis
Rent in San Francisco is skyrocketing, and the boys of San Francisco are desperate! In the premiere episode of Roommates Wanted, Rey Luis shows up at an open house, and finds that he's the one taking the deposit. So what if it's not the right apartment ó when he cracks the door and finds Boomer Banks stroking his huge cock, he's ready to move in. And so is Boomer! After stuffing Rey's face, he bends over the smooth bottom and splits him like a utility bill. If this is what the new economy is like, bring it on!

EPISODE 2 – SHARED UTILITIES: Leo Forte, Cam Christou & Luke Harding
Want to move into this hip crashpad? Before you sign the lease here, you have to leave a deposit. In the second episode of NakedSword's Roommate Wanted, Cam Christou is looking for a shared apartment, but when sexy Luke Harding opens the door, he sees that the floors aren't going to be the only hardwood. The house has more men than it does bedrooms, Luke tells him, and the communal living arrangements extend way beyond the chore wheel. It's a sharing economy based on sex, and lean-and-tatted Cam shows he's more than happy to contribute. The initiation starts out in the hallway, and before long the two are joined by Leo Forte, who breaks in his new roommate with his fat dick. Luke gets in on the action as well, first riding Leo and then moving into Cam's back bedroom. The three collapse in a pile of sweat and sex. And just think — the other roommates aren't even home yet!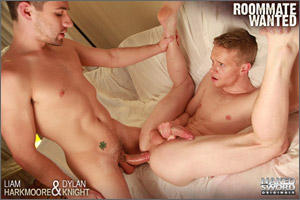 EPISODE 3 – THE HOUSING SQUEEZE: Dylan Knight fucks Liam Harkmoore
Looking for a place in San Francisco without a dotcom salary? Good luck. Liam Harkmoore and Dylan Knight meet in a line for rental unit, but when it's clear they're outpriced, they go in for something a little more cooperative. Luckily, Dylan's got a key to a place around the corner where no one's home. They may not be able to move in — but they certainly can use it to unload. The door is hardly shut before Liam is thanking his would-be host, with a pair of firm lips and raging hard cock. So what if it's a short-term solution? In San Francisco, any bed is better than none!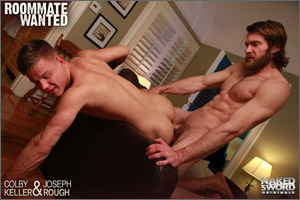 EPISODE 4 – THE CATCH: Colby Keller fucks Joseph Rough
When Joseph Rough sees an ad for $100 a month rent, he knows there's a catch. But when Colby Keller answers the door in his underwear, it's less catch than caught. Keller's a novelist looking for a helping hand — and a mouth and ass, for that matter. When he drops his pen, Joseph drops to his knees, and the real work begins. Or is it play? Joseph swallows Colby whole, and it isn't long before he's providing the whole resume. Colby fucks him with creativity of a true artist, and Joseph takes it like someone who's not only got the job, and got the place, but has the work ethic to do it three times a day!

WATCH THIS AND A HOST OF OTHER FILMS AT:
NAKEDSWORD
On-Line Presentation, exclusive to NAKEDSWORD
Members can watch this with a host of other films in the NakedSword Library.