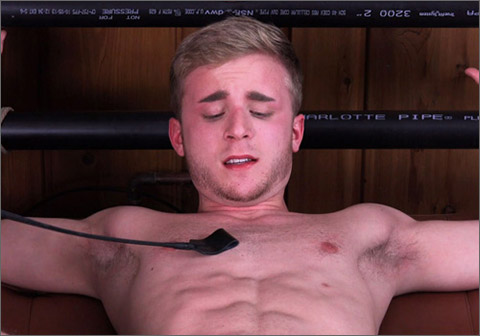 Studio: Roped Studs / Kenneth Benjamin Media
Directed by: Kenneth Benjamin
Year of Production / Release: 2016
Country of Production: U.S.A.

CAST:
Logan (Seth Stark)
INFORMATION FROM
KENNETH BENJAMIN / ROPED STUDS: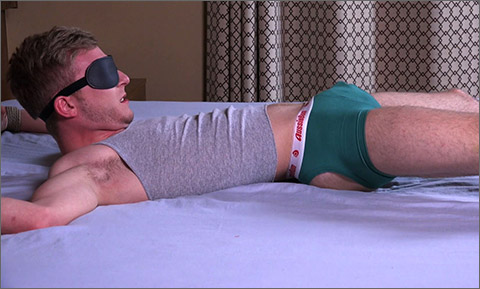 PART 1:
Logan, a young, pretty, 18-year old smooth twink, is roped at the wrists and ankles to each corner of the bed. Blindfolded with a tight A-shirt and snug AussieBum underwear, Logan tests his bonds, flexing, twisting, and arching that back to give us brief glances of that sexy shelf arch. Rope man J.J. wastes little time and can't wait to get his hands on his favorite new boy. J.J. proceeds to appreciate, strip, and flog his new friend. Now its time to see that cock. J.J. reaches into Logan's undies, working him hard, with just the hard tip sticking out. Logan struggles. J.J. then cuts off the undies, keeps Logan rock hard, and continues flogging his prize.

PART 2:
Rope man J.J. has super twink Logan roped spread-eagle on a huge bed. The teenaged boy is completely naked, but for an eye-mask which keeps him in total darkness. J.J. loves mixing pain and pleasure, whipping the boy's lean abs and chest while simultaneously stroking his beautiful cock, making it thicken and pulsate. The twink moans and gasps, arching his back seductively, as the flogger strikes harder and harder. J.J. adds even more tight hemp, constantly teasing the roped kid's cock, but never letting him cum – yet.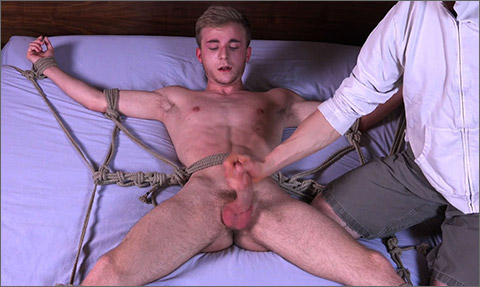 PART 3:
For such a lean, boyish twink, young Logan sure has a big cock. The kid looks amazing roped on his back, his lean body squirming against the yards of tight hemp binding his waist, arms and legs, and his erect cock flopping against his lower abs. Then rope man J.J. returns to stroke the blindfolded twink's cock some more – then tortures the throbbing cock and nipples with a razor-sharp pinwheel. God, how we love it when Logan arches his back against the ropes and moans in pain. Apparently, he likes it too, since he busts a huge load of cum while J.J. works his cock.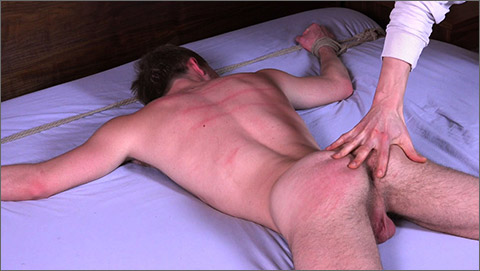 PART 4:
Logan is tied down on his master's king-size bed, spread-eagled on his stomach, with just enough give in the ropes to let him squirm. His young body is so inviting – a helpless twink waiting to be fucked, undulating on the bed, presenting his ass to be violated. Rope man J.J. enters and alternatively caresses and smacks his boy's body and ass. But J.J. isn't going to fuck his boy, not yet. First he is going to whip him. Logan continues to undulate, moaning and flexing with each slice of the whip, until his entire back and ass are crisscrossed with beautiful scars.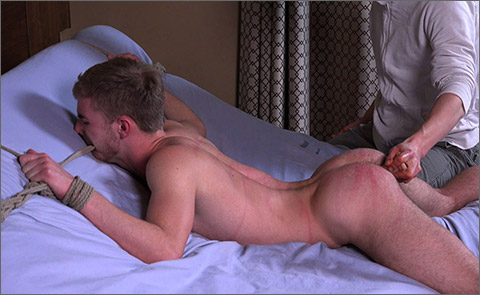 PART 5:
Creamy, blonde twink Logan looks amazing, totally fuckable, spread-eagled on his stomach on the bed, his tapered back and firm ass decorated with stripes. The young boy is clearly turned on by pain, presenting his ass when his master enters and moaning deliciously as the soles of his feet are whipped, sticking his ass up even higher, begging to be fucked. "Oh yeah," the boy moans as rope man J.J. whips, then fingers, his ass. The boy goes wild when a massive, rigid dildo finally penetrates his tight, teen ass. His ass-fucking has just begun.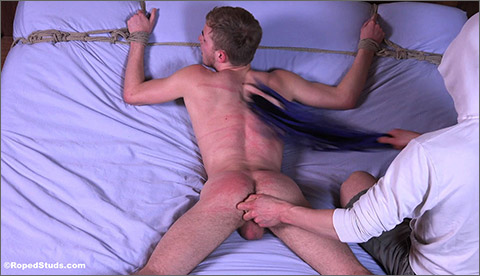 PART 6:
Young, innocent Logan moans and gasps as a massive, veined dildo fucks his tight ass rhythmically. The boy is roped to the four corners of the bed, his body covered with sexy lash marks. "Oh yeah!" he moans as rope man J.J. smacks his ass while fucking him. Logan is hurting – but oh so good. Then J.J.'s dildo-fucking gets rapid-fire – and he whips the kid while fucking him.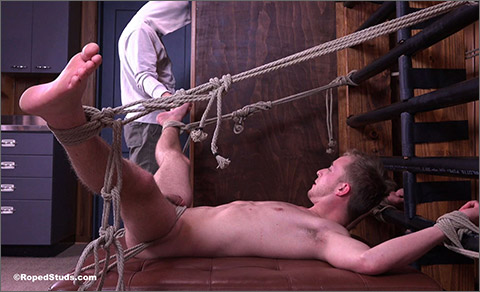 PART 7:
Slave boy Logan is roped in a most fuckable position, flat on his back, legs spread high and wide, arms roped overhead, waist roped down to prevent any slippage during insertion. What an inviting sight to behold: a beautiful boy helpless and waiting, completely naked, his pink asshole spread open, quivering. But before rope man J.J. indulges in fucking that oh-so-fuckable fuck-hole, he goes after Logan's equally vulnerable feet, smacking his super-sensitive soles with a riding crop. Then he turns his attention to the boy's nipples, balls and ass.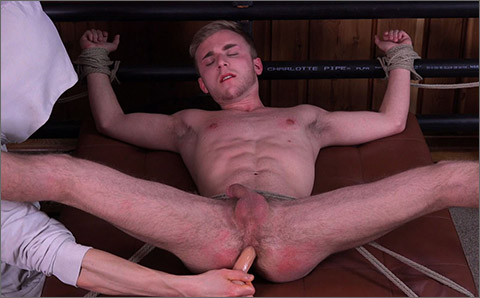 PART 8:
Slave boy Logan is ready to be fucked, roped with his legs spread wide, his stretched, exposed butt hole quivering. Ropeman J.J. wastes no time, first fucking the boy with a finger, then a very rigid dildo. Logan moans in pleasure, his tight ab muscles quivering in rhythm with the ass-fucking. J.J. can't get enough of this boy, fucking him, stroking his cock, enjoying his firm, young muscles. J.J. even throws in a some crop-whipping for fun. Logan is the perfect little fuck slave.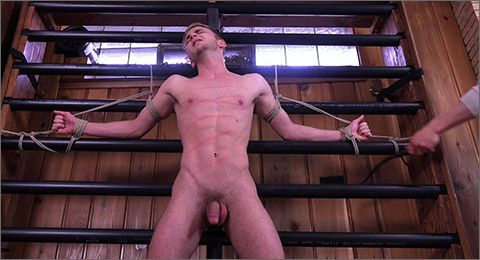 PART 9:
Athletic twink Logan is roped standing against the bondage frame. Tight hemp holds his naked body firmly to the frame, at his ankles, wrists and biceps. His hot body and cock are totally exposed and ready for Ropeman J.J. to enjoy – and enjoy he does, stroking Logan's cock until it hardens. Nothing like a hot twink with a hot dick roped to a wall! Then Logan sees the whip – J.J.'s single-tail. We take that back: A hot naked twink roped to a wall with his chest and abs covered with lash marks is even hotter.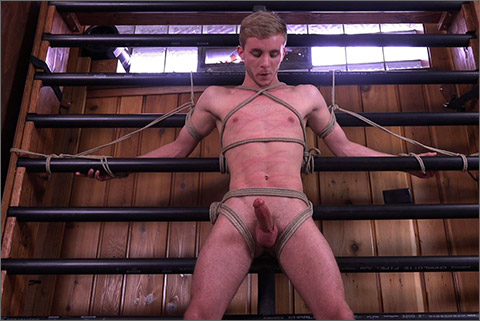 PART 10:
Logan's dick doesn't quit! Roped in hemp against the piped bondage frame, Logan struggles and moans, rock hard, as he shows off his sexy whip marks and thick cock. Rope man J.J., wanting some more action himself, continues to stripe poor Logan's chest and abs with the brutal single-tail. Not much better than a bound boy, rock hard, screaming in pain with each lash of the single-tail. Then, to secure his prize for some real fun, J.J. adds a load of rope, binding Logan to the frame from head to toe. Then, you guessed it, as J.J. once again works that beautiful cock rock hard, appreciating every moment as his boy toy flexes, almost artistically, each and every muscle.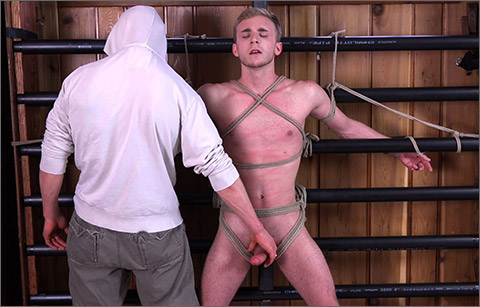 PART 11:
Talk about a roped stud fantasy: Lean, well-built Logan, covered with whip marks, is roped beautifully to the bondage frame, his massive cock rock hard. When his dick starts to sag just a bit, rope man J.J. gives it a few strokes and it stiffens immediately. Then J.J. gets out his electric wand, using it to torture the roped boy's cock, balls and nipples, making his eyes literally roll back into his head. But no matter what, Logan stays hard – even after J.J. milks him dry, again.

WATCH OR DOWNLOAD IT NOW AT:
ROPED STUDS
On-Line Presentation, Members can Download.
Extensive photography of most scenes and models.