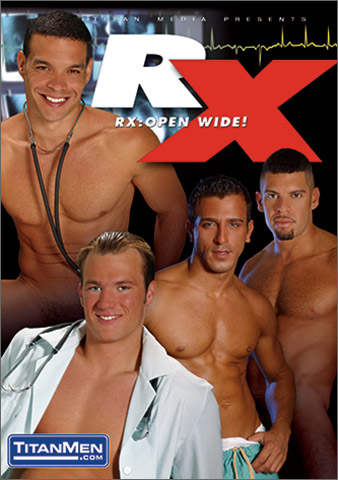 Studio: Titan Media
Directed by: Brian Mills, Harold Creg
Year of Production / Release: 2004
Country of Production: U.S.A.

CAST:
Leo Bramm
Ulizes Carpelli
Marcos David
Joey Dino
Jason Hawke
Marco Montana
Mario Ortiz
Parker Williams
FROM TITAN MEDIA WEB SITE:
Diagnosis: non-stop, fun, kinky sex sure to raise more than just your temperature.
Prognosis: you'll never get a check-up again without popping a boner!
This is one doctor's appointment you definitely won't want to miss!
Do you get a secret thrill from stripping down for your doctor at your annual check-up? Well, imagine 8 of the hottest, hunkiest men you've ever seen examining each others' chiseled bodies and cum-filled cocks with all sorts of medical equipment! That's precisely what happens in Titan Media's "RX". Once again, directors Harold Creg and Brian Mills pair up to bring kink and fetish to the medical arena, and the results are unpredictable, inventive, and undeniably sexy.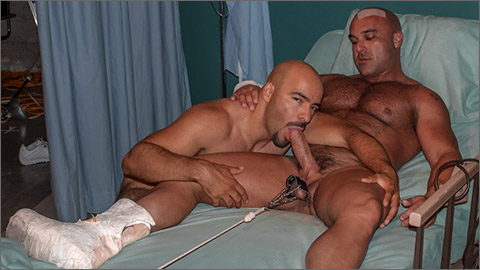 SCENE 1: Joey Dino fucks Ulizes Carpelli
Ulizes Carpelli brings new meaning to the term "bedside manner" while attending to his patent, Joey Dino (HOLLER), who's laid up with a broken leg and a broken arm. Joey's also got his balls in traction with a ball stretcher connected to some massive weights hanging from a pulley off the side of the bed. Ulizes eagerly nurses Joey's amply thick cock while tugging on the ball chain. Talk about physical therapy! Using the adjustable hospital bed to their advantage, the two buff and bald bad-asses go at it with total abandon. Ulizes starts by straddling the bed-ridden stud and riding his perma-hard monster cock. Joey's two plaster casts don't interfere with his giving Carpelli's ass a must-see-to-believe pounding. Stubbly Mario Montana secretly watches on from the hallway, pulling on his giant, uncut pud the entire time.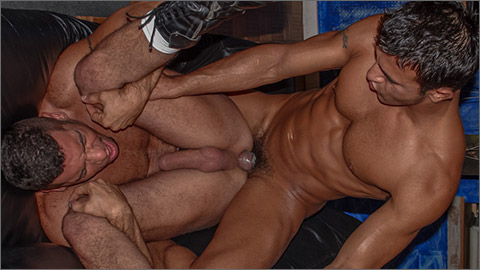 SCENE 2: Mario Ortiz & Leo Bramm flip-fuck
Meanwhile, napping surgeon-in-scrubs Leo Bramm is given a friendly wake-up call by horny security guard Mario Ortiz, who knocks on the stud's head with his nightstick of a cock before the two engage in a steamy, sweaty flip-flop fuck and suck session.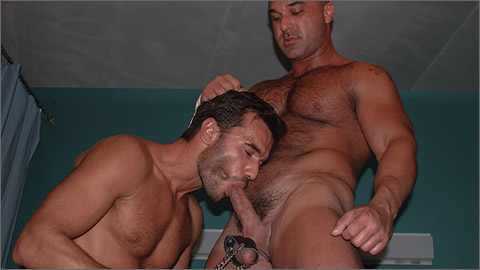 SCENE 3: Marco Montana services Joey Dino
Back at Joey's room, Marco Montana pays a hospitality visit to poor, bedridden Joey Dino. As soon as Joey fills his bedpan with golden frothy piss (like a good boy) he's ready for a mighty lickin' from google-eyed Mario, who's all too willing to gag and drool on Joey's thick, meaty salami. After yet another intense CBT session, Mario deep throats Joey's cock while flogging his own log until the two sex pigs erupt in massive orgasms, leaving the bed linens soiled and wet with man-gush.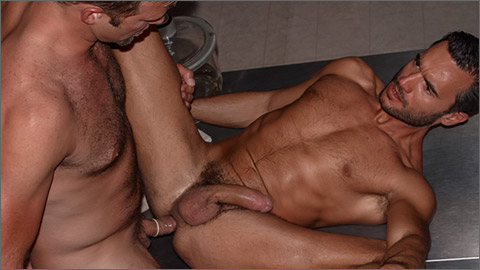 SCENE 4: Parker Williams fucks Marco Montana
Burning the midnight oil in the lab, ruggedly handsome Parker Williams and insatiable sex pig Mario continue to blow off steam with some truly kinky sex play. After Parker beats off into a beaker and licks it clean, Marco Montana straddles Parker's lap, impaling himself on his master meat and taking a ride that leaves both studs howling, panting, and thoroughly spent.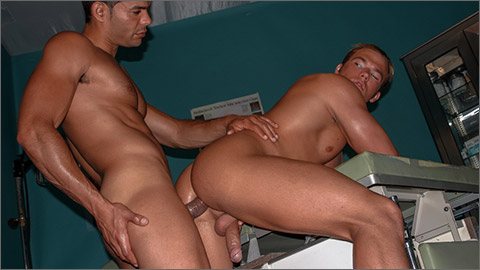 SCENE 5: Marcos David & Jason Hawke flip-fuck
In RX, we meet for the first time TitanMen's new exclusive, Marcos David. Seems Marcos has a bit of a problem — the Latin stud's rock-hard, uncut cock just won't go down! Luckily, his attending physician, stacked hottie Jason Hawke will! Hawke tries examining Marcos' massive meat with all the tools of the trade: a stethoscope, a reflex hammer — he even cuffs Marcos' shiny, pulsing rod in a sphygmomanometer and checks its blood pressure! With no instruments left with which to tinker — besides his own rock hard man meat — the horny doctor decides to give Marcos a vigorous anal probing – all in the interest in science, of course. But even after a furious flip-flop fuck and a double load-blow, Marcos' monster cock remains determined, tall and rigid! What's UP doc? Marcos' cock!

MORE INFO, PREVIEW OR WATCH RIGHT NOW:
TITAN MEDIA
Scenes Premier online prior to DVD release and are available to view anytime in the Member"s Area.
Members can watch scenes from almost all Titan Media releases anytime online.