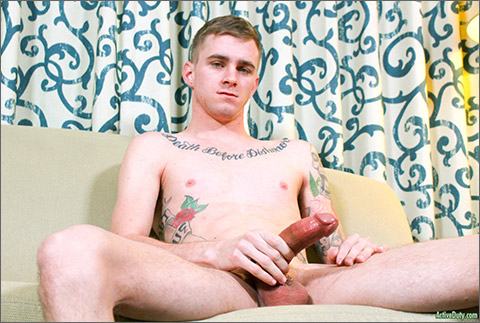 Studio: Active Duty Productions
Directed by:
Year of Production / Release: 2016
Country of Production: U.S.A.

CAST:
Ryan Jordan
INFORMATION FROM ACTIVE DUTY:
This is my very favorite type of new recruit to welcome to the squad. His name is Ryan Jordan and he's a guy that you can't help but absolutely love, right from the get go.
   Ryan truly has a wonderful cock. He gets it very well greased up for this solo session and Claude brings us in tight on a few occasions. I especially enjoyed peering up at Ryan as he gripped his erection tightly and peered around it, downward as we looked. I don't think I'm the only one excited to see him put that behemoth dick to good use.
   After we get a nice view of Ryan stroking while on his feet, Claude shows us what it's like from Ryan's point of view, looking down at that pulsating thing in his own hands. Boy, what a byoot!
   Claude moves in and gets a nice, tight shot of this handsome recruit's face. Dreamy blue eyes pierce us as we watch this young man pleasure himself. The camera pans down from here, showing us his strong muscles all working together to make that big, stiff cock erupt.
   And when it finally does blast…HIT THE DECK!! This was a finale for the books. Even our boy Claude was surprised at the massive cum load Ryan shot. This was such a fun, great first time with a recruit that I can promise will be a golden addition to the troop.

WATCH IT / DOWNLOAD IT AT
ACTIVE DUTY / DINK FLAMINGO
Members can watch or download this release or any other release in the members area.