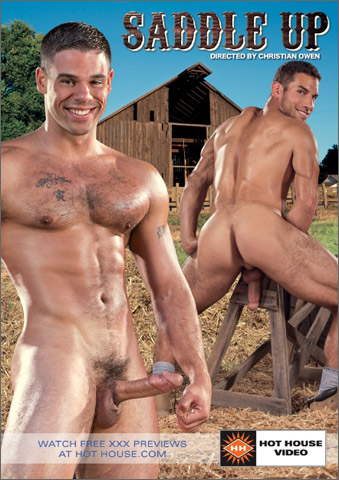 Studio: Hot House Entertainment
Directed by: Christian Owen
Year of Production / Release: 2014
Country of Production: U.S.A.

CAST:
Derek Atlas
Brian Bonds
Just Angelo
Micah Brandt
Ricky Decker
Jimmy Durano
Ryan Rose


INFORMATION FROM HOT HOUSE:
Saddle Up for wild rides on horse hung cocks! This is the kind of farm where men aren't afraid to get down and dirty with each other to get the job done, from blow jobs to rim jobs and everything in between. Director Chris Owen is the foreman of horny farmhands Derek Atlas, Ryan Rose, Brian Bonds, Jimmy Durano, Ricky Decker, Angelo, and Micah Brandt. Angelo is outside watering the garden, but ends up using his hose on Ricky Decker. Micah Brandt is supposed to wash the tractor but gets sidetracked by Jimmy Durano and his big, uncut tool. Brian Bonds and Ricky Decker go inside the barn for some heavy oral release. Derek Atlas and Ricky Decker use all of their bulging muscles in an energetic barnyard fuck. Brian Bonds uses his oral talents again on Ryan Rose, and then has the ride of his life on top of Ryan's enormous tool. Watch these muscled hunks fuck, suck and sweat under the hot summer sun in Saddle Up.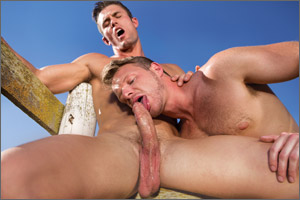 SCENE 1: Brian Bonds & Ryan Rose (all oral)
Brian Bonds is sucking on Ryan Rose's enormous, thick cock; spit drips down the length of the shaft to Ryan's nuts that hang low in the summer sun. Getting into it, Ryan guides Brian's head down over his cock, amplifying the pleasure. The saliva pouring out of Brian's mouth turns frothy and white with the intensity of his deep throating. Ryan's body is perfectly taut and muscled, and Brian's beefy arms and chest are on full display as he works Ryan's tool. When Ryan gets close, he uses one arm to position Brian's head for a facial, and the other to jerk himself off. With an ecstatic release, Ryan shoots a gigantic, multi-spurting load that hits Brian on his closed eyelid and rolls all the way down the side of his face.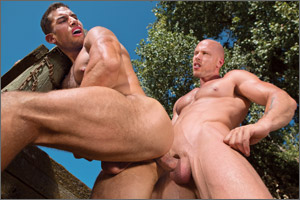 SCENE 2: Angelo fucks Ricky Decker
Angelo's supposed to be watering the field, but he turns his hose on Ricky Decker instead. Soaking wet, they fondle each other's hard bodies. Ricky pulls Angelo's thick cock out and starts sucking, his lips stretching to their limit. Angelo sinks to his knees and gives Ricky an intense deep-throating, which really gets Ricky wanting more. Leaning against the wooden fence for support, Ricky presents his inviting ass to Angelo. Without missing a beat, Angelo gets right to work on Ricky's eager hole, and the two horny men fuck energetically, first on the fence, then with Ricky reclining on a giant tire. Thick white rivers of cum explode from both their hoses when they reach a scorching climax.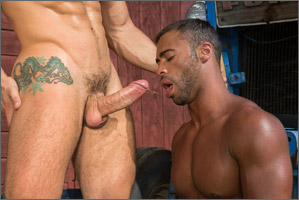 SCENE 3: Jimmy Durano fucks Micah Brandt
Washing the big tractor in the farm yard is hard work on a hot day for Micah Brandt. He squeezes his sponge until water drips down his chest, cooling his sweaty, muscled body. Things really heat up when Jimmy Durano arrives on the scene. He rims Micah's soft, pink hole, then guides his huge rock hard cock into Micah's mouth. Spit stretches from the tip of Jimmy's uncut cock to Micah's thick, sexy lips. With his jeans gathered at his ankles, Jimmy stands and fucks Micah from behind with powerful, assertive strokes. Micah wants Jimmy's cock deeper, so raises his legs in the air while sitting on the front tire of the tractor. The action builds and builds until Jimmy blows his load on Micah's strong, round ass.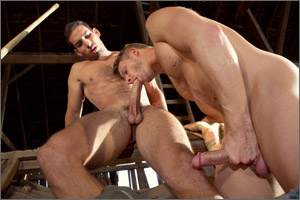 SCENE 4: Brian Bonds & Ricky Decker (all oral)
Brian Bonds is the farm hand who is always hungry for more cock, and Ricky Decker's huge manhood is exactly what Brian craves. Inside the barn to escape the hot sun outside, Brian eagerly goes down on Ricky's thick meat all the way to the balls. Ricky's muscles ripple underneath his close-cropped chest hair, and Brian's hair and beard are the same shade as the golden hay that covers the ground. Brian's spit flows down Ricky's dick and drips from his balls, and thick strands hang in the air whenever Brian takes a breath. Focusing on Ricky's sensitive mushroom head, Brian uses his agile tongue and wet, pink lips to make Ricky cum, and it explodes all over Brian's cheek. Excited by the load on his face, Brian cums while kneeling on the ground, and it rains down on Ricky's leather work boots.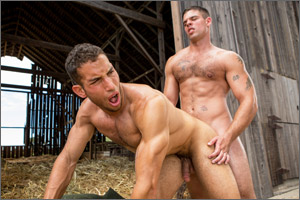 SCENE 5: Derek Atlas fucks Ricky Decker
Ricky Decker is a totally ripped muscle stud whose bulging arms are busy pitching hay in the barn–until Derek Atlas shows up. With giant, hairy pecs, massive biceps, and legs like tree trunks, Derek's physique is literally jaw-dropping: Ricky sinks to his knees and inhales Derek's big, veiny cock all the way down to the massive, low hanging balls. The sun glistens on the spit coating Derek's cock as he facefucks Ricky, who can't resist whipping out his own dick to stroke. Reclining on the golden hay, Ricky points his stiff pole at Derek, who goes in for a deep-throating, spit-dripping blowjob. When he can't bear to wait another second, Derek throws Ricky's legs up into the air and thrusts his cock in Ricky's hole with ball-slapping intensity. Sweat drips from their bodies in the scorching sun. Ricky takes Derek's hard cock doggy style and it brings them both to the point of no return: Derek shoots a massive, multi-spurting load across Ricky's abs, and Ricky jerks out thick, white ropes of cum.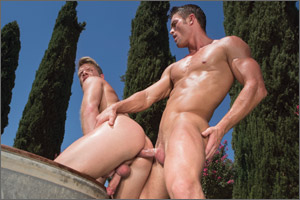 SCENE 6: Ryan Rose fucks Brian Bonds
Brian Bonds' hard cock bobs in the water of his outdoor bath. Checking to make sure he's really alone, he starts playing with himself, stroking his thick cock just above the surface of the water. That's when Ryan Rose suddenly walks into the yard. Brian is startled, but Ryan assertively whips out his big, long cock and guides Brian's lips all the way down the shaft. Having a dick in his mouth gets Brian even hornier, and he shows it by stroking his own rock hard cock. Ryan's not going to settle for just a blowjob; he positions Brian for a rimming and goes to town. Ryan's hands tightly grip Brian's ass, leaving pink imprints behind. All revved up and ready to fuck, Ryan penetrates Brian's hole. Ryan's topping is focused and intense, and the two muscled studs sweat in the summer heat as they grind themselves together doggie style. But one position isn't enough: Ryan sits on the edge of the tub with his throbbing cock straight up in the air, and Brian sits down on Ryan's cock, riding it up and down until Ryan's ready to unleash a torrent of cum all over Brian's face.

WATCH IT NOW / MORE INFO AT:
HOT HOUSE & HOT HOUSE BACKROOM
Hot House Backroom Members can see this film anytime online.
With extensive additional photography from every scene.

Hot or Not? Let us know.
[Total:

2

Average:

3.5

]
INFORMATION FROM HOT HOUSE: Saddle Up for wild rides on horse hung cocks! This is the kind of farm where...","image":{"@type":"ImageObject","url":"https:\/\/films.gayeroticarchives.com\/wp-content\/uploads\/2014\/02\/525829.jpg","width":339,"height":480},"aggregateRating":{"@type":"AggregateRating","ratingValue":3.5,"ratingCount":2,"bestRating":5,"worstRating":1},"brand":"","sku":"","":""}