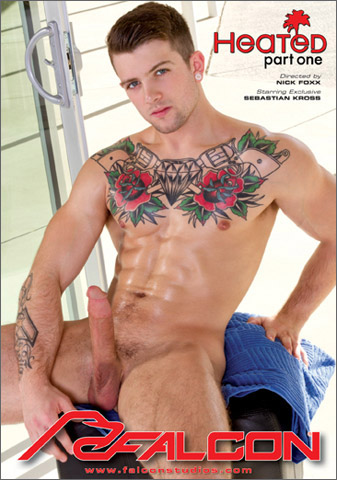 Studio: Falcon Studios
Directed by: Nick Foxx
Year of Production / Release: 2015
Country of Production: U.S.A.

CAST:
Bruno Bernal
Chris Bines
Gabriel Cross
Dorian Ferro
Addison Graham
Killian James
JJ Knight
Sebastian Kross
Jacob Peterson


[jwplayer mediaid="85489″]

FROM FALCON STUDIOS:
Beams of sunlight beat down and sweat pours off these hot, horned up studs. They're 'Heated' and there's only one way for them to escape their burning desires: uninhibited steamy sex. In 'Heated, Part One', director Nick Foxx delivers nine sexy hunks in a Falcon pool and play movie, where the action is just as scorching as the hot summer sun. First, Sebastian Kross waits erect for Brazilian stud Bruno Bernal to finish his swim so he can fuck his succulent hole. Handsome Jacob Peterson, long, lean and furry, jacks off watching smooth JJ Knight in the pool. JJ sees him and invites him to take it to the next level. Killian James' hard-on, protruding over the waistband of his trunks, is a lure to catch Addison Graham. Addison's smile and hot body land Killian in his bed for a scorching oral tryst that ends when Killian sticks a finger in Addison's hole and gets a mouthful of creamy jizz. Chris Bines calls on Bruno to put his flexibility to work for a standing fuck that puts every hard muscle into play. Gabriel is willing to put his towel aside and break a sexual sweat over Dorian's ass, which he invades with his tongue and cock, steaming the mirrors. Celebrate every drip of sweat and cum with these "Heated' hunks who guarantee every encounter is will leave you hot and drained.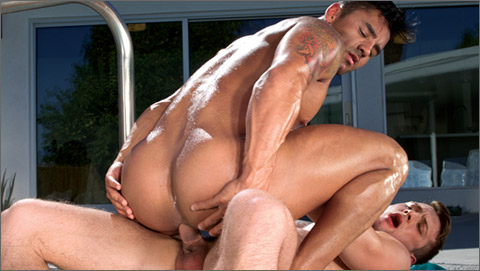 SCENE 1: Sebastian Kross fucks Bruno Bernal
Emerging from the swimming pool, Bruno Bernal finds himself nose-to-crotch with inked and ripped Sebastian Kross. The bulge in Sebastian's trunks suggests sexual intentions. They make out at the edge of the pool, with the sunlight glinting off their bright tatts. Bruno whets his appetite by licking the perspiration off of Sebastian's hard body, then he takes charge of Sebastian's thick cock like he owns it. Lots of spit helps him swallow the entire huge shaft and Bruno uses his tongue to make Sebastian's balls jump in their sac. Kneeling on the pool deck, Bruno offers his smooth, delicious ass. Sebastian adds his saliva to the droplets of sweat and pool water dripping down the crack, then he gets leverage to spear Bruno's hole. They switch to a sit-fuck, which puts Bruno in charge. He runs the palm of his hand across Sebastian's hard pecs and ridged abs as he bounces. Sebastian picks up the pace, resulting in a shower of cum that douses Bruno's face and neck. He rubs it in like suntan lotion, jacking out his load onto Sebastian's spent body.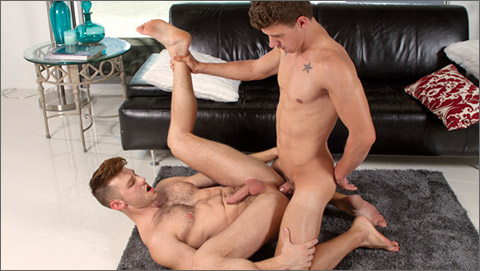 SCENE 2: JJ Knight fucks Jacob Peterson
Jacob Peterson jacks off on a deck chair while watching ripped stud JJ Knight frolic naked in the pool. Enticed by Jacob's exhibitionism, JJ takes the bait and it's not long before they're locked lip to lip. Jacob has a furry chest and 5 o'clock shadow, and JJ is smooth and clean shaven. They smash their uncut cocks together as they kiss, until Jacob bends to suck JJ: balls first, then his tongue traveling to the tip of JJ's cock and finally swallowing his cock whole. JJ lays back and spreads his legs, giving Jacob total access to his mouth-watering goods. They flick tongues, then JJ redirects his attention to eating Jacob's hot hole, with intermittent slurps of dick. Jacob finger-fucks himself while JJ rims him, then he grabs JJ's cock and guides it into him. Groans compete with the sound of flesh slapping flesh. JJ's up-curved cock sprays its load in a high arc that coats Jacob's torso from chin to nuts. Jacob grabs his meat and doubles the load.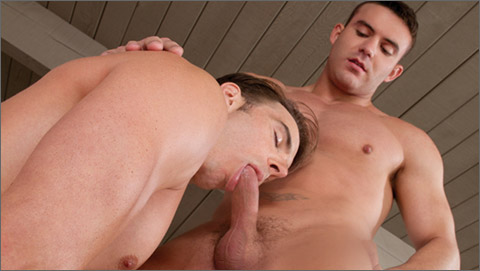 SCENE 3: Killian James & Addison Graham (all oral)
Straight out of the pool, Killian James has a throbbing erection sticking out several inches over the waistband of his trunks. It catches the attention of Addison Graham, who's watching from the window. When they make eye contact, Killian give his cock a few squeezes to make sure Addison knows the attraction is mutual. Smooth and tan muscle-hunk Addison bats his blue eyes, smiles, reveals a glimpse of his own hard-on and reels Killian in. They connect first at the lips, and Addison reaches for Killian's exposed cock, freeing it from the confines of its swimsuit, and sucks it. They kiss and cuddle on the bed, panting, taking turns sucking each other's hefty endowments. Killian fingers Addison's willing hole and sucks until he gets a mouthful of hot cum, which he lets drip down his chin and lips. Addison chomps on one of Killian's nipples while Killian jacks out his own thick release.

SCENE 4: Chris Bines fucks Bruno Bernal
After a quick cool-off in the pool, Chris Bines and Bruno Bernal are too 'Heated' to make it to the bedroom, so they ditch their clothes in the hall and make out on the spot. Wandering hands find lengthy cocks and nipples to tease. Bruno dedicates his lips and tongue to Chris' cock and nuts, eliciting groans, but he saves one hand to attend his own ferociously throbbing rod. Chris pulls Bruno to his feet and becomes the one to get on his knees. Grabbing Chris' head, Bruno face fucks him hard. Chris buries his face in Bruno's bubble-butt and jabs wetly with his tongue. Standing behind him, Chris hoists Bruno's leg high in and plunges his cock in. Bruno jacks his dick and squeezes Chris' pecs with each crippling thrust. Switching positions, pre-cum from Chris' swinging cock spatters Bruno's torso. Separating, they lie on the floor head-to-toe and jack out thick loads.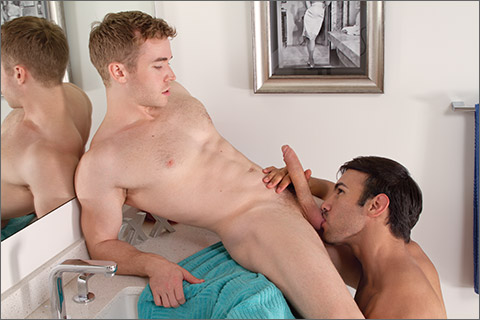 SCENE 5: Gabriel Cross fucks Dorian Ferro
On his way to shower, Gabriel Cross is intercepted by Dorian Ferro, who asks if he wants to get dirty. Gabriel responds by dropping his towel and latching onto Dorian's nipples. Gabriel hops on the sink for Dorian to suck him, leaning back to display chiseled abs, rock-hard nipples, a faint scattering of body hair and red pubes. Dorian sucks like a rock star, putting his head, neck, lips and hands all into action. He shakes his muscular shoulders and swivels his hips. Gabriel thanks him with his tongue, first in Dorian's mouth, then in Dorian's gorgeous, smooth bubble-ass. Dorian spreads his cheeks with pride, awaiting the cock that will replace Gabriel's tongue. He gets it standing, squeezing his cock and balls, clenching his hole around Gabriel's dick. They grab a chair and Dorian sits on Gabriel's fat rod. Dorian spins, facing one way, then another, until they can't contain their cum. Dorian shoots all over himself and Gabriel takes aim at Dorian's face, blowing his wad on Dorian's tongue.

WATCH IT NOW AT:
FALCON STUDIOS
Falcon Members can watch scenes from this Release anytime online.
DVD Releases debut online prior to DVD Release.