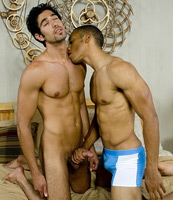 Studio: Randy Blue
Directed by: Randy Blue
Year of Production / Release: 2007
Country of Production: U.S.A.

CAST:
Shawn Harriri
Tyler Johnson
ADDITIONAL COMMENTS:
On-Line Only Presentation

THIS PREVIEW CONTAINS ADULT SEXUAL CONTENT


FROM RANDY BLUE:
I have never seen such a look of surprise on a man's face before as when Tyler got his first look at Shawn's huge cock. Okay, it's not like Tyler has never seen a huge cock before, I mean he could enter his own into competitions for the biggest cock and win every time. While it is a nice sized piece of meat, it is the unusual curvature that makes it stand out. It's quite beautiful, like a uniquely formed dildo just begging to be played with. Tyler's look of surprise quickly turned into one of excitement as he bent down to take his first taste. I remember when I first told him he was going to do a scene with Shawn. He had seen his previous work on the site and had been secretly hoping that they would do a scene together. He started out a bit nervous but once we started rolling he relaxed and got right into it. You can tell that he couldn't wait to get those pants off and take a look at that monster schlong himself. The heat between these two is remarkable, the way their bodies slide effortlessly over each other, Tyler's light brown skin tone a perfect compliment to Shawn's exotic Persian olive complexion. Tyler had no trouble deep throating Shawn's massive member, especially since it angled perfectly in the direction of his throat, and when it came time for him to bottom he was in for another surprise. I still don't know if it was the sheer size or the unique curverature but whatever the case may be, Shawn's cock had Tyler moaning like wild. I usually try to remain professional when doing the shoots but I have to tell you, it was so hard trying to keep from getting turned on during this sex scene. Tyler is so passionate while he's getting fucked, he draws you in, almost defies you to not feel the pleasure with him. And I couldn't end the video without one last shot of these two towering hardons side by side, spewing their man juices everywhere.

GO TO: RANDY BLUE
VIEW THE FILM
VIEW THE GALLERY