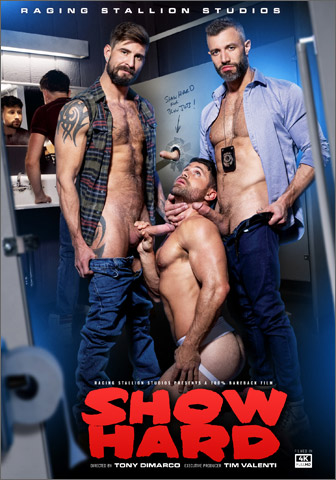 Studio: Raging Stallion
Directed by: Tony Dimarco
Year of Production / Release: 2021
Country of Production: U.S.A.

CAST:
Beau Butler
Cole Connor
Kyle Connors
Romeo Davis
Drew Dixon
Sean Maygers
Jake Nicola
Vander Pulaski
INFORMATION FROM RAGING STALLION:
When you've been out on the road for a while and need an intense release, you can find a seedy roadside rest stop, where the men inside 'SHOW HARD' to signal they're ready for some hot, raw action. Award-winning director Tony Dimarco captures the raunchy bareback chronicles of spontaneous public restroom sex with eight hung and horny men eager to bust a nut. Beau Butler stops for a bathroom break and ends up getting his ass pounded deep by Sean Maygers. Married stud Kyle Connors cruises in a restroom and gets stuffed with Romeo Davis' uncut member. Drew Dixon is eager for cock and ends up taking a powerful pounding to his prostate when Sean Maygers gets to him. Vander Pulaski and Jake Nicola take public sex to a whole new level when they fuck on the car in the parking lot. Undercover cop Cole Connor has been staking out the restroom all along, but finally watching Beau Butler and Romeo Davis makes him abandon his post and join the hot action, which leads to Beau getting double-stuffed with cock from Agent Cole and Romeo. So come on, no one has to know. Pull over, come in and 'SHOW HARD' for some hot raw action with the boys.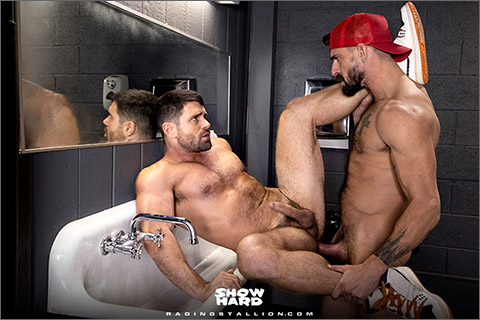 SCENE 1: Sean Maygers fucks Beau Butler
Needing a release after being on the road for a while, Beau Butler pulls over at a rest stop. While he's in the stall, Beau hears Sean Maygers getting some action at the urinals. Sean catches Beau trying to peek and heads in the next stall to slide his cock thru the gloryhole. As soon as Sean's thick cock emerges, Beau is on his knees eagerly tasting Sean's meat. After sucking through the anonymous glory hole, Beau gets off his knees and backs his hot ass up on Sean's cock. They decide to ditch the barrier and take the action outside the stall. Beau gets bent over the restroom sink, so Sean can lick his hairy hole. Beau begs for more, so Sean mounts up and slides his thick meat inside Beau's hungry ass bareback. The cock sucking, ass eating, finger fucking, and pounding continues until Beau sits back on the sink and gets his ass pounded. The action hits a fevered pitch sending Sean over the edge as he pulls his cock out and shoots all over Beau's hole before pushing it back in. With his ass loaded up, Beau strokes his cock while Sean fingers him until Beau erupts all over his stomach.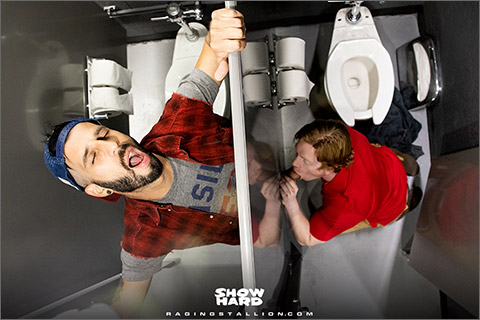 SCENE 2: Romeo Davis fucks Kyle Connors
Romeo Davis is cruising at the urinals of the public restroom when Kyle Connors slips off his wedding band and notices Romeo's throbbing uncut member. Kyle quickly reaches over to grab a hefty handful. For a little more privacy, they each enter a separate stall and use the gloryhole. Romeo slides his dick through, and it's met with Kyle's warm, wet mouth. Kyle proves he's a hungry little cock slut as ropes of spit hang from his chin and Romeo's cock. When Kyle's throat needs a break, he slides his cock through the hole to let Romeo return the favor. After sucking on Kyle's meat, Romeo wants hole, so Kyle backs up as Romeo's inches disappear inside Kyle's ass. Kyle wants to feel the full force of Romeo's cock, so he joins Romeo in the stall and braces on the toilet while Romeo pounds him bareback from behind. Switching positions, Romeo sits down on the toilet and Kyle sinks down on the fat cock and rides it hard. After bouncing on Romeo's cock, Kyle bends over one last time to get his load pounded out of him. It lands all over the floor. Romeo follows, delivering a heavy load to Kyle's face and mouth.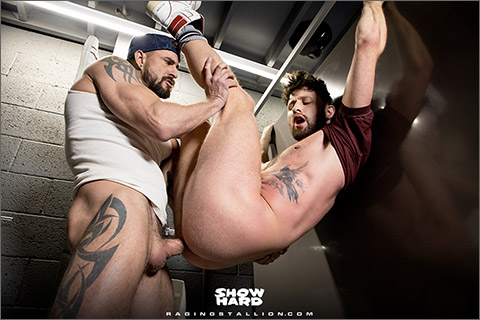 SCENE 3: Sean Maygers fucks Drew Dixon
Drew Dixon is alone and cruising in a restroom when Sean Maygers shows up and stands at the urinal. As soon as they notice each other, Drew shows Sean his ass to let him know it's a go, and Sean turns around with a rock-hard dick. Drew likes what he sees and sinks to his knees to get a mouthful. After gagging on his restroom buddy's dick, Drew bends over to let Sean prepare his hole for a bareback pounding. After some tongue and finger action in front of the urinals, Drew bends over and Sean fills his hole with cock. After pounding him doggy-style, Sean lifts up Drew and drills his prostate. Sean doesn't ease up with the ruthless pounding on Drew's hole. While bent over, Sean keeps delivering cock until he can't hold back and shoots his load all over Drew's ass. Before Drew can get off, they hear someone pull up outside, so they grab their clothes, and scramble to get dressed and head out.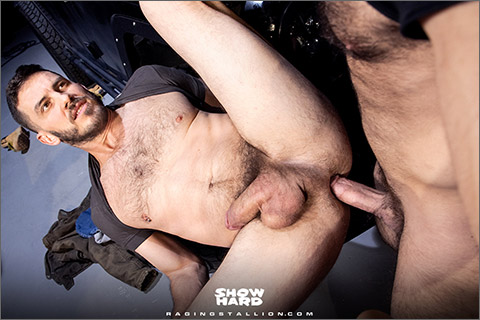 SCENE 4: Jake Nicola fucks Vander Pulaski
In a seedy public bathroom, Vander Pulaski heads into a stall, leaves the door wide open and starts to stroke his cock. Knowing that anyone could walk in at any moment and see him makes his cock stiffen fully. Vander's tugging away as he peers through a glory hole to see Jake Nicola taking a piss at the urinal. Jake doesn't notice and heads out, so Vander pulls up his pants and exits too. When Vander sees Jake standing by his car waiting, he's excited and reaches for Jake's bulge. The parking lot isn't going to stop them, and Vander gets down to worship Jake's cock. Jake returns the favor and rims out Vander's crack to prepare him for what's next. Bracing down on the car and in full exhibitionist mode, Vander gets stuffed full of Jake's raw pole. Taking it up a notch, Vander lays back on the tire to let Jake fuck his hole bareback until Jake shoots his ropes all over Vander's ass while Vander unloads all over himself.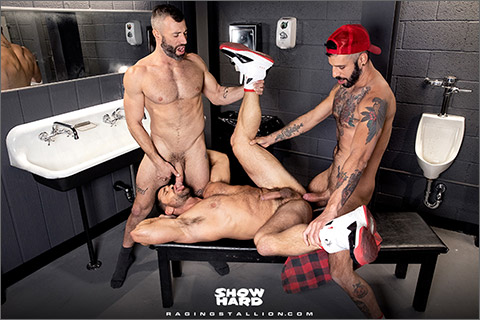 SCENE 5: Romeo Davis & Cole Connor fuck Beau Butler
Undercover cop Cole Connor is watching from a hidden hole in the wall as Romeo Davis and Beau Butler cruise each other and start to jack each other off. Not knowing they are being watched, Beau gets on his knees and gags on Romeo's cock. The action is so hot, so Cole decides to abandon his post and reveal himself, Beau and Romeo keep doing their thing while Cole jerks off. They invite Cole to join, and Beau is still on his knees, now servicing two cocks at once. Cole joins Beau on his knees to deepthroat Romeo's cock. All three hunks take turns swallowing cock before Beau gets hoisted up and bareback fucked by Cole. After working out Beau's ass, Cole bends over and gets stuffed on both ends. When it's Beau's turn again, he bears down on the sink to let Romeo stretch him from behind. Both Romeo and Cole take their turns fucking Beau's hole multiple times until Romeo sits back and lets Cole and Beau take turns riding on his raw cock. In the end, Cole is sitting on Romeo's cock and slams his ass up and down until his cock throbs and Cole shoots a thick load on Romeo's abs. Beau strokes a load out onto Romeo to add to the mix before Cole and Beau get on their knees to receive Romeo's load in their mouth.

WATCH THE SCENES AT:
RAGING STALLION'S MEMBERS SITE
Members at RAGING STALLION'S MEMBERS SITE can watch these scenes and download extensive Photo Content from this production and get discounted pricing on all DVD and Print purchases.