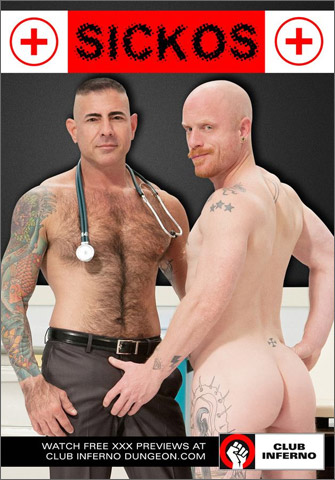 Studio: Hot House Entertainment / Club Inferno
Directed by: Christian Owen
Year of Production / Release: 2012
Country of Production: U.S.A.

CAST:
Jarvis Chandler
Lawson Kane
Sebastian Keys
Jamie Madison
Nick Moretti
Randall O'Reilly
Spencer Reed
Brock Rustin
Josh West
INFORMATION FROM HOT HOUSE:

SCENE 1: Josh West power fists Brock Rustin
After a brief inspection Dr. West decides he needs to take a more invasive look inside Rustin's puckered hole. He injects a turkey baster full of lube up Rustin's ass and probes him with his fingers. With little effort West shoves his entire fist in Rustin's hole. Doctor West orders Rustin on all fours and power-fists his manhole, probing the healthy rosebud with both hands. The doctor gives Rustin a clean bill of health and prescribes a rubber fist to tide him over until his next visit.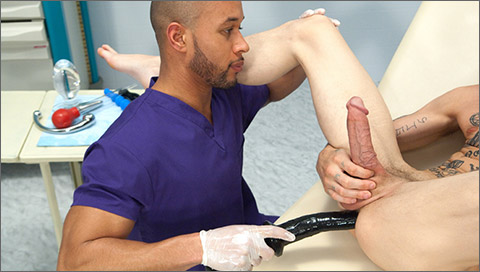 SCENE 2: Spencer Reed fucks and dildo-fucks Randall O'Reilly
Randall O'Reilly told us he wanted his hole busted by a muscleman so we called in Spencer Reed. Spencer dives right in to Randall's fresh young hole, loosening him up with his meaty fingers. Next Spencer chooses a medium size dildo and works it in and out of the young stud's ass. He teases Randall with a game; he wants to see how many balls Randall can take up his ass at once. As soon as he gets two balls up there, Spencer shoves the dildo in Randall's hole too. The DP continues until Randall begs him to stop but Spencer shows him no mercy. He grabs the inflatable and pushes Randall to new limits. The kid proves to be such a little pig Spencer grabs a marker and writes it on Randall's ass for all the world to see.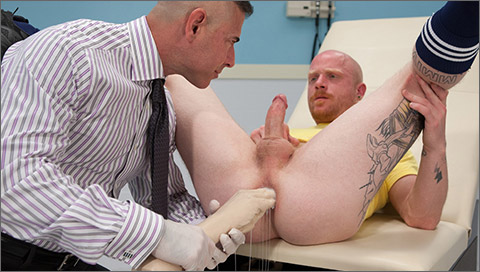 SCENE 3: Nick Moretti dildo-fists Brock Rustin
Brock Rustin reports to the exam room expecting to find Dr. West so he can return the rubber fist the doctor gave him the week before. When Dr. Nick Moretti comes in Brock surrenders the lethal butt-toy only to have Dr. Moretti suggest they try it out. Moretti begins by inserting just the fingertips of the fake fist in Rustin's ass but the greedy bottom opens his hole and swallows it to the wrist. Dr. Moretti instructs his patient to fuck himself while he strips naked and strokes his own fat cock. It's time for the real thing: the doctor lubes up his fist and works it into Rustin's butthole while sucking his dick. Moretti selects a giant glass egg-shaped bullet and forces it into Rustin's ass while he jacks off and shoots all over the exam room, convincing Rustin he's found a new doctor.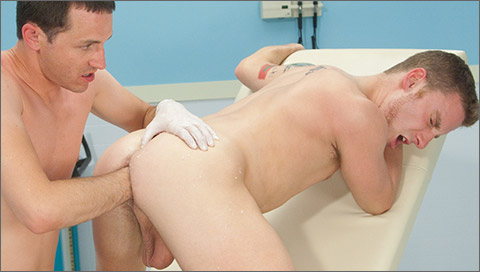 SCENE 4: Sebastian Keys gets fist-fucked by Lawson Kane & Jamie Madison
Intern Sebastian Keys takes a break from cleaning the exam room to suck Lawson Kane's giant cock. The hungry young stud gets on his knees to swallow all 8+ inches to the base, sucking a load right out of Kane just as Jamie Madison comes in and catches him in the act. Kane takes off leaving the interns alone for some intense buttplay. Keys puts Madison on the exam table and works his hole with a huge dildo. He shoves the fake cock in and out of his co-worker's ass until Madison pops a huge boner. Next Key's takes his turn on all fours, opening his hole for Madison's fist. Madison relentlessly invades Keys' juicy bubble-butt, working his hand in well past his wrist. The kinky Keys flips over on his back and orders Madison to stretch his hole with an inflatable toy until he pops a cherry-red rosebud!

WATCH IT NOW / MORE INFO AT:
HOT HOUSE & HOT HOUSE BACKROOM
Hot House Backroom Members can see this film anytime online.
With extensive additional photography from every scene.