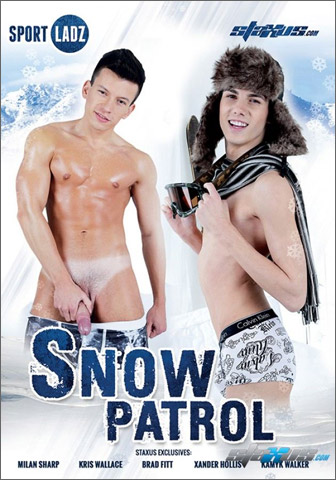 Studio: Staxus / Sport Ladz
Directed by: John Smith
Year of Production / Release: 2013
Country of Production: Czech Republic

CAST:
Rudy Bodlak
Xander Hollis
Heath Denson
Brad Fitt
Milan Sharp
Rudy Valentino
Kamyk Walker
Kris Wallace
ADDITIONAL COMMENTS:
Members at STAXUS.COM can watch the scenes at anytime.
INFORMATION FROM STAXUS PRODUCTIONS:
Playing in the snow can be real good fun, but would anything truthfully compare to the opportunity of getting together with a gang of your favourite fuck-buddies for a hot, horny session of raw cock action? Certainly this bunch of horny Czech playmates don't appear to think so, that's for sure, as STAXUS favourites Rudy Valentino and Brad Fitt lead an all-star cast of cock-crazed twinks in search of the next heated fuck. Get ready, folks, for the hottest winter of your life …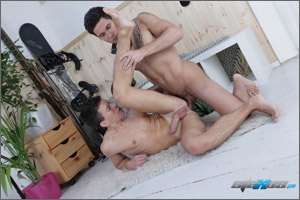 SCENE 1: Rudy Bodlak fucks Kris Wallace
Dark-haired beauties, Kris Wallace and Rudy Bodlak, love nothing better than to take time out to enjoy a winter walk in the woods together – or at least that's what they might like you to believe from the snowy introduction to this scene. In reality, of course, there is one other activity that eclipses their love of the great outdoors – and no prizes for guessing what that is, as the two oversexed talents take time out to explore each other's taut, muscular bodies in the warm comfort of a nearby cloakroom. What's more, the gusto with which they engage in their favourite hobby tells you everything you need to know about these horny young lads. Cock-jousting, dick-slurping, ass-rimming frolics are all part of the fun as the boys work themselves up towards a sweaty crescendo of raw fucking – the kind we just know you're gonna love big time! Wallace's man-cunt just doesn't stand a chance as his buddy pummels away like a wild animal, leaving the kid gasping for breath but yelping for more! Suffice it to say that it isn't long before Wallace is quite literally having the jizz knocked out of him; before Bodlak erupts over his face, leaving the youngster looking the total slut!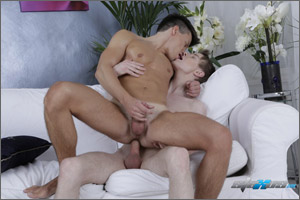 SCENE 2: Milan Sharp & Kris Wallace flip-fuck

SCENE 3: Rudy Valentino fucks Xander Hollis
Teaming up with Rudy Valentino is almost akin to meeting porn royalty, but take our word for it when we say that Xander Hollis doesn't allow that fact go to his head for one moment in this scene. The youngster's a bright lad and knows perfectly well that it's an esteemed honour to be added onto the list of guys that Valentino has fucked, but there's not the slightest sense that Hollis is overcome by the occasion. Instead he knocks out a teasing, sensuous performance that is almost worthy of an Oscar! First a little play with a piece of silk against the superstar's skin, then a well-honed massage, then a bit of cock-play … it's a slow-burning build-up to the main event and every minute seems to add to the sexual chemistry between these lads. And when the crescendo finally arrives – Hollis mounting Valentino's raw cock cowboy-style, having just rimmed and fingered the legend's ass-hole – it certainly doesn't disappoint. Hollis plays the role of power-bottom to an almost classical degree, allowing his ass to be thoroughly ploughed like a total pro. It's a coupling that'll almost etch itself onto the back of your retina; topped off by a superb spray of cum from both parties. In short, we defy you to view this cock-tingling display without nutting big-time!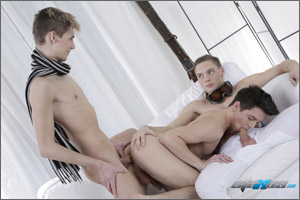 SCENE 4: Brad Fitt, Heath Denson & Xander Hollis
It's a well known medical fact that prolonged exposure to the cold can lead to all sorts of hallucinations, which may or may not explain the teasing apparition of Brad Fitt and Xander Hollis to Heath Denson when he returns home after a long winter's walk at the start of this terrific scene. Be it fantasy or reality, however, Denson opens his eyes just as Brad Fitt forces the end of his dick into the young lad's mouth – and, needless to say, Denson doesn't balk from the task in hand! Nor, for that matter, does Hollis, who promptly unburdens Denson's straining crotch of its contents and begins to slurp on the swollen contents with similar gusto. The subsequent sight of Fitt and Hollis playfully fighting for their mate's ramrod, taking turns to slide their lips up and down its length, is one that'll live long in the memory; as will that of both guys rimming Denson's ass whilst the recipient is folded up double over a sofa. But it's the hardcore, condom-free fornication that follows that serves as the highlight here, not least of all the pile-on fuck-stack that sees Denson fucking Fitt fucking Hollis! Overall, however, it's Fitt's ass-hole that gains most attention, stretched to the max by Denson and Hollis in turn before all three boys dump their loads all over Fitt's face and torso!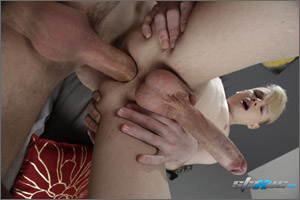 SCENE 5: Milan Sharp fucks Kamyk Walker
You know damned well that we like our boys on the cute side, but we'll be perfectly upfront and admit that we surprised even ourselves when we managed to get young Kamyk Walker in front of our cameras. Blond, fresh-faced and as horny as fuck, this lad is everything you'd expect from a twink and much, much more besides. Certainly Milan Sharp's oversized dick doesn't stand a chance here – why, Walker has his luscious lips firmly wrapped around it pretty much from the word go! Little wonder that Sharp's groaning in ecstasy almost from the start of proceedings – let's face it, if you had a comely little whore like Walker hanging off your dick like a vacuum pump wouldn't you react in just the same way? Indeed, it's the sheer audacity with which Walker deals with the thick, wrist-sized knob presented to him here that warrants greatest acclaim – not least of all when he finally plunges down on Sharp's lap cowboy-style for the kind of ride that could almost bring tears to the eyes. Not for this slut, though. Fact is he has the fuckin' time of his life taming this monster; culminating in a blistering facial that surely leaves Sharp's nads totally drained of their contents!

WATCH IT / DOWNLOAD IT AT:
STAXUS.COM
Members at STAXUS.COM can watch or download the scenes at anytime.
Download extensive High Quality photo sets from each scene.
AVAILABLE FROM: RAD VIDEO