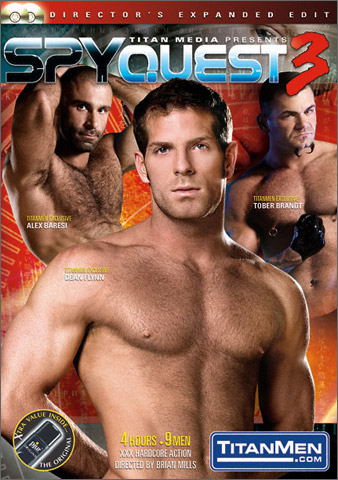 Studio: Titan Media
Directed by: Director: Brian Mills
Year of Production / Release: 2007
Country of Production: USA

CAST:
Alex Baresi
Tober Brandt
Fred Faurtin
Dean Flynn
Brett Mathews
Nickolay Petrov
Jason Ridge
Francois Sagat
Greg York
FROM TITAN MEDIA WEB SITE:
Just when you thought it couldn't get hotter, Spy Quest 3 brings you another fuck filled, cum drenched tale of espionage, with the sensational debut of new TitanMen exclusive Dean Flynn. All the piss, spit and cum in the world can't cool these guys down. TitanMen exclusive muscle stud Tober Brandt (aka: Black Fist) jump starts the fun by slam fucking and then fisting Greg York who finally quenches Tober's thirst with an amazing fountain of piss. Tober caps the scene with an unbelievable hard core climax that will leave you stunned and sprung.
When beefy TitanMen exclusive François Sagat visits Black Fist's dungeon, the two swap some rough face fucking affection and François rides the boss' cock until he shoots a thick load all over the both of them. But it's not over until François jacks his thick, uncut meat as Tober hoses him down with an amazing piss geyser.
And there's plenty of hard body, three way action too. TitanMen exclusive Alex Baresi offers up his studbutt to the lean and handsome pair of Fred Faurtin and Jason Ridge who eat, spear and fist Alex's hairy hole. The threesome slobber and choke on each other's dicks and swap fuck after fuck. Not to be outdone, handsome Nikolay Petrov and Brett Mathews team up to probe new TitanMen exclusive stud Dean Flynn's hole. It's not long before these three are jacking, sucking and pounding the cum out of each other!
SPY QUEST 3 has nine of TitanMen's hottest guys, in nearly three hours of hard, nonstop, multi-orgasmic, ball-draining, butt-pumping man play that will definitely leave you more than satisfied!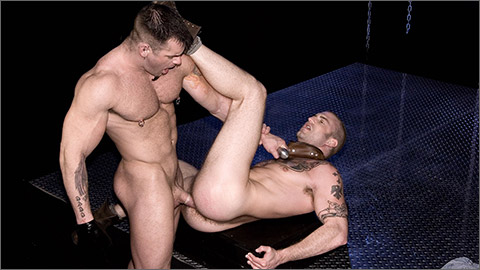 SCENE 1 – BLACK FIST'S DUNGEON: Tober Brandt punishes, throatfucks, and fists Greg York.
Tober Brandt, intimidating in black leather chaps, gloves, boots and codpiece, towers over terrified hunk Greg York, who's a bound, gagged and collared captive in Tober's dungeon. Tober punches and smacks sex-slave Greg, grabs him by the collar and grinds his head into his crotch and codpiece. With Greg kneeling before him, Tober rips off his codpiece; out pops his throbbing boner, which he uses to beat Greg in the face and head. Tober hurls giant gobs of spit into Greg's face, punches him with his gloved fist, rips off the gag and shoves his stiff member down Greg's throat until he chokes. Tober laughs as Greg gags on his cock, spitting and slobbering a steady stream of choke-juice.
   Tober then throws his own muscular ass in the air for Greg to eat. At Tober's command, Greg spits into Tober's deep crack and tongues his hole relentlessly as Tober shoves his beefy butt back into Greg's face. Tober turns around and force feeds Greg his hard and massive manmeat, grabbing his head in both hands as he pounds him deep before pulling out and shooting his load all over Greg's chest.
   Tober grabs Greg by his dog collar, bends him over, smacks his ass and teases his butt hole with his gloved fist, then slips his index finger deep inside Greg's ass. Tober hucks his spit down Greg's butt crack and massages it into his hole before slipping a condom on his throbbing cock and plunging it deep into Greg's receptive chute, first with slow strokes then faster than a jackhammer as Greg grunts and pants and begs for more.
   Tober slowly screws a stainless steel dildo in and out of York's fuckhole. He slams Greg to the floor and cracks his hole open again with the dildo as he chews on Greg's beefy butt cheeks. Realizing that one rod isn't enough to satisfy this cock hound, Tober doublefucks Greg doggy style with his cock and the steel dildo, then turns him over and fucks him on his back. Tober holds the dildo in his mouth and shoves the massive toy back up Greg's bottomless pit.
   Tober hoists Greg's thick thighs into the air and rolls him back onto his shoulders; with Greg's ass high in the air and Tober's stiff dick stuffed way up his butt, Tober spits into Greg's mouth as he continues to pound him until Greg unloads a giant wave of cum all over himself. Tober pulls out and covers his obedient servant with jizz.
   Tober greases up Greg's ass then drives his fist in and out of him up to the forearm opening a gaping hole in Greg's muscularly meaty butt. While Tober's fisting him, Greg shoots an endless piss fountain into Tober's eager open mouth, soaking Tober's face and beefy chest. With Tober's fist still in his ass, Greg then pops a hot sticky load as Tober growls and roars his approval.
   In the final incredible shot of the scene, Greg hoists Tober, who's pierced with hooks through his back and shoulders, suspending the malevolently grinning Black Fist mid-air as he reveals his diabolical plans.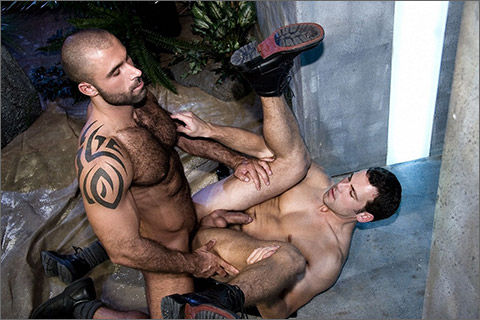 SCENE 2 – SECRET RENDEZVOUS POINT: Jason Ridge, Fred Faurtin, and Alex Baresi fist, fuck, and suck.
Thick, hard-bodied agent Jason Ridge heads to the point (crossing paths on the way with François Sagat) where agents Alex Baresi and Fred Faurtin have scheduled their rendezvous in the forest to swap information. But secrets aren't all the two agents are sharing, as Jason spies on Alex and Fred getting distracted as they kiss and peel off their shirts, revealing Alex's thickly muscled back and incredibly hot, hairy pecs and Fred's tight, lean, smooth torso. Alex chews on Fred's erect nipples and gives his pits a tongue bath, then unzips him and swallows his uncut dickshaft, lavishing special attention on the bulbous cockhead glistening with precum. Jason, who's been stroking his dick and watching from behind some bushes, strips down and joins the action. Jason and Alex take turns slurping greedily on Fred's dick, then as Alex and Fred kiss, Jason goes back and forth stroking and sucking their two uncut cocks. Fred and Alex kiss and take turns biting and chewing each other's nipples until they both soak Jason's pecs with a double load of creamy cum.
   Still rock hard, Fred looks on as Jason fucks Alex's face and spews a torrent of jizz all over his hairy chest. Jason eats Alex's hairy muscle butt, slowly licking his crack and hole, then Fred gives it a go, spreading Alex's hairy asscheeks and driving his tongue in deep. Having gotten a tantalizing taste of Alex's meaty ass, Fred and Jason lube up their condom-sheathed cocks and take turns fucking the hell out of him.
   Fred gets Jason on his back with his thick legs in the air and eats his ass; Fred and Alex take turns fucking him until Jason pumps a white wad all over his tight abs. Alex then takes a ride on Fred's thick cock, grinding up and down and nice and slow while he pumps out a creamy load, his face contorted in pleasure.
Fred lays back and shoots all over his own chest.
   Alex gets down on all fours and offers Fred his hard, hairy muscled ass, so Fred slips a glove on, greases Alex's inviting butt, then shoves his fist in and out of Alex's hole, pushing all the way in and pulling nearly all the way out as Alex grunts loudly with intense pleasure. The sight and feel of Alex's ass gets Fred so hot and bothered he pumps out another load with one fist planted firmly up Alex's butt.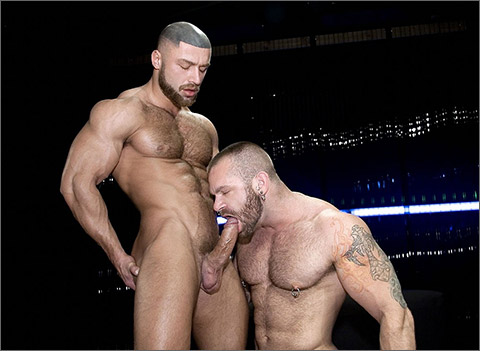 SCENE 3 – BLACK FISTS' LAIR: TitanMen exclusives François Sagat and Tober Brandt suck, fuck, rim and piss all over.
Thickly muscled, black-clad TitanMen stud François Sagat arrives at Tober's dungeon to deliver a stolen prize. Tober's pleased, and decides to reward his successful agent by offering the greatest prize of all – his giant cock; François drops to his knees and uses his teeth to undo Tober's leather pants, licking and drooling over the boss's leather codpiece. François sucks and slobbers on Tober's pierced dick, getting it slick with plenty of spit as Tober facefucks him, moaning and growling like a mad dog.
   Tober makes a meal out of François' thick, hairy pecs, furry pits and amazingly perfect six pack abs, ultimately peeling open François' trousers and swallowing the thick upturned cock. As François pumps away, Tober gags and lubes the thrusting fuck pole with his spit, swallowing François to the hilt while his own bone stands at attention. François jerks Tober's cockpole until Tober busts his nut all over François' chiseled, beefy pecs.
   François then kneels ass-out in a chair while Tober dives his face into his rock- hard ass before mounting it, driving his condom-covered dick deep between the muscled globes. The two rock the chair back and forth as François rides Tober's stiff pole while his own hard dick bangs against Tober's ripped abs. Sweat pouring off his tanned torso, François turns around and sits backward on Tober's dickshaft and sends thick ropes of jizz flying everywhere.
   As François kneels and strokes his thick veiny pole, Tober hoses him down with an interminable cannon spray of piss that bathes François's golden, ripped, muscular body.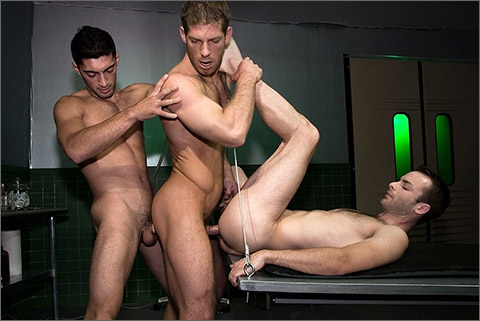 SCENE 4 – TITAN INTELLIGENCE OPERATION (TIO) TRAINING GROUNDS: Nickolay Petrov, Dean Flynn and Brett Mathews explore each others asses, cocks and throats.
Tall, lean, broad-backed new TitanMen exclusive Dean Flynn is jogging shirtless through the woods. The TIO agent-in-training is spied on by the darkly handsome Nickolay Petrov, who knocks him unconscious and abducts him, spiriting him away to a lab. With Dean buck naked and spread eagled on an examination table, doctor Brett Mathews prods, probes and finger fucks Dean's tight hole and shoves an electronic identity transfer device deep into his asshole. As the probe works its way up Dean's fuckchute and does its nefarious work, his dick springs to life. Displaying his best bedside manner, Brett deepthroats his patient's flexing shaft as Nickolay massages Dean's ripped, blond-furred pecs.
   Brett strips off his white lab coat and lies back as Nickolay sits on his face and jacks off. Dean sucks Brett's dick, then gobbles down Nickolay's cock while Brett continues to chow down on his ass. Nickolay blasts a load of sticky jizz all over Dean, while Dean jerks a load out of Brett and then shoots his own cream onto Brett's back while Brett sucks Dean's ball sack.
   Dean grabs Brett's beefy butt cheeks and pries them apart, prodding and tonguing Brett's smooth ass as Brett sucks Nickolay's cock. Dean slides in and hammers Brett's ass while Nickolay feeds him his impossibly long shaft.
   Brett lies on the examination table with his butt over the edge, the perfect position for Nickolay and Dean to take turns cracking Brett's hole open with their hard cocks. The three become a fuck sandwich with Dean pumping Brett's butt while Nickolay pound his penis into Dean's ass. Nickolay can't hold back any longer, and pulls out and squirts a giant load all over Brett's hairy chest, while Dean continues to thrust his way up Brett's ass as Brett shoots all over his ripped torso. Finally, Dean pulls out and strokes out a load that coats his balls and abs.
   Mission accomplished? If the mission is getting nine of the hottest TitanMen around to scorch the screen with almost three hours of sucking, rimming, fucking, pissing and fisting… then YES!
ADDITIONAL COMMENTS:
Greg York cumming mid-abuse in Scene 1 is quite a nice touch to a very nasty scene.

MORE INFO, PREVIEW OR WATCH RIGHT NOW:
TITAN MEDIA
Scenes Premier online prior to DVD release and are available to view anytime in the Member's Area.
Members can watch scenes from almost all Titan Media releases anytime online.

VIDEO ON-DEMAND: SPY QUEST 3 @ AEBN SMUTJUNKIES THEATER
DVDs & ON-DEMAND: SPY QUEST 3 @ TLA VIDEO