Studio: Staxus / Sauvage
Directed by: John Smith
Year of Production / Release: 2013
Country of Production: Czech Republic

CAST:
Kevin Ateah
Ricky Nielsen
Aslan Brutti
Xander Hollis
Connor Levi
Jesse Magowan
Milan Sharp
Kamyk Walker
ADDITIONAL COMMENTS:
Members at STAXUS.COM can watch the scenes at anytime.
INFORMATION FROM STAXUS PRODUCTIONS:
Firemen (understandably) have a reputation for all sorts of heroics, but believe us when we tell you that when it comes to this bunch of dishy dudes it's not so much rescuing pussies stuck in trees that passes the time as getting their dicks firmly stuck in some cute twink's ass! A mission that they embrace with all the gusto imaginable – proving (once again) that, when it comes to the hose-wielding heroes of Prague Central, the fireman's lot is one cum-dousing hoot! Big dicks, all-too-willing holes and gallons of pent-up jizz make this a top-notch must-see!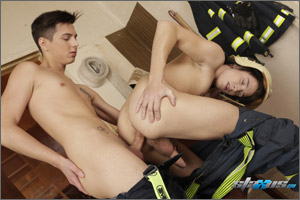 SCENE 1: Kevin Ateah & Xander Hollister flip-fuck
It's a well known fact that guys like firemen aren't allowed to drink or smoke (oh, the irony!) on duty, which is understandable enough; but whether that ban extends to having sex with work colleagues is anyone's guess. Either way, it's clearly not an issue that seems to bother either pretty boys Kevin Ateah or Xander Hollis, who've barely caught their breath from escaping a smoldering building when they're busily hitting it off together for a full-on session of indulgent cock-sucking and ass-rimming! And believe us, when we say that they take the opportunity to indulge their carnal passions we really do mean that! This horny couple just can't wait to explore every inch of each other's cute, taut bodies culminating in a breathless, flip-flop fuck that'll have you reaching for the remote with one hand and your hard, aching cock with the other. In short, there doesn't appear to be a reserved bone in either of these two boys, as they suck and fuck like a couple of wild animals for the camera, producing a veritable cascade of pent-up jizz in the process. A definite must-see for anyone who loves guys in and out of uniform, not to mention fans of cute lads with a lust for dick!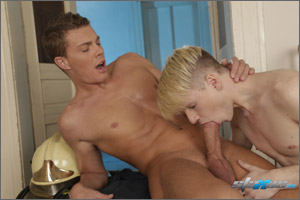 SCENE 2: Aslan Brutti fucks Kamyk Walker
Having just been rescued from a smoke-induced demise, it's perhaps only too natural that blond beauty, Kamyk Walker, should want to show the full extent of his appreciation by immediately falling into Aslan Brutti's embrace and taking the hunk's handsome dick out of his uniform for a real lusty sucking. A reaction that immediately spurs Brutti into a mutual slurp on the Brit twink's own meaty offering in return. Not that there's ever the slightest doubt about who's going to be the bottom in this set-piece. With his pale skin and his evidently insatiable taste for hard cock, it's no time at all before Walker is thrusting himself down on Brutti's lap for the kind of hard-assed pounding that every dick-lovin' twink lives for. And the muscular Czech top doesn't disappoint, as he pummels into that tight little pucker with typical gusto and relish – at one point even managing to suck Walker off whilst fucking him! Suffice it to say that Brutti uses his meaty hose to full effect, leaving Walker's ass well and truly manhandled and literally fucking the spunk out of the boy. And just when you thought things couldn't get hotter, the hunk calls it a wrap by jizzing right into Walker's mouth! Fab-u-lous!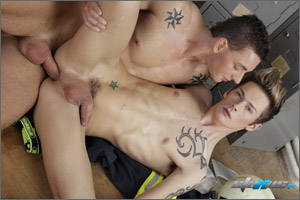 SCENE 3: Ricky Nielsen fucks Connor Levi
We're obviously not going to recommend that you pilfer through someone else's private locker at work, but if the results of such unethical behaviour are in any way guaranteed to be like those that quiffed blond, Connor Levi, experiences in this scene then maybe it'd be worth a punt after all. For no sooner has the cutesome twink been interrupted by a rather irate (and not uncommonly hench) Ricky Nielsen, than he's being pushed down onto his knees to accommodate the muscular fireman's hose in his mouth. A task that he undertakes with somewhat splendid enthusiasm. Then again who can blame the boy? Nielsen is every inch the Alpha male here, with the kind of equipment in his crotch that any such man would surely boast. Not that it's very long before the top has whipped his hard shaft from between Levi's hungry lips and is giving his fuck-buddy the kind of rampant, sweaty workout that the disgraced beauty deserves. Believe us, there isn't an ounce of mercy shown towards Levi's tight little pucker as the scally is pounded from every direction; before Nielsen pumps the contents of his balls all across the lad's sweet face, then uncivilly bundles the cunt right out of the door!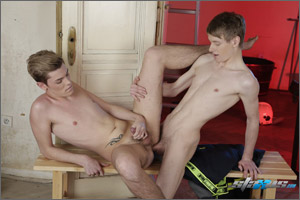 SCENE 4: Milan Sharp fucks Jesse Magowan
There's no smoke without fire, as they say – and there's no way that you're gonna sit through this smouldering hot scene without giving your cock a real good cum-inducing tug (or two!) in appreciation. After all, who could possibly fail to be ignited by the sight of this pair of horny twinks going for it hammer and tongues? Jesse Magowan and Milan Sharp (complete with his immaculately blond coiffure) are two of the cutest firemen you're ever likely to cum across – excuse the pun – whose idea of dousing the flames would perhaps be judged a little unorthodox in some quarters. No criticism is ever gonna be levelled by us though. This flip-flopping couple just love to suck cock and fuck ass in equal proportion, as each take turn to surrender their hungry hole in their lust for a hard fireman's hose. First Magowan fucks Sharp; then the roles are reversed so that Sharp can pummel Magowan. Then the two flip back into their original positions – at which point Sharp pumps a healthy pool of boy-batter all over his belly. But it's Magowan's eruption – and surely no other word can be used to describe his climax – that warrants most acclaim, spewing cum like a spray gun!

WATCH / DOWNLOAD THE SCENES NOW AT: STAXUS.COM
AVAILABLE FROM: RAD VIDEO