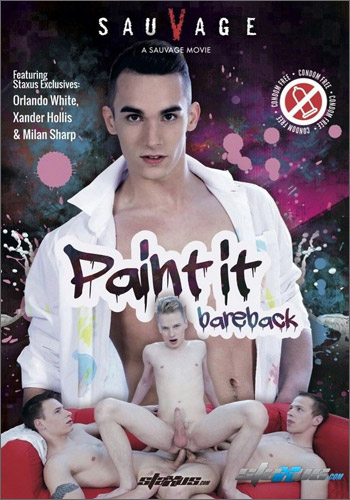 Studio: Staxus / Sauvage
Directed by: John Smith
Year of Production / Release: 2013
Country of Production: Czech Republic

CAST:
Dick Casey
Jack Dawson
Benjamin Dunn
Nathan Levi
Neo Matthews
Ryan Olsen
Milan Sharp
Kamyk Walker
Orlando White
ADDITIONAL COMMENTS:
Members at STAXUS.COM can watch the scenes at anytime.
INFORMATION FROM STAXUS PRODUCTIONS:
Painting can be such a relaxing pastime – a means of escaping the everyday pressures of life. But it can clearly also drive some young guys into a sexual frenzy, as this art-school of debauched, cock-crazed artists ably demonstrates. Xander Hollis, Milan Sharp, Dick Casey and the gorgeous Orlando White are just some of the breathtaking beauties on show, as Picasso's blue period makes way for the STAXUS red-hot raw period! Get ready to be splattered – these boys' balls are full to the brim and they're ready to make their mark!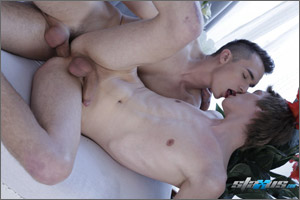 SCENE 1: Orlando White fucks Nathan Levi
Blue-eyed beauty, Nathan Levi, has an eye for the landscape around him, so his ability to capture it on canvas should come as no great surprise. But he also has a keen eye for the male form in all its vibrant, youthful splendour – a fact that immediately becomes apparent when his latest artistic foray is interrupted by the unexpected appearance of the gorgeous Orlando White. Not that you have to be a painter to appreciate a guy like White, of course; but for this young artist it's a case of grabbing the opportunity with both hands and escorting his newly-found muse back home as quickly as possible. Whereupon both lads dive headfirst into a stunning, breathless session of smooching and cock-sucking that'll immediately get your juices rising, so to speak. White, in particular, is in scorching form, not least of all when he engages in some terrific rimming action on Levi's pert little ass; but matters take off big-time when White finally thrusts his oversized raw cock deep into his compatriot's pucker and begins to bang away with characteristic gusto. A spunktastic fuckathon ensues; culminating in Levi getting a face-load of jizz courtesy of White's rampant fuck-rod, before the horny, shaved little bottom spews a fine wad of baby-batter over his own belly!

SCENE 2: Xander Hollis fucks Ryan Olsen
We're in the gay porn trade so we're not exactly sure if Xander Hollis' portrait of his pal, Ryan Olsen, will ever be classed as a masterpiece – best ask an art critic that one! – but one thing we can say with some assurance and that's that Hollis is one hell of a fuckin' classic when it comes to having sex in front of the camera! A fact that's borne out in style in this terrific set-piece. Abandoning his paint-brushes, the young dark-haired cutie is soon working his magic on Olsen's dick as only a boy like Hollis can; eventually culminating in him rimming Olsen's ass and then thrusting his rock-hard cock deep inside for good measure. But as if to underline his versatility, Hollis then proceeds to give his own pucker a real good seeing to – plonking himself down on Olsen's shaft and taking every hard inch that his mate can muster in return. Needless to say, neither of these horny bastards disappoints – least of all Hollis, who ultimately delivers a breathtaking blast of spunk over his belly whilst Olsen bangs away at his rear. But it's arguably Olsen who steals the scene with a fantastic, geyser-like spray of jizz that Hollis laps up with characteristic gusto, and which will undoubtedly leave you totally and utterly drained yourself. In short, prepare for a first-class wank!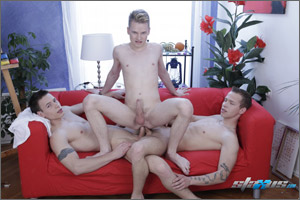 SCENE 3: Dick Casey & Neo Matthews fuck Kamyk Walker
Springtime in the park, and Dick Casey and Neo Matthews are acting as muses for the creative juices of young blond painter, Kamyk Walker. Not that the artist seems that interested in creating a masterpiece on canvas. No, given the way he keeps feeling his crotch he's got art of a very different kind on his mind – as becomes all too apparent when he suggests that the two models come with him to his nearby apartment. The truth of the matter is that Walker's innocent-looking face disguises a distinctly kinky side to his character. A deep, dark craving that only reveals itself as the boys strip off and begin to engage in a succession of cock-sucking, ass-rimming set-pieces. For this is a boy who won't be happy until he's seated himself on both Matthews and Casey's cocks at the same time! To anyone who hasn't seen this sort of thing before it might be considered an almost impossible task. For a lad like Walker, however, who's as hot and as turned on as it's possible to get, it's almost – excuse the pun – like a walk in the park! What's more, we're absolutely positive that this exquisite show is gonna get you as horny as it's possible to get; and by the time the sticky facials serve as a sign-off you're gonna have nutted not just once but probably two or three times! In short, a definite classic from start to spunk-stained finish!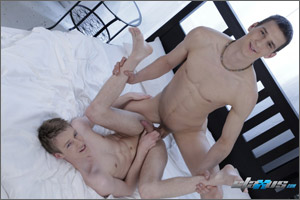 SCENE 4: Benjamin Dunn fucks Milan Sharp
You only need to take one glance at the pairing of Milan Sharp and Benjamin Dunn, and see them standing side by side when Dunn jumps off a tram to meet up with his pal in Prague, to realise where this scene's going. Dunn, after all, towers head and shoulders above the young blond; and the fact that Sharp is (as we all know) such an insatiable bottom means that his accommodation of Dunn's meaty, uncut ramrod is pretty much a shoe-in from the start. Don't let this obvious realisation detract from the worthiness of this fabulous coupling, however. If anything, the fact that Dunn is such a natural top to Sharp's bottom only adds to the scene; and both boys are very much at the height of their game as they play and cavort like a pair of eager bucks. Indeed, the real sense of enjoyment on the part of both lads almost oozes from the screen; and Dunn's dick eventually slides into Sharp's fuck-hole with such ease that you'd be quite forgiven for thinking that it was made for this solitary purpose. Sharp, for his part, is the perfect fuck in every sense, taking every inch like a pro and ultimately bouncing up and down on Dunn's lap as if he were a fuck-doll. By the time he gives an open-mouthed reception to Dunn's dick – knowingly eyeing the camera as he does so – your own appreciative spurt (or two) is guaranteed!

WATCH / DOWNLOAD THE SCENES NOW AT: STAXUS.COM
AVAILABLE FROM: RAD VIDEO