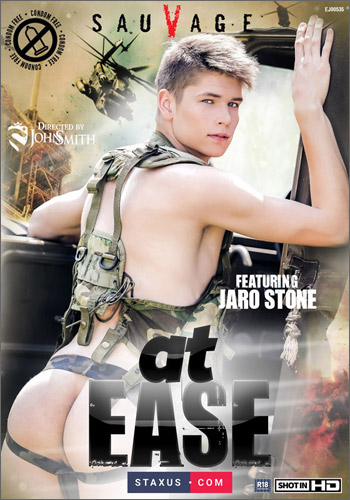 Studio: Staxus / Sauvage
Directed by: John Smith
Year of Production / Release: 2015
Country of Production: Czech Republic

CAST:
Paul Hunter (Kyle Willis)
Oscar Ricci
Calvin Rose
Will Simon
Roman Smid
Jaro Stone
Joel Vargas (Petr Zuska)
Nick Vargas (Romi Zuska)
INFORMATION FROM STAXUS PRODUCTIONS:
Life in the army can be tough. Fucking tough! But rest assured that our troop of hyper-horny soldiers always finds the time to take a break from all that rigorous training to enjoy some much-needed boy-on-boy action. After all, the army that fucks together, fights together – a maxim that brothers Joel and Nick Vargas are only too keen to point out to new recruits Kyle Willis and Calvin Rose. And with Roman Smid and the incredible Jaro Stone in the ranks, you can be sure that this is one military parade you (and your cock) just won't wanna miss!


SCENE 1: SMOKING HOT SOLDIERS SNEAK OUTDOORS FOR A SUCK-&-FUCK FRENZY!
We're not totally convinced that cigars come as standard issue for enlisters in the Czech army, but they're clearly one little luxury that young recruits, Joel Vargas, and new boy, Kyle Willis, are determined to make the very most of. Not that anyone could possibly blame them for taking a break from a life of fighting and killing; and, finding a quiet corner of the woods to relax, these two horny fighters take a chance to enjoy the simple pleasures that only long, hard phallic objects can give a man.
   And (obviously!) we're not just talking cigars here. In fact, the smoking session is very quickly abandoned once both fellows begin to realise that there's much more fun to be had with the contents of each other's khaki trousers – at which point Vargas immediately makes a bee-line for Willis's dick, like a hunter pouncing on his prey! You could almost feel sorry for the new boy were it not for the look on his cute little face that tells you that he's more than made-up by the move – a sentiment that's only underlined by the manner with which he returns the favour shortly afterwards.
   Indeed, you don't need to be too much of a sexual expert to realise that this is one young fellow who won't be truly happy until he's got his compatriot's shaft pushing into his guts in order to give his inexperienced ass-hole the stretching it's always dreamed of! Not that he has to wait too long for that fantasy to become reality. Soon he's being given a good old-fashioned Vargas workout, taking every inch of solid man-meat and spewing the contents of his nads in the process. All nicely topped off by Vargas collecting his pay-cheque by blasting his goo all over the lad's pucker!

SCENE 2: NICK VARGAS HUNTS DOWN HIS GUY – THEN FUCKS & CREAMS HIM!
There's no need to be concerned, folks. There may indeed be a very rough-and-tumble start to this scene, but we can assure you can no models were harmed in its production! All the same, there's simply no denying the breathless drama that marks the first few minutes of action; with Nick Vargas (gun in hand) chasing new boy, Calvin Rose, across a field of long grass. With dramatic music pounding in the background, you could almost be forgiven for forgetting (albeit momentarily) that this is actually porn you're watching; until Vargas finally catches up with his mark just outside a farmhouse and the raw man-on-man action finally begins.
   By this point, of course, there's a very good chance that you'll be totally captivated by Vargas's Jason Bourne persona – and it's likely to get a whole lot more intense when the fellow exacts his dominance over Rose by first forcing the lad against a tree and then (very quickly) inserting his finger into his ass. Before the boy knows it, Vargas's dick has promptly followed in the digit's wake, signalling the start of a sweaty, breathless outdoor fuck that will almost certainly have you unzipping and jerking off in no time.
   Vargas is the dominant force, no question – quite literally pounding his target down to the ground! But don't assume that Rose's performance here is in some way inferior. Despite his rookie status, he takes every thrust like a pro; and tops his act off by riding the cock cowboy-style, creaming himself in the process, before taking Vargas's wad on the face. Army games have rarely if ever looked so fucking hot!


SCENE 3: TWO HORNED-UP RECRUITS PARK UP FOR A HARD FUCK & STICKY FACIAL!
STAXUS favourite, Jaro Stone, and new recruit, Will Simon, should be keeping a watchful out for hostile rebels as they scoot along in their army truck; but, as ever with our horny young officers, they're much more interested in exercising their cocks than combating the enemy. As a result, they're parked up in a field at the first opportunity, taking a chance to jump out of the vehicle so that they can take it in turns to feast on the handsome dick that they've both got stashed inside their khaki trousers!
   Stone, in particular, can't get enough of his mate's nicely curved shaft – but that'll come as no surprise to his legion of fans, who already know what a complete cock-bitch he is. Ever the versatile guy, however, he's clearly prepared to take the upper-hand in this pairing; and before long he's giving Simon's ass a rigorous rimming, probing his tongue right into his pal's eager little crack in preparation for what ultimately proves to be a terrific, open-air pounding! Fuck knows what the enemy would've thought had they stumbled upon these two cuties rutting away for all they're worth in the bright, Czech sunshine.
   What we can say with some certainty, though, is that you lot of horned-up bastards are in for a treat, with young Simon taking every inch like a veritable pro! All of which culminates nicely with Stone creaming the fellow's well-pounded pucker; before getting down on his knees and taking a full wad of hot jizz over his face and in his mouth from the depths of Simon's erupting rod! If every military excursion was this hot and jizzy, we'd all be fucking enlisting!


SCENE 4: HOMESICK RECRUIT GETS HIS HARD FILL OF HOT COCK & HUNGRY ASS!
Young army recruit, Roman Smid, is feeling homesick – and no great wonder! Being stuck in the army, miles from everything that's familiar, is never going to be a pleasant experience, after all. Fortunately he's been teamed up with Oscar Ricci, who soon gets the lad in a much more upbeat mood by giving him a cigar to puff on. That, however, is nothing compared to what he subsequently produces to help lift his downcast buddy – namely his thick, meaty, uncut cock! Needless to say, Smid responds in exactly the way that you'd expect a dick-crazy youth like him to respond – falling to his knees and slurping on his mate's ramrod, whilst Ricci takes his turn at smoking.
   Soon afterwards, the roles are reversed – Smid leaning against an army motorbike, whilst Ricci deep-throats his pal's closely shaved knob. It's the perfect set-up for a session of unrelenting hardcore action; and suffice it to say that it isn't long before Smid is asserting his dominant position by first rimming his mate's ass-hole, then shoving every fat inch of his dick inside his tight little pucker! If this was Ricci's objective from the start then it sure as fuck works dividends.
   Before you know it, the horny pup is being given the banging of his life; culminating in him taking an almost unforgiving pounding down on the grass. The use of such heavy artillery is only ever going to have one result from boys like these, of course; and it's not long before Smid is rupturing his nads all over his buddy's face. Finally, Ricci adds a little bit of kink by creaming his heavy, sticky wad across Smid's army boots!

WATCH IT / DOWNLOAD IT AT:
STAXUS.COM
Members at STAXUS.COM can watch or download the scenes at anytime.
Download extensive High Quality photo sets from each scene.

AVAILABLE FROM: RAD VIDEO
WATCH IT NOW AT: AEBN / SMUTJUNKIES THEATER