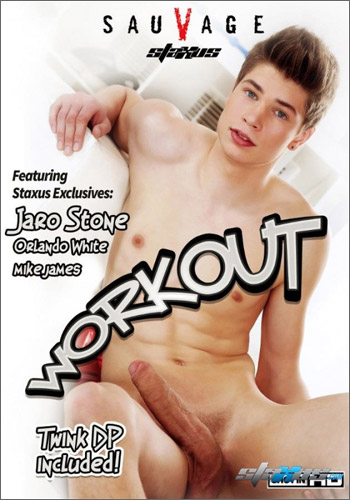 Studio: Staxus / Bare
Directed by: John Smith
Year of Production / Release: 2015
Country of Production: Czech Republic

CAST:
Chase Anderson
Alan Benfelen
Mike James
Sven Laarson
Marcel Lavrov
Jaro Stone
Ariel Varga
Kris Wallace
Orlando White
INFORMATION FROM STAXUS PRODUCTIONS:
Staxus exclusives Jaro Stone, Mike James, Sven Laarson and Orlando White show us how they get so ultra fit. Weights and cardio training are just part of the excercise we soon learn, as they prefer to fuck their mates from the gym senseless! Solid bareback action with great looking young studs, a nice double penetration scene completes this perfect SauVage DVD!
SCENE 1: TWO GYM-CRAZED BUDDIES BREAK A SWEAT WITH A RAW FUCK & OODLES OF HOT CUM!
Kris Wallace, Sven Laarson
Keeping fit and trim is an essential part and parcel of any model's job – almost as important as breathing! – so Kris Wallace and Sven Laarson are not exactly unique in their desire to break into a sweat both inside the gym and out. What may differentiate them from some of the other guys in the modelling world, however, is the fact that they're clearly not adverse to undertaking all kinds of unorthodox types of exercise to maintain their physique – including (in this instance) sucking each other's dicks and engaging in hardcore cardiovascular fornication! Of course, it all helps that both lads are as gorgeous as fuck and as boned-up as it's possible to be – snogging each other's faces off at the very first instance, before taking turns to slurp on every inch of hard dick that's on offer. But all that's nothing compared to what follows next, as the guys savour some truly magical ass-rimming and foot-sucking against the backdrop of a workout bench! If this doesn't blow your nads into orbit in itself, just wait for the moment that Laarson finally gets to thrust that handsome ramrod of his deep into Wallace's hungry little ass-hole – the signal for the start of a ball-blasting coupling that's worthy of a whole succession of wanks! Indeed, by the time that Wallace has quite literally had the spunk bummed out of him and Laarson has then concluded proceedings by spewing all over his gym-buddy's comely face, there's every chance possible that you'll have jerked yourself sore in response!
SCENE 2: YOUNG GYM-BOY GETS PERSUADED TO SUCK DICK & FUCK HIS BUDDY'S RAW, HUNGRY HOLE!
Ariel Varga, Marcel Lavrov
It's not surprising that spending so much time working out in a dark, sweaty environment with only other guys for company can leave some men feeling the need for an even more intimate experience. Marcel Lavrov being one of them, as he abandons his aerobics on a workbench so that he can persuade Ariel Varga to engage in a one-to-one session that neither lad (or you!) are likely to forget in a hurry. It has to be said, however, that his initial move is not met with the most positive of responses – clearly Varga would much rather carry on with his more orthodox method of training. But Lavrov is nothing if not persuasive, and before long he's stripping his buddy of his clothes and inviting him to suck on the thick, meaty poleaxe that he's got stuffed in his shorts. It's at this point, of course, that you'd expect our reluctant porn-star to balk; but the way the lad then proceeds to give head seems only to confirm our greatest suspicions, namely that this is a hardcore slut in the making! An inkling that only gets underlined when he and Lavrov promptly engage in some kinky toy-play to spice up the encounter even further. But of course the pinnacle of this top-notch encounter comes when Varga finally goes the whole hog and thrusts his by-now over-swollen shaft deep inside Lavrov's ass-hole, marking the start of a spunk-fuelled set-piece that eventually climaxes with Varga erupting all over his mate's face! Working out at the gym has never appeared so inviting!
SCENE 3: Jaro Stone, Mike James, Orlando White
We always knew that this trio of horny fuckers was a bit of a handful, but what none of us realised was just how hyper STAXUS exclusives Jaro Stone, Mike James and Orlando White could be when given the chance to fuck around (quite literally) in a gym together. Fact is, director John Smith almost struggles to contain their exuberance as they abandon their more traditional approach to keeping fit in favour of something a little more ground-breaking. Or should that be ass-breaking? The ass-hole in question belongs to Mike James, who will eventually get double-dicked by his boned-up buddies; but don't let that ball-bustin' prospect prevent you from relishing the build-up, as the threesome commence proceedings by cavorting with some sex-toys. It's a somewhat brief introduction, but it's enough to get anyone watching in the mood; and by the time the lads are gleefully sucking each other's dicks there's every good chance that you'll have fully unzipped in anticipation of the goodies to come. Needless to say it's not long before White has taken the opportunity to give James's ass a manly pounding, whilst Stone thrusts his shaft down the bottom's throat; before the two tops promptly swop roles and metaphorically exchange notes. But it's only natural that the highlight here is James's subsequent double-penetration – captured in close-up detail for your entertainment and a sure-fire reason to knock out copious quantities of jizz. Something all three mates do in the scene's final moments, leaving bum-boy James literally plastered in sticky, creamy goo!
SCENE 4: FRESH-FACED BLOND-BOYS GIVE IT ALL THEIR FUCKIN' WORTH WITH A SPUNKTASTIC RAW FUCK!
Alan Benfelen, Chase Anderson
They're both as cute as new buttons, but don't be fooled by either Chase Anderson or Alan Benfelen – behind all that ravishingly hot blondness there's a whole tornado of sexual tension that is just desperate to be released! That's clearly not something that's going to bother our fans a great deal, if has to be said; and their prompt abandonment of dumbbells in favour of hardcore cock action is hardly going to be greeted with anything but a collection sigh of relief! In truth, their efforts at exercise prior to this point are somewhat half-hearted to say the very least. But the release of all that uncut man-meat from those tight-fitting shorts is more than enough to spark head-on excitement, and before you'll know what's happening you'll be enjoying the sight of two horny twinks giving it all their worth on the sofa! Indeed, we defy any of our fans not to be impressed by the top-and-tail session that ensues; though proceedings get only hotter when Anderson decides to stretch his mate's pucker with a see-through sex-toy, in anticipation of the hard-natured fucking that he has planned for that hairless little fuck-hole. What's more, he doesn't have very long to wait. Before you know it, Benfelen's ass has relinquished the dildo and Anderson's knob has taken its place! Needless to say, the horny young top takes full advantage of the situation, screwing his buddy in a variety of positions; before both guys lie back and jerk out the pent-up contents of their tight, fresh balls!

WATCH IT / DOWNLOAD IT AT:
STAXUS.COM
Members at STAXUS.COM can watch or download the scenes at anytime.
Download extensive High Quality photo sets from each scene.

AVAILABLE FROM: RAD VIDEO
WATCH IT NOW AT: AEBN / SMUTJUNKIES THEATER