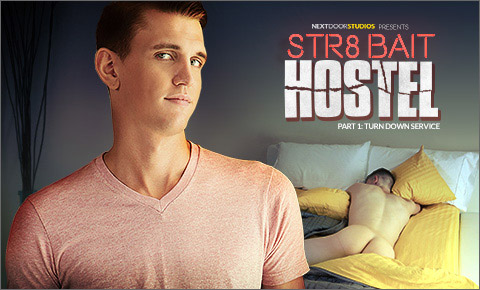 Studio: Next Door World Original
Directed by: Rocco Fallon
Year of Production / Release: 2016
Country of Production: U.S.A.

CAST:
Tom Faulk
Daniel Flores
Quentin Gainz
Damien Hyde
Alex Tanner
Ty Thomas
INFORMATION FROM NEXT DOOR STUDIOS: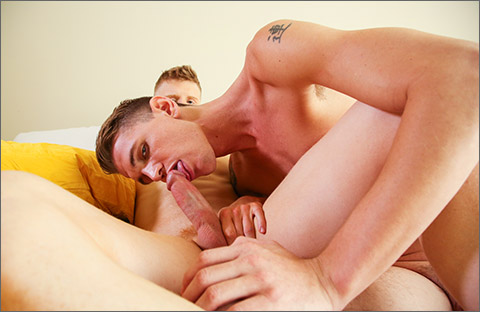 PART 1 – TURN DOWN SERVICE: Alex Tanner, Damien Hyde
Weary traveler Alex Tanner has found his way to Madam Hostel's lodge and is ready for a good night's rest. Trying to save a few bucks on his trip, he's both anxious and excited to be staying in the hostel, and even though the Madam seems a little odd, Alex tells himself it's worth the money. Plus, the hostel's porter, Damien Hyde, is no eye sore. Alex isn't sure if Damien is flirting with him or if everyone here is just a little forward, but nonetheless, he turns the key and unpacks in his room. After a nice shower, Alex is ready to rest his road legs, and so he falls asleep. Sometime later, Damien checks on Alex to see if he needs turn down service, and finds him ass out and ass up in the air. Damien can't resist the temptation and begins to stroke himself, fixated on the idea of pounding Alex's sweet little ass to his heart's content. As he fondles his cock, Damian decides to risk it, and slips a finger inside Alex's hole, massaging it as he continues to get hard. Alex wakes up and looks over his shoulder, asking Damien what he's doing. Incredulous, Damien doesn't even stop to answer, asking Alex if he likes it. Alex concedes that he does, and Damien asks him if he wants him to stop. Alex tells him no and Damien lowers his head, plunging his tongue deep down into Alex's hole as Alex grabs the sheets and bites the pillow. Once he's nice and ready, Damien eases his giant cock into Alex, who takes it like a champ, as Damien proceeds to pop Alex's cherry. Alex begins to understand what Madam Hostel meant by 'giving something back' as Damien proceeds to own his ass in every possible way, fucking him from behind, underneath, missionary, doggy, etc. Alex strokes himself off as Damien gets closer and closer. Alex loses his load as Damien pulls out and blasts his face, and as he lays there cum covered and still exhausted, Alex asks what other amenities the hostel provides. Damien just smiles a knowing, sly grin.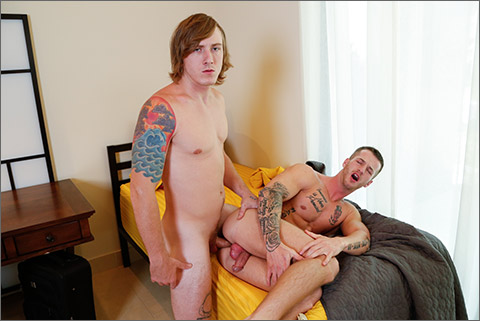 PART 2 – MYSTERIOUS ENCOUNTER: Tom Faulk fucks Quentin Gainz
With very few rooms available at the hostel, travellers Quentin Gainz and Tom Faulk are forced to share a room, even though they are total strangers. Madam Hostel has already set them up to ensure that they get acquainted with a little trickery, and as the guys get settled into their room, the Madam's plan begins to take shape. Both guys find notes under their pillows. Tom's note reaffirms his suspicions that Quentin is interested in his cock, and to his credit, Quentin's note appears to be from Tom inviting him to do just that, so when Tom falls asleep, Quentin's curiosity gets the best of him and he takes a peek under the covers, spying on Tom's nice cock resting up against his leg. Quentin takes it in his hand and slowly massages it. Tom stirs but doesn't wake, and his cock swells up semi-hard. Quentin moves his head closer to have a taste just as Tom wakes up. Petrified, Quentin freezes, and Tom asks him what he's doing. Assessing the situation, Tom realizes what's happening and taunts Quentin, asking him if he wants this cock. Quentin nods in the affirmative and Tom tells him to get started. Quentin wastes no time getting to it, downing Tom's cock in one gulp, as Tom gags him. Sitting up, Tom gets into it as Quentin strokes himself while sucking on Tom's balls. Tom rocks Quentin back up against the wall propped up on a desk as he eats Quentin's ass before sliding his cock inside his stranger roomie. Quentin takes the dick like a pro, as Tom gives him every inch of his giant cock. Tom folds Quentin over onto his side as he continues to pound away, coming close to bursting as Quentin loses his nut all over himself, before Tom blasts him with his load. Smiling in the aftermath, the guys realize that they've been set up, though neither seems to really mind, after the fact.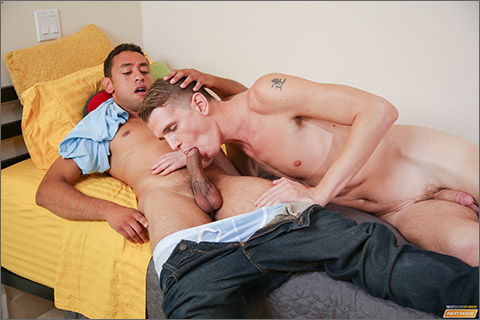 PART 3 – STRAIGHT BOYS NEVER LEARN: Damien Hyde, Daniel Flores
Madam Hostel does not trust the newest guest to check in. There's just something about Daniel Flores that doesn't seem right, so Madam enlists henchman Damian Hyde to investigate. Madam's instincts prove spot on when Damian finds Daniel's stash of drugs, in direct conflict with the hostel's house rules. Daniel catches Damian looking through his stuff and demands an explanation, but he is put in his place when Damian tells him how much trouble he's in. Damian tells him to just grab his shit and beat it, but Daniel tells him he has nowhere to go, and asks Damian if there's any way to work it out. Damian senses the desperation in Daniel's voice and begins to tug at his crotch, unzipping his fly as Daniel looks up and realizes what he's gotten himself into. He protests, but Damian assures him this is the only possible compromise available. Reluctantly, Daniel concedes, taking a look at Damian's cock and noticing how big it is. 'You like that?' Damian asks, and Daniel doesn't say no. Hesitant at first, he takes Damian's cock into his mouth and begins to suck it as Damian closes his eyes and pushes his mouth all the way down. Despite his reluctance, Daniel shows off a talent for sucking off, and even kind of gets into it. Damian senses this and in an attempt to make a concession, lays Daniel down and returns the favor, sucking him off as he fingers Daniel's hole. Prepping it for what comes next, Damian rubs his cock between Daniel's cheeks before plunging it deep into Daniel's waiting ass. Daniel takes it like a champ as Damian fucks him on his back. Daniel strokes his cock as Damian continues to pound, flipping him over and letting Daniel take a ride before putting him back in missionary to bust his nut. Damian explodes all over Daniel's face as Daniel busts his load all over his stomach, leaving him covered in cum, but at least with a roof over his head for the night.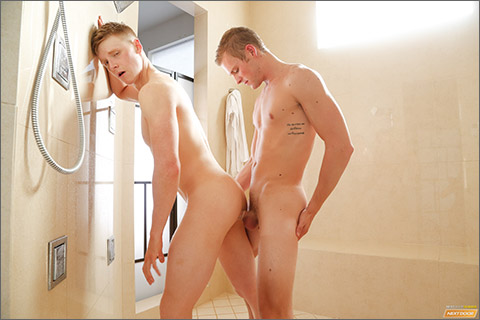 PART 4 – THE SETUP: Alex Tanner, Ty Thomas
As he showers alone, Alex Tanner wonders if this random dildo in the corner belongs to anyone, but continues to go about his routine. Midway through, new arrival Ty Thomas enters the shower, and at first glance, Alex assumes he must've doubled back for it. From his perspective, Ty finds it pretty bold that Alex would bring his dildo to a community shower, and both guys commence to showering assuming the other is keeping a secret. Ty finds it strange that Alex is so openly advertising, but he has to admit Alex has a nice little ass and is cute as hell. Alex still can't tell if Ty is into guys or just playing coy, but as they continue to shower, it becomes obvious what is on both guys' minds. After making eye contact, Ty boldly inches closer to Alex, staring at him as he takes Alex's hand and rests it on his cock. Alex grips it and slowly massages it as Ty gets hard in his grasp. They kiss as the shower rains down upon them, and Ty pushes Alex up against the wall, kissing down his back and spreading his cheeks wide, tonguing his hole as Alex leans against the wall. Rock hard, Ty plunges his cock deep inside Alex and fucks him standing up from behind. Alex takes every thrust that Ty delivers before they move over to the bench, where Alex spreads his legs and rides Ty reverse, bouncing on his cock as steam fills the room. Flipping him over onto his back, Ty fucks Alex missionary as Alex strokes himself off, spitting jizz all over himself as Ty pulls out and messes Alex's clean body with his own load. As they talk afterwards, they each discover that the dildo doesn't belong to either one of them, which prompts them to suddenly wonder who set them up in the first place.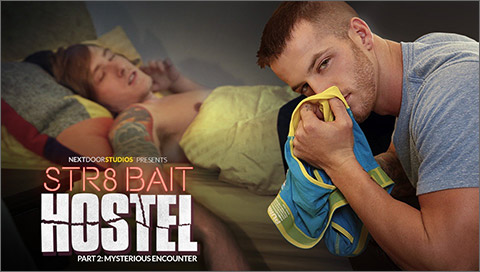 WATCH IT / DOWNLOAD IT NOW AT:
NEXT DOOR WORLD
Downloadable Presentations, with extensive Photo Galleries
Membership to Next Door World includes 15 high quality websites from Next Door Studios.