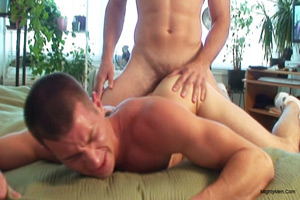 Studio: Mighty Men online
Directed by: Jon Royce
Year of Production / Release: 2008
Country of Production: U.S.A.

CAST:
Leo Giamani
Rusty Stevens
ADDITIONAL COMMENTS:
On-Line Only Presentation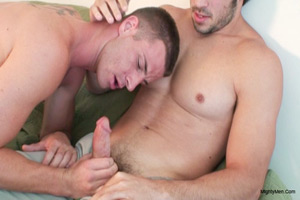 INFORMATION FROM MIGHTY MEN / JON ROYCE:
Super Model Leo "Big Cocks" Giamani finally gives in and sticks that large thick cock in his buddy Rusty Stevens. Leo Giamani is one of America's hottest new male model sensations. Leo's been taking the internet by storm with his good looks, hot muscular body and his best asset, his thick large cock. Shooting this video was incredible. Well, let's put it this way, anytime you have a nice straight guy like Leo in your bedroom naked is like a dream come true. 
   In "Straight Buddiess Fuck", Leo runs into his buddy Rusty on the street and invites him over to watch a few straight DVDs and jack off, like they've done in the past. As the two straight guys watch some chick suck a large cock, Leo whips his dick out and shows it to Rusty. Rusty comments "you've got that guy beat". Leo asks Rusty, "So you're straight huh?" Rusty replies, "yeah, I'm straight as they cum" right before Leo grabs the back of Rusty's head and somewhat forces Rusty to suck his cock. Leo then goes goes down on Rusty's straight boy cock. Its Leo's first time sucking cock on video. You're going to love it.
   Rusty then invites Leo to fuck his ass with Leo's big cock, but first Leo needs to loosen him up with a dildo. Leo gladly slides a dildo into Rusty's straight boy ass to get it ready for Leo's much larger cock.
   Leo forces his large cock into Rusty's tight straight boy ass. The size of Leo's cock shows Rusty's face. He has to bite on the bed spread to absorb the pain and to keep Leo from fucking him right off the bed. Rusty can't take it any longer. He finally begs Leo to flip him on his back so that he can cum while Leo is inside him. 
   Leo reinserts his cock into Rusty and Rusty's cock explodes with a big glob of jizz while Leo is still pounding him. Leo then pulls out and streams jizz all over Rusty's jizz covered abs. The room was filled with the scent of pure creamy jizz and the smell of sweaty men's armpits. These two straight hunks got a real workout.
   Leo then instructs Rusty to get up and get ready to go work out at the gym. While Rusty is cleaning up two loads of cum, he warns Leo that when they get back from the gym, its Leo's turn to take it up the ass.
   Rusty Stevens is a hot 21 y.o. muscular straight boy from San Diego, Ca. He's about 6′ tall with a 7″ straight boy boner that stayed hard and had no problem shooting loads. While Leo is a laid back performer, Rusty is out there. He is a wild and crazy straight boy. Rusty told me that he was starting to enjoy getting fucked. Is he still straight? Shot in June 2008, this was actually Leo's first fuck scene. In part 2, the boys return from the gym and Rusty fucks Leo.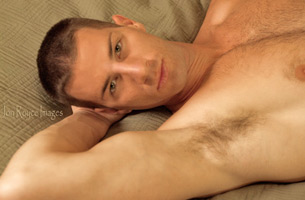 GO TO: MIGHTY MEN