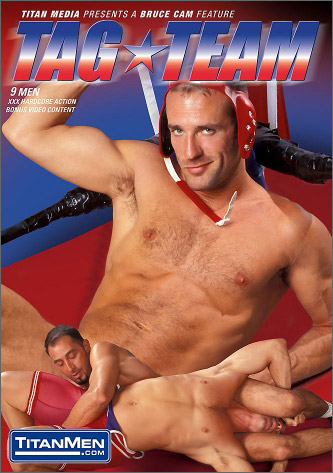 Studio: Titan Media
Directed by: Bruce Cam, Harold Creg, Keith Webb
Year of Production / Release: 1999
Country of Production: USA

CAST:
Jason Branch
Nick Cannon
Paul Dawson
Eduardo
Anthony Gallo
York Powers
Trenton Comeaux
Joshua Scott
Joe Serrano
FROM TITAN MEDIA WEB SITE:
TITAN Media is proud to announce ringside seats for the release of Tag Team, where an underground wrestling team practice session turns into four rounds of no holds barred sexual aggression and submission. Rooting for the team has never been so arousing, especially with a line-up that includes Eduardo, Jason Branch, Josh Perez, Anthony Gallo, York Powers, Trenton Comeaux, Nick Cannon, Paul Dawson, and Joe Serrano. Master director Bruce Cam referees this 2-hour, 4-scene high-energy sex extravaganza that will have you down for the count.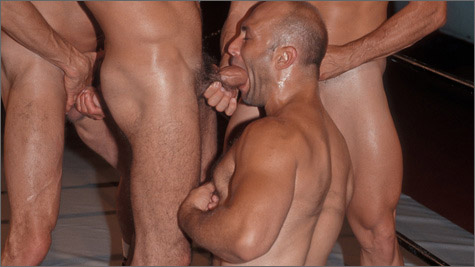 SCENE 1: Anthony Gallo, York Powers, Trenton Comeaux, Nick Cannon
A simple training session turns into a full-scale sex bout as York Powers coaches Trenton Comeaux and Nick Cannon through their holds for newcomer Anthony Gallo. Coach Powers and Gallo can't keep their heavyweight hardons outside the ring as Comeaux and Cannon lose their trunks during a sweaty session of submission style wrestling. Comeaux's muscular torso is soon pinned to the mat by the threesome with Gallo lapping up the sweat from his exposed crack. After being skewered by Gallo's enormous meat, Comeaux is suspended from the ropes and, while sucking fat Cannon, is given a royal drilling by Coach Powers and Gallo. Gallo and Comeaux dock foreskins while Coach continues to assault Trenton's hole. All four finish the round on the mat with Gallo and Powers double penetrating Comeaux. The action pushes Powers over the edge into a screaming cum shot worthy of an instant replay with Gallo gasping for air as he shoots gobs. Both Comeaux and Cannon follow-up with bell-ringing loads.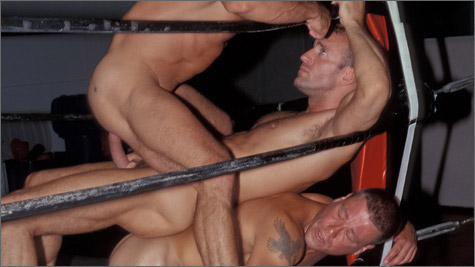 SCENE 2: Josh Perez, Paul Dawson, Jason Branch
Josh Perez and Jason Branch, two humpy bodied buddies, step into the ring to warm up after the opening foursome leave to shower. Their friendly banter and massaging hands are extended to Paul Dawson after he approaches the ropes. The warm up quickly combusts into full flame as their three hard, gorgeous cocks grapple for attention. Dawson takes both Perez and Branch down his throat, then eagerly slurps around Perez's hole as Branch slowly circles the target area with his prize winner. Dawson then is used as a ring corner bench on which Branch reclines. Perez impales his muscled ass on Branch's upturned cock using the ropes as springs for greater thrust – another great sports first! The three then create a fuck train with Dawson in the lead, Perez in the middle and Branch as caboose. The action is then taken outside the wrestling ring as Dawson's ass ring squares off against the double penetration assault of Branch and Perez. Prize winning cum shots follow from each, which are hungrily gobbled down by Branch and Perez.

SCENE 3: Eduardo, Joe Serrano
Eduardo and Joe Serrano are pumping up in the weight room in preparation for their bout. Eduardo, curling his thick biceps, regards the smaller Serrano dismissively. Serrano regards Eduardo's thick penis appreciatively and wastes no time in submitting his mouth to slathering the front of his opponent's trunks. Eduardo continues his curls until overpowered by the urge to force his cock into Serrano's mouth. Unsatisfied by only a blow-job, Eduardo grabs Serrano's head and forces it into his meaty butt for more oral exercise. The sexual athletes continue the work out with a sweaty fuck and thick cum shots on the weight bench, which catch the combatants late for their match in the ring.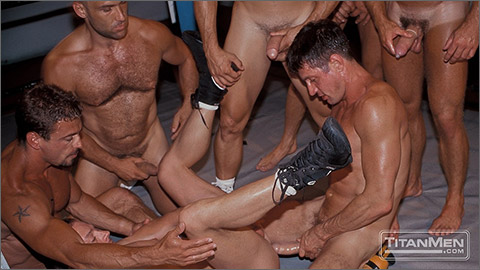 SCENE 4: Anthony Gallo, York Powers, Paul Dawson, Eduardo, Trenton Comeaux, Joe Serrano

MORE INFO, PREVIEW OR WATCH RIGHT NOW:
TITAN MEDIA
Scenes Premier online prior to DVD release and are available to view anytime in the Member's Area.
Members can watch scenes from almost all Titan Media releases anytime online.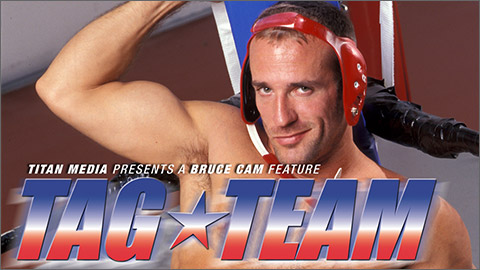 VIDEO ON-DEMAND: TITAN MEN @ AEBN SMUTJUNKIES THEATER
DVDs & ON-DEMAND: TITAN MEN @ TLA VIDEO