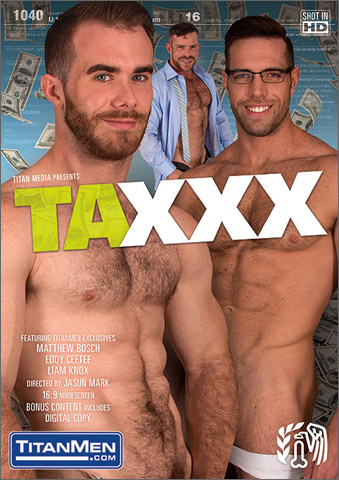 Studio: Titan Media
Directed by: Jasun Mark
Year of Production / Release: 2017
Country of Production: U.S.A.

CAST:
Bennett Anthony
Matthew Bosch
Eddy Ceetee
Liam Knox
Alex Mecum
Jason Vario
FROM TITAN MEDIA WEB SITE:
The agents are back, and they're ready to bust your balls. The only way out of this TaXXXing situation is to unzip a big out-of-pocket contribution. Watch what happens when TitanMen exclusives Matthew Bosch, Eddy CeeTee and Liam Knox show some personal interest in their jobs. Taxman Matthew Bosch works out a deal with deduction abuser Jason Vario, the two deepthroating each other's uncut monsters before Matthew gets his furry ass inspected. Stressed out Alex Mecum needs a break from his forms, and gym-fresh Eddy CeeTee is happy to donate his dick to the cause. Agent Liam Knox catches "massage therapist" Bennett Anthony in a big fat lie, then blackmails him with his big fat dick.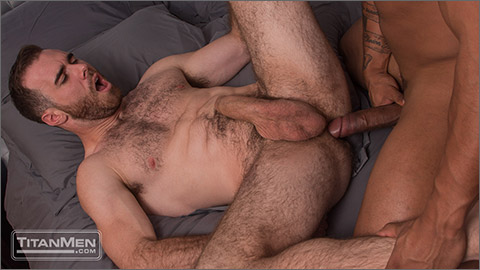 SCENE 1: Jason Vario fucks Matthew Bosch
Agent Matthew Bosch hits the jackpot on an audit visit of Jason Vario, who claims his home office as a deduction. "Most home offices don't have a bed," observes Matthew. "C'mon, man," responds Jason, who soon grabs his own bulge. "Don't bust my balls." The agent smiles: "I'm sure we can work something out." They kiss, Matthew licking down Jason's massive chest before moaning "Fuck!" as his big uncut cock pops out. He gulps it up with gusto, Jason pulling him up for a kiss. Jason moans "Oh my God!" as he strokes and looks down at Matthew's beast, soon on his knees. He deepthroats the huge meat with impressive ease—his nose slamming Matthew's pubes, his chin tickling Matthew's big balls. They eat each other out, Jason then ramming the moaning bottom doggie style. They lay on their sides, Jason's sultry eyes looking at the bottom as he fucks him, Matthew's dick and sac shaking. On his back, Matthew's boner gets stroked as Jason pounds him, the top spitting down on his own dick before they both shoot.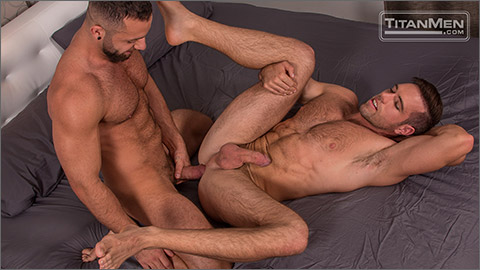 SCENE 2: Eddy CeeTee fucks Alex Mecum
"These taxes are driving me crazy!" complains Alex Mecum as Eddy CeeTee rubs his shoulders. "Taxes are hard." Responds Eddy: "So am I." He swivels Alex around for a kiss, Alex wrapping his legs around the beefy bod. Eddy kisses Alex's chiseled frame, a big smile spreading across his face as he lands on the jock's sizable boner. He takes it balls deep, Alex fucking his face. Alex slurps the verbal gym stud back, Eddy reaching down to spread and smack the jock's ass. Alex licks his lover's feet ("Nice and sweaty!"), Eddy rubbing them on his back as he strokes. Eddy returns the favor, sucking Alex's toes before getting his face fucked. He rams Alex from behind, the bottom gripping the sheets as his red-hot cock bounces: "I like feeling that dick slide in and out of me!" Eddy turns him over, yelling "Take that dick!" as he spreads Alex's legs and pounds like crazy—the bottom's pecs shaking. Eddy jacks a big load out of Alex as he fucks him, then unleashes a stream: "I caught some of that," says the smiling bottom as they kiss. "I can taste it!"

SCENE 3: Liam Knox fucks Bennett Anthony
Escort Bennett Anthony mistakes sharp-dressed tax inspector Liam Knox as his next client. "Looks like you do a little more than massage here," says the observant Liam—who is happy to accept a full body massage as payment for his silence. Bennett takes out the stud's already-stiff dick, devouring it deep. "Show me those work skills," Liam says as he fucks the gulping sucker's bearded mouth, then whips his steel shaft on his face. "You like that dick? Fucking suck it!" Spit slides down Liam's shaft and sac as he gets worshipped, the businessman then planting his lips on Bennett's fire crotch. Liam then buries his beard in the tattooed bottom's furry ass ("Want this dick?"), soon giving him some deep daddy cock. Bennett's boner slams up against his own hairy abs as he gets taken from behind—the bottom then sitting down on it, their sweaty bodies grinding. He gets on his back, moaning "Fuck that hole!" before his red pubes get coated in white.

MORE INFO, PREVIEW OR WATCH RIGHT NOW:
TITAN MEDIA
Scenes Premier online prior to DVD release and are available to view anytime in the Member's Area.
Members can watch scenes from almost all Titan Media releases anytime online.