Studio: Titan Media
Directed by: Brian Mills
Year of Production / Release: 2008
Country of Production: USA

CAST:
Dillon Buck
Rodrigo De Leon
Andrew Justice
Rick Van Sant
Damien Crosse
Diesel Washington
Alex Baresi
Steven Ponce
Francois Sagat
Lars Svenson
FROM TITAN MEDIA WEB SITE:
TitanMen exclusive Diesel Washington, a wealthy, well-dressed urbanite, steps out onto the terrace of his apartment overlooking the city and peers into his Telescope. He pans across the skyline, spying on the sexual stories unfolding across the naked city in this massive two-disc fuckfest directed by Brian Mills.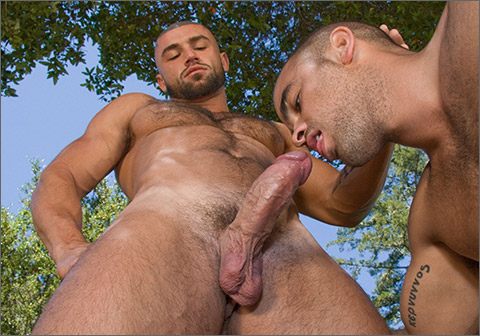 SCENE 1: Damien Crosse fucks François Sagat
The first thing that comes into focus in Diesel's viewfinder is TitanMen exclusive Damien Crosse sunbathing in the park. But he's not the only one with eyes on Damien's hot bod—TitanMen exclusive François Sagat is cruising him heavy from up the hill. As soon as they make eyes, Damien's packing up his stuff and running after him. Once they find a secluded spot, the two peel their pants off to reveal their magnificent cocks which are rubbing up against each other as they grope and kiss each other. They trade blowjobs—Damien first swallows François's hefty piece and then François happily returns the favor. Their blowjobs are punctuated with the two studs taking turns pissing into each other's mouths, drenching each other with their urine until they're both glistening and soaked.
   With his face buried deep into François's muscular ass, Damien shoots a geyser of a load and François quickly follows suit. Damien's just getting François's ass warmed up. After flipping him over and rimming him some more, Damien slides his dick deep into François's butt, starting out slow but building up speed as he fucks him harder and deeper. He pulls his dick out and rips off the condom, but instead of shooting a load all over François' crack, he pisses on his ass and then goes back to fucking him once again. Damien throws François onto his back and pile-drives up his chute until they both cum again.

SCENE 2: Andrew Justice and Rick Van Sant flip-fuck
Next, our voyeur points his telescope at TitanMen exclusive Rick van Sant, who's so busy spying on his neighbors with his binoculars that he doesn't hear Andrew Justice sneak up behind him and throw him onto the bed. Standing over him, Andrew pulls his cock out and makes Rick suck it. He happily obliges while stroking on his own long, curved uncut cock. Soon it's Rick's turn; Andrew chows down on his rod for a while. Rick squats over Andrew's face and the two cum.
Things quickly turn to fucking, with Rick on all fours and Andrew plowing him from behind. After giving it to him good, Andrew flips Rick over and fucks him even harder, plunging all the way into his ass only to pull his cock all the way out repeatedly until both guys cum a second time. Andrew shoots so hard he blasts some of his jizz into his own mouth.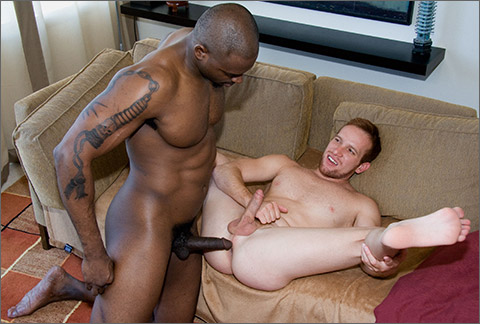 SCENE 3: Diesel Washington fucks a ton of cum out of Steven Ponce (Great Scene)
Worked up from watching all this action, Diesel phones his valet, Steven Ponce. Seems that he's been taking Diesel's car out for joyrides and is in need of some disciplinary action. Diesel quickly takes command of the situation by pushing Steven down to his knees and stuffing his face with his giant cock. Steven has no trouble slurping the whole thing down, so Diesel gives him a real run for his money by face-fucking him hard and fast. Steven slurps and gags with delight as Diesel really goes at it. Diesel stands Steven up on a chair while he punches and tugs on his balls before sucking him off. Diesel gives Steven just as an
enthusiastic and spit-filled blowjob as Diesel gave him; in no time, Steven sprays his load all over Diesel's massive chest. Diesel throws his compact, redheaded partner onto his stomach, shoots his load all over his back and then licks up every last drop.
   Diesel bends Steven over the couch and aggressively rims his ass while stoking his cock, then pulls Steven up onto him and hangs him upside down while he continues to eat his ass. Hanging down, Steven's the perfect height to hang right in front of Diesel's cock, which he greedily sucks down.
Diesel throws Steven back onto the couch for the main event of the whole film, and a scene people will be talking about for years to come: the must-be-seen-to-be-believed fucking session. Steven starts by straddling Diesel, who fucks him so intensely from underneath Steven looks like he's going to be split open. But they're just getting started; Diesel grabs Steven from behind, holding him in a full-nelson while literally bouncing him up-and-down off his cock. He then throws him back onto the couch where he impales him some more until the both cum again.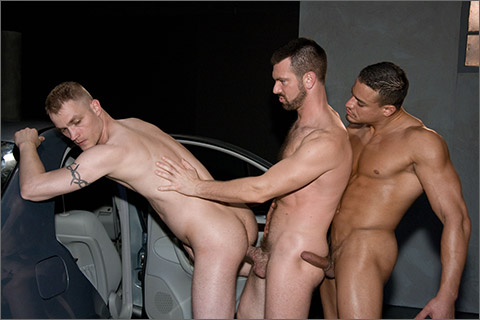 SCENE 4: Dillon Buck fucks Lars Svenson who later fucks Rodrigo De Leon
Diesel watches from afar as TitanMen exclusive Dillon Buck picks up Lars Svenson off the street and in his car. "You ready to do this?" Dillon asks Lars, who agrees and gets in. Dillon pulls in to a dark garage where things quickly get hot and heavy between the two tall, well-endowed studs. As they make out, Rodrigo De Leon—a muscular Latin stud who's hiding in one of the parked cars— takes notice of the action, pulls out his cock and stars stroking it without being noticed. Dillon and Lars are so intensely focused on sucking one-another's rock-hard cocks, they don't know they're being watched.
Unable to contain himself, Rodrigo lets himself be seen and Dillon and Lars happily let him join in on their little suckfest. Rodrigo drops to his knees and takes turns hungrily sucking their two cocks while continuing to jack his own. He even manages to deep throat all of Dillon's cock—no easy task if you've ever seen that massive thing. Dillon and Lars thank Rodrigo for the expert blowjobs by shooting their loads all over his chest. Lars is eager to submit to Dillon's gigantic cock, so bends over a car and takes every inch of it with ease. Dillon gives Lars' ass a break by letting Rodrigo fuck him for a bit with his long uncut cock, then Lars flips Rodrigo over the back of a truck and fucks his ass for a while before the three each spray their loads one last time.

SCENE 5: Diesel Washington (top), Rick Van Sant (top/bottom), Alex Baresi (bottom)
   • Diesel Washington and Rick Van Sant fuck Alex Baresi
   • Diesel Washington fucks the cum out of Rick Van Sant
For the explosively raunchy finale, we meet Diesel and Rick again, this time in a dark warehouse. Apparently all that voyeurism on Diesel's part may have had something to do with the trafficking of fake watches. After the duo completes their illicit transaction, they get down to business. Having watched Rick for so long, Diesel can't wait to impale the blond stud on his cock; he pushes Rick to his knees and fucks his throat. They're joined by TitanMen exclusive Alex Baresi, who goes straight for Rick's balls, leaving Rick's cock available to be serviced by Diesel. The three trade blowjobs, all effortlessly deep-throating each other's cocks. Finally, Rick throws Alex onto the table and buries his face in his furry ass while Diesel sucks on Alex's toes—a foreshadowing of things to come. After Alex and Rick take turns getting pounded hard by Diesel's long cock, all three spray their loads onto Rick's taught torso and chest.
   Rick and Diesel slap on black latex gloves and slather their hands in lube as their intense fisting session begins. Alex takes his place in the front, leaning against a shelf. Rick slides his fist into Alex's hairy ass from behind, and Diesel fists Rick from behind, completing the chain. After a while, Rick takes his place beside Alex and Diesel simultaneously fists them both. Diesel doesn't just fist these two masterful bottoms: he punchfucks them, jamming his fists all the way in and out of their unstoppable asses. But things are just getting started! Diesel takes a seat, and Rick and Alex kneel before him and each unwrap a condom on each of his feet. They turn around and he sticks one foot up each of them. He puts his feet up on a table beside him and the two each squat on one of his feet, bouncing up and down while Diesel pisses on himself. It doesn't take long now for the three to each cum a second time.

MORE INFO, PREVIEW OR WATCH RIGHT NOW:
TITAN MEDIA
Scenes Premier online prior to DVD release and are available to view anytime in the Member's Area.
Members can watch scenes from almost all Titan Media releases anytime online.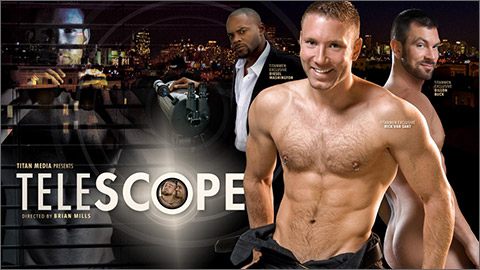 VIDEO ON-DEMAND: TITAN MEN @ AEBN SMUTJUNKIES THEATER
DVDs & ON-DEMAND: TITAN MEN @ TLA VIDEO