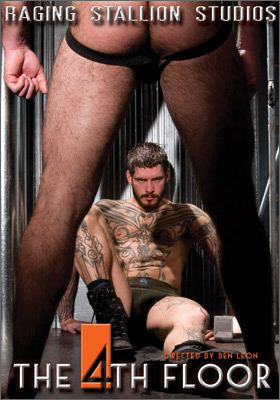 Studio: Raging Stallion
Directed by: Ben Leon
Year of Production / Release: 2008
Country of Production: U.S.A.

CAST:
Aaron Action
Billy Berlin
Antonio Biaggi
Steve Cruz
Jake Deckard
Logan McCree
Roman Ragazzi
Jack Ryan
Scott Tanner
SCENE 1: Logan McCree tops Roman Ragazzi
SCENE 2: Jake Deckard tops Aaron Action
SCENE 3: Jack Ryan and Antonio Biaggi fuck and spit-roast Billy Berlin
SCENE 4: Logan McCree solo (with loads of pre-cum)
SCENE 5: Scott Tanner fucks Steve Cruz
INFORMATION FROM RAGING STALLION:
Raging Stallion's rising star director (3 time GAYVN winner) Ben Leon brings you a new installment of hard sex in dark places. A cast of Raging Stallion's best fills "The 4th Floor" from top to bottom and everywhere in between. With excellent lighting, incredible camera work and men to die for, this production takes you on a ride from the basement to the 4th floor.
SCENE 1:
Down a long dark hallway Roman Ragazzi is being followed by Logan McCree. A chase ensues, ending with a confrontation. Roman slams Logan against the wall and as they rough each other up all the tension melts away. These two stunning men kiss and the chemistry builds. The kiss leads to undressing and soon Logan is on his knees mouthing at Roman's large erection through his Calvin Kleins. Logan peels back the underwear and reveals Roman's hard dick. As soon as Logan gets a taste Roman stands up to get his hands onto Logan's belt and quickly strips him. Roman goes down with his mouth open and fills it with Logan's large, tattooed cock. With pants around their ankles, both men's massive hard-ons rub against each other as they kiss aggressively. Logan flips Roman around for a chance at his ass. With Roman's cheeks spread he reaches in with his tongue and teases Roman's asshole. But Roman wants more cock and returns to his knees to swallow as much of Logan as he can manage. These two men with raging erections take the action upstairs where they return to body worship, kissing and touching, and more cock sucking. But the main event is still to come. Roman bends over and allows a little more ass- eating before Logan suits up and starts to fuck him. When Roman's ass is full of dick Logan really starts to pound away, splitting his hairy ass with his long dick. Once these two start fucking the energy builds. As the camera follows Logan's tattooed and muscular body down his chest to his dick, we find Roman's ass full of it. Roman's massive chest and arms flex and bend while Logan tears apart his butt cheeks. In the end Roman and Logan lay down watch each other jerk off and shoot.
SCENE 2:
Jake Deckard emerges and finds Aaron Action grinding down a large metal structure. As Jake approaches from behind, Aaron puts down his tools, strips off his gloves and dives in for a kiss. Both of these men are hairy and muscular and the camera follows them as they attack each other with kisses. Aaron goes quickly for Jake's hairy stomach and arms and strips him out of his clothes. As these two maul each other, their clothes drop away. In the shadows the men attack each other, worshiping hairy chests. Aaron pushes Jake into a corner and pulls his pants to his ankles to get access to his ass. They switch sides and Jake dives in to eat Aaron's hole. When Jake turns around and his erection is in Aaron's face, he swallows it. Jake is anxious to get some dick down his throat and he goes for it. After more cock sucking and more ass-eating, Jake lifts Aaron's legs into the air and plunges in first with his tongue and then with his cock. Aaron's hairy hole opens up and Jake thrusts inside. Jake takes his time and works up to pretty heavy fuck, turning Aaron on his side and hitting him from the front. When Jake lays back, Aaron climbs on top and takes control. Jake's dick slips up and down into the hairy hole. Aaron shoots while riding on top of Jake and as he climbs off, Jake blows his load while they make out.
SCENE 3:
Billy Berlin and Jack Ryan are already going at it when we find them occupying the now infamous 4th floor. Jack has a nice fat cock and Billy is quick to whip it out and suck it down. Billy nurses the head and works the whole length of it as Jack sits back and allows himself to be serviced. When Billy takes the massive rod up his butt he moans with excitement. Jack pounds his hole with Billy on his back. When Antonio Biaggi enters and whips his massive cock out, Billy, who is still getting fucked by Jack, swallows the mammoth cock eagerly.
   After a deep dick sucking Antonio and Jack switch places and Billy takes Antonio's massive cock up his already loose hole. As Antonio pounds away, Jack gets his dick serviced and shoots. As Jack leaves, Antonio pumps harder and harder filling Billy with all 11 inches. Antonio humps Billy, spitting on his own dick to lube it up before shoving it back in. Antonio than lays on his back with his huge dick sticking straight up as Billy lowers his ass onto it. This time Billy and Antonio take turns doing the work. Billy's ass gets quite a workout, taking that massive dick easily to the balls. When Billy lays back and lets Antonio penetrate him from the front, it pushes him over the edge and both guys shoot, covering Billy's chest.
SCENE 4:
Logan is alone lubing up the gears in the elevator room when he gets distracted by his own cock. As Logan strips and strokes, he grabs lube off the elevator gears and uses it to play with his dick and his ass. Logan pumps his cock as he strips down to nothing. His tattooed body and his long, thick dick glows in the light. When he begins to play with his ass, he pulls it apart and sticks his greasy fingers deep inside. Logan gets lost in his own head as he strokes his dick and fingers himself until he explodes all over the elevator mechanism.
SCENE 5:
In what could be a game of cops and robbers, Steve Cruz is thrown against the wall and handcuffed. He is left alone for a minute in the corner when Scott Tanner returns to force him down on his dick. Steve loves the aggression and dives throat-first down onto Scott's huge dick. Scott's sunglasses catch the view perfectly as Steve swallows and spits on the length of Scott's fat cock. When Scott drags him upstairs, Steve goes back down, swallowing Scott to the balls. Scott sits and lets Steve climb on top, forcing his butt open. Steve rides up and down, eagerly working the entire shaft. Steve then bends over for another round and Scott shoves in deep. With Steve's dick rock hard Scott pounds away splitting Steve's butt into pieces. For a final round, Steve lays on his back with his legs in the air and lets Scott use his hole. Steve cums while getting fucked and Scott climbs on top to blow all over Steve's hairy chest.

WATCH THE SCENES AT:
RAGING STALLION'S MEMBERS SITE
Members at RAGING STALLION'S MEMBERS SITE can watch these scenes and download extensive Photo Content from this production.