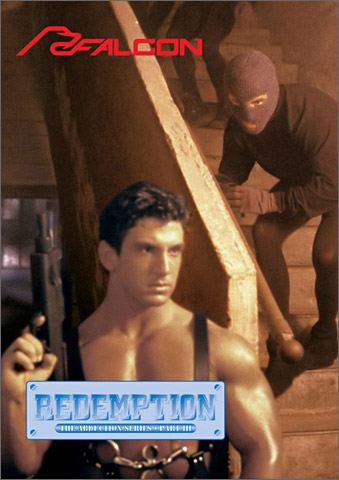 Studio: Falcon Studios
Directed by: Steven Scarborough
Year of Production / Release: 1993
Country of Production: U.S.A.

CAST:
Ren Adams
Chuck Barron
Clint Benedict
Chance Caldwell
Clint Chambers
Jarod Clark
Michel D'Amours
Chip Daniels
Scott Davis
Max Holden
Tom Katt
Randall Maxxon
Cliff Parker
Trent Reed
Devon Rexman
Zak Spears
Brad Stone
Max Taylor
Jesse Tyler
FROM FALCON STUDIOS:
An evil colonel, a righteous commando, and a prince who demands constant sex. From the secret society to the palace of the prince, young men must obey and serve their abductors' every sexual desire … but for the captives, it won't last forever! What will they do to find redemption?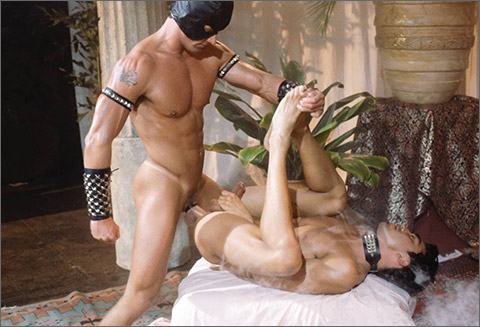 SCENE 1: Trent Reed fucks Max Taylor
Max Taylor greedily nurses at the leather-masked stud's truncheon, milking his big boner like the dog he is while the sexual fantasy man (Trent Reed) plays with Max's big, gaping hole. The hooded hunk jams Max's beefy buns in three positions, forcing the cum out of Max before shooting his own on Max's eager face.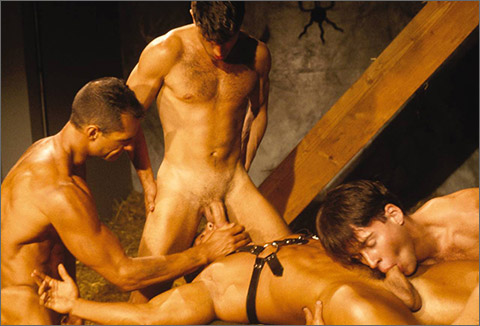 SCENE 2: Michael D'Amours, Clint Benedict, Devon Rexman and Chuck Barron manhandle & fuck Tom Katt
Drunken guard Tom Katt passes out in the slave's bunk room and these abused and dirty prisoners jump Tom and force him to suck Michael D'Amours cock while boyish Chuck Barron eats and fingers Tom's ass. Michael pushes his plunger in Tom's ample backside, before everyone drenches the hapless victim with their cum.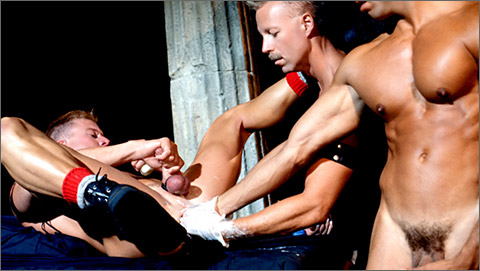 SCENE 3: Brad Stone fists Jarod Clark; Jarod Clark & Ren Adams flip-fist
Inside a ring of ancient stone columns, leather-clad Ren Adams works his findgers, fist, and finally his forearem into the deepest recesses of Chuck Barron's waiting ass. When his fingers have had their fill, Ren nestles Chuck down on an enormous dildo…forcing out a load as he takes the tool. Then it's Ren's turn as Chuck buries his arm deep in Ren's ass. From the shadows, Brad Stone is drawn into the action…substituting his own arm for Chuck's. Finally the two tops take turns…sliding their hands in and out until all are satisfied.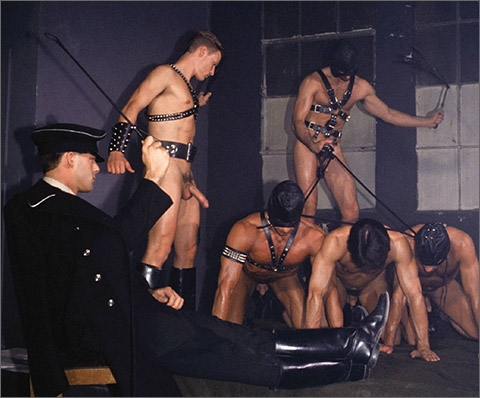 SCENE 4: Scott Davis & Cliff Parker train slaves Clint Benedict, Devon Rexman; Trent Reed fucks Randal Maxxon
Zak Spears oversees three blindfolded and leashed slaves – Clint Benedict, Devon Rexman and Chuck Barron – as they are flogged and spanked by henchmen Cliff Parker and Scott Davis…made to lick Colonel Spears boots for his own pleasure. Zak orders leather-bound muslestud Trent Reed to fuck hungry slave Randall Maxxon, who gets it rough and hard. Trent shows no mercy as evil commandant Zak eggs him on with brutal and dirty commands before directing the relentless fucker to shoot over Randall's ass.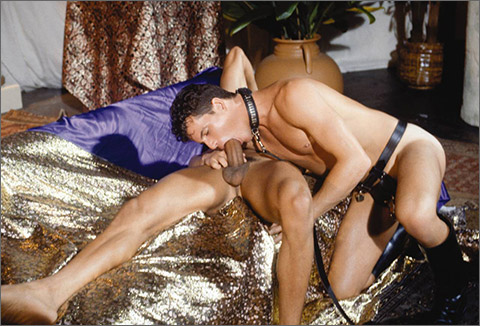 SCENE 5: Brad Stone fucks Chip Daniels
At the palace, personal slave Chip Daniels is encouraged by the miraculous recovery of the prince, Brad Stone, and does a dance of gratitude to the sex gods with his highness. Unleashing Chip from his chastity belt, Brad fingers Chip's bubble butt then rams into him, stretching Chip's hole with his beautiful donkey dong. Chip easily shoots while being screwed, and Brad delivers a royal load.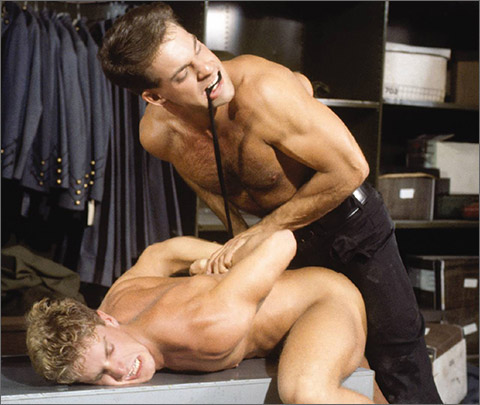 SCENE 6: Zak Spears & Jesse Tyler flip-fuck
The commandos raid the Legion headquarters, easily overpowering the guards to get to the secret box that contains all the incriminating photos of the Legion's operations. Blond Jesse Tyler struggles with Zak over the box, and Zak spanks his smooth and creamy buns before invading his enemy's territory. Underdog Jesse never quits, and soon turns the tables on Zak, gets the box and triumphs for good.

WATCH THE SCENES NOW AT:
FALCON STUDIOS
Falcon Members can watch scenes from this Release anytime online.
DVD Releases debut online prior to DVD Release.

WATCH IT AT: AEBN / SMUTJUNKIES THEATER
BUY IT / WATCH IT AT: GAY HOT MOVIES