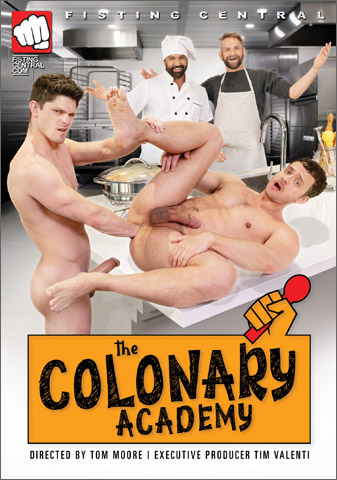 Studio: Raging Stallion's Fisting Central
Directed by: Tom Moore
Year of Production / Release: 2021
Country of Production: U.S.A.

CAST:
Devin Franco
Nate Grimes
Josh Mikael
Dominic Pacifico
INFORMATION FROM FISTING INFERNO:
The chefs at 'THE COLONARY ACADEMY' aren't afraid to deliver hands-on instruction and get down and dirty in the kitchen. After performing some perverted cooking demonstrations, these kitchen pros are ready to show their audience that if you want to fully satisfy them, you'll need to include more than just sausage in your stuffing. With the help of award-winning fetish director Tom Moore, these four cooks are making it clear that the secret ingredient to any great recipe is a man's clenched fist. In the first kitchen demonstration of the day, chef Nate Grimes gives the audience a look at his special sauce that will help reveal assistant Devin Franco's bright red rosebud. Nate Grimes later punches the exposed rosebud back into Devin Franco's body and the stretched-out assistant returns the favor by using the chef's hole to show off his special technique. After utilizing his girthy cock to bareback the chef's ass, Devin Franco manages to make his thick, muscular forearm disappear inside of Nate Grimes' gaping hole. Chef Dominic Pacifico and assistant Josh Mikael are ready to get hands-on with their own stuffing recipe. Dominic Pacifico raws Josh Mikael's eager asshole before the bottom hops onto the kitchen counter to ride the naked chef's large fist. When it's Dominic Pacifico's turn to get punched in the prostate by Josh Mikael, the assistant makes good use of his right fist and literally corn holes Dominic Pacifico's used ass. Josh Mikael continues to stretch out Dominic Pacifico until a hot serving of the chef's cum explodes all over his bearded face. The instructors at 'THE COLONARY ACADEMY' are ready to give you a stuffing lesson you'll never forget.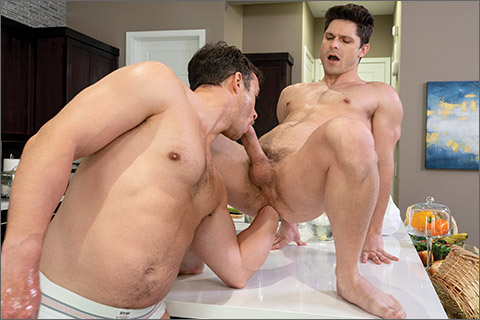 SCENE 1: Nate Grimes & Devin Franco
Chef Nate Grimes is determined to stuff every open hole in his kitchen. After successfully filling up a gaping turkey for his horny students, the perverted chef shifts his focus to his assistant, Devin Franco. Wearing only an apron, Devin leans over the kitchen island as Nate dives tongue first into his hungry muscle butt. Once the chef's eager mouth is done servicing Devin's ass and meaty cock, he introduces everyone to the special sauce that he'll be using during his intense, hands-on demonstration. With his paws covered in the saucy concoction, it doesn't take long until Nate's entire fist is swallowed by Devin's asshole. To bring things to the next level, Devin climbs his stretched ass onto the countertop so the chef can further stuff his hole while sucking on his hard cock. As Devin moans for more, Nate quickly moves each hand in and out of his assistant's gash until the bottom's glorious rosebud bursts out for the entire audience to see. Nate punches Devin's insides back into his body before continuing to fist Devin as the gaping bottom strokes himself and blows a sea of cum all over his own stomach.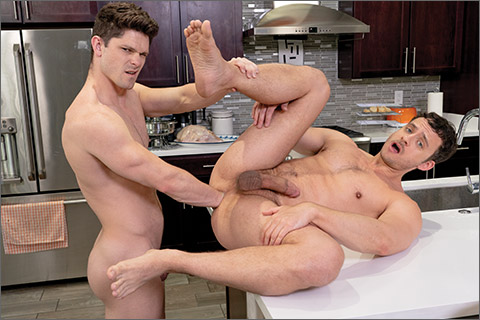 SCENE 2: Nate Grimes & Devin Franco
While getting ready to perform a hands-on and hands-in demonstration in the kitchen, assistant Devin Franco finds himself gagging on chef Nate Grimes' hard cock. After a hearty serving of the chef's sausage, Devin goes in for a tasting of Nate's hole and buries his face in his smooth cheeks. Per the chef's request, Devin puts his big dick to good use and barebacks his partner's hungry asshole. After loosening Nate up by thrusting himself in and out of his fuck slit, Devin is ready to show off his special technique. With a lubed-up fist, Devin immediately shoves his entire hand in Nate's used hole and it's only a matter of time until Nate is begging for him to go deeper. The gaping chef leans onto the counter for support as more and more of Devin's muscular forearm disappears inside of him. To give Devin better access to his wrecked hole, Nate moves his naked body onto the kitchen island where Devin continues to play with his ass and open him up. With Devin's fist pounding inside of him, it only takes a couple of strokes before Nate's cock explodes a hot load all over his furry stomach.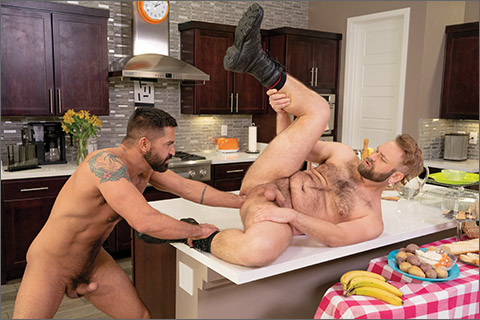 SCENE 3: Dominic Pacifico & Josh Mikael
Stuffing raw poultry with chef Dominic Pacifico is putting some dirty thoughts into his assistant Josh Mikael 's mind! After filling up a gaping bird for a cooking demonstration, Josh exposes his furry ass to the chef in hopes that he is in the mood to stuff something else. After complimenting Josh's big hungry hole, Dominic uses his fingers and hard cock to fill him up. Dominic barebacks Josh's soon-to-be gaping ass as Josh begs the chef to give him more. When rawing him simply isn't enough, Dominic finally satisfies his horny assistant by stuffing his entire hand into his eager hole. Wearing only a cock ring and leather boots, Josh climbs onto the counter to ride Dominic's clenched fist. Dominic holds his arm steady as a grateful, gaping Josh bobs up and down on his thick forearm. For only a moment, the chef removes his hand from Josh's ass to admire the man's wrecked hole. Dominic shoves his fist back inside of Josh to continue the anal destruction before the hairy assistant shoots a load of sticky cum out of his cock. The pleased chef exclaims that he finally has enough gravy for his stuffing.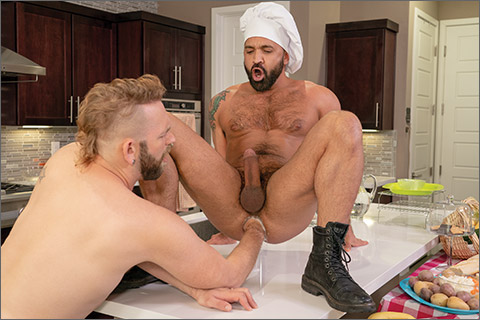 SCENE 4: Dominic Pacifico & Josh Mikael
Things are heating up in the kitchen as chef Dominic Pacifico decides to put assistant Josh Mikael to good use. Sitting naked on the counter, the chef leans back as his hairy assistant services his thick dick while keeping a tight grip on his full balls. In an invitation to destroy his hole, Dominic throws his meaty thighs back so he is laying fully exposed on the kitchen island. Josh is chowing down on Dominic's hole and preparing it for the main course – his fist. With his legs completely spread apart, Dominic breathes heavily as his open hole takes the entirely of Josh's hand. The chef and his gaping ass are now ready to be cornholed by Josh, literally. The assistant breaks out an ear of yellow corn and stuffs it into Dominic's stretched-out hole. Josh pumps the entire cob in and out of Dominic before putting his hand back inside the chef, so Dominic can ride his clenched hand. Once he's off the counter, Dominic bends over for more intense anal action courtesy of Josh's right fist. The handsy assistant exits Dominic's gaping hole just in time for Dominic to turn around and nut all over Josh's face and body.

WATCH THE SCENES AT THE NEW:
FISTING INFERNO