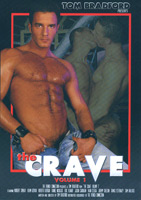 Studio: Tom Bradford Presents
Directed by: Tom Bradford
Year of Release / Production: 2007
Country of Production: Hungary

CAST:
Sam Ballack
Jason Carrigan
Ivan Cseska
Tamas Esterhazy [Tamas Eszterhazy]
Norbert Somlay [Fred Fele]
Eric Flower
Adam Gervay
Roberto Giorgio
Daniel Nicolaus [Daniel Nikolaus]
Jeremy Shelton [Jeremy Sheldon]
ADDITIONAL COMMENTS:
Release Date: July 6, 2007
SYNOPSIS (from French Connection):
The first in a carnal trilogy! No story, no set up. Just ten incredible men meeting in stylized and slightly surreal locations to suck and fuck with abandon. Tom's Men is sex on an epic scale as only Tom Bradford can present it!
SCENE-BY-SCENE:
SCENE 1: Roberto Giorgio (bottom & top) + Daniel Nicolaus (top & bottom) + Eric Flower (top & bottom)
Somewhere in Hungary, on an army base ringed with rusty chain link fence and coiled razor wire, Eric Flower pulls blond Daniel Nicolaus close as they lock lips, uniforms half off and muscles twitching. It doesn't take long for Roberto Giorgio to insert himself between the two, go to his knees and worship their large uncut cocks. After an acrobatic display of oral skill with Roberto hanging from fences, asses are spread for some deep rimming and then Roberto is bent over and pounded by Eric while Daniel blows him. Next Roberto splays himself upon a discarded uniform on the grimy metal deck so Daniel can plow him.
   Roberto fucks Eric, then Daniel (who keeps his camouflage boots on though it all!). Eric has his turn at Daniel's tight ass and then they both shoot all over Robert's perfect torso as he lies on a barrel shooting his own load.
SCENE 2: Norbert Somlay (top & bottom) + Sam Ballack (top & bottom) + Tamas Esterhazy (bottom & top)
Norbert Somlay (a fan favorite returning from CAGED MEN) is a square-jawed, massive tower of hairy muscle. He wanders through a graffiti covered hall that ends in a dank basement. He leans against a wooden rail, lights up a smoke and unleashes from his jeans the most impossibly fat uncut cock in porn! Enter Tamas Esterhazy, a toned and tattooed guy with dark eyes and a face too pretty for the leather harness he wears. He licks tentatively at Norbert's poll before shoving an impressive portion down his throat. After a bit, Norbert tosses his cigar aside, but not before using the smoke from his cigar to tease Tamas, then he grabs Tamas' head with both hands and fucks his throat.
   Sam Ballack, bald and built, arrives and gives Tamas another cock to satisfy before getting on his knees and taking both Norbert and Tamas' surprisingly long piece into his own hungry mouth. They take turns rimming each other before Tamas hops up onto a table and lets Sam fuck his ass. Now Tamas, leather harness still on, bends over and finally gets Norbert's dong up his ass.
   Sam fucks Norbert next and then Tamas does Sam on the stairs as Norbert slaps Sam's face with his cock. Tamas shoots all over Sam's back and then Norbert all over Sam's chest before he turns around and cums on Tamas.
SCENE 3: Adam Gervay (bottom & top) + Ivan Cseska (top & bottom) + Jason Carrigan (oral only)
Jason Carrigan descends into the depths of an abandoned winery and finds Ivan Cseska perched atop a wine vat. Both in jeans and leather, their embrace is more of a collision as they pound and lick each others' thick pecs. When Ivan's already erect cock is unleashed from his jeans, Jason seems mesmerized by it as he goes to his knees to suck and lick Ivan's shaft and balls.
   Adam Gervay (cover model from CAGED MEN) is watching, suspended over the action in a battered cage. He unleashes his long cock and Ivan gladly sucks it. They change positions and all three are rimmed while lying on boards across wine vats. Jason cums and leaves. Ivan fucks a howling Adam in several positions. Boots still on, Adam bends Ivan over and pushes his long cock in deep, pulling it out and slamming it back in as Ivan moans. Adam lies back and jerks off as Ivan shoots thick streams of cum all over him.
SCENE 4: Sam Ballack (bottom) + Tamas Esterhazy (bottom) + Eric Flower (bottom & top) + Jeremy Shelton (top)
Jeremy Shelton meets Eric Flower in a sort of post-apocalyptic disco. They devour each others' hard cocks before Eric braces himself against a rail and Jeremy fucks him from behind. Tamas Esterhazy and Sam Ballack join them, Tamas pairing off with Jeremy and Sam with Eric for some serious deep throating. They trade off and then begin to fuck with Eric topping Sam and Jeremy topping Tamas as the camera swoops around them. The scene finishes off with Sam lying back while the other three gather round and cover him in hot cum.

AVAILABLE FROM: TLA VIDEO
GO TO: FRENCH CONNECTION

MANNET 100 BEST FILMS OF 2007
FILM REVIEW: MANNET