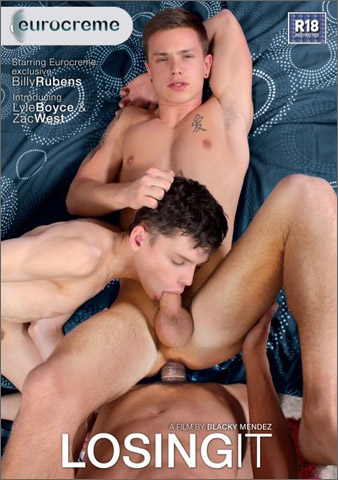 Studio: EuroCreme / DreamBoy Hotel
Directed by: Blacky Mendez
Year of Production / Release: 2013
Country of Production: Great Britain

CAST:
Domy Nick (Dominic Arrow)
Lyle Boyce
Cody Reed
Billy Rubens
Aaron Samuels
Zac West
INFORMATION FROM EUROCREME:
Billy Rubens is back behind the desk of the DreamBoy Hotel, waiting for his VIP guest to arrive from the Eurocreme Party. Mr Dom has booked out the entire Hotel for him and his entourage of sexy young boys for a whole week of sexual excitement! Feeling a little left out and emasculated from this older, but still sexy man, Billy joins in the fun, even getting fucked for us by the domineering Mr Dom! Full of first ever porn appearances, with Mr Dom, and sexy twinks Zac West and Lyle Boyce, including Billy bottoming for the first time on film, this movie is all about Losing It in 5 Scenes of sordid twink action, will the Hotel ever be the same?!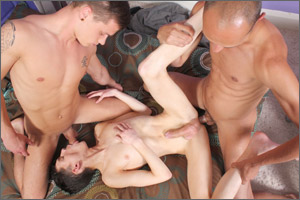 SCENE 1: Billy Rubens & Domy Nick spit-roast Aaron Samuels
It's the night of the Eurocreme Party and Billy is waiting up at reception for his special guest to arrive. Mr Dom, a slightly older, handsome man with an entourage of twinks to fill the hotel to the brim! Asking Billy is everything is settled, he gets the manager to personally take his bag to his room, followed by skinny twink Aaron. Dom sees Billy look his boy up and down, and persuades him to 'give him a go'. Unsure at first, Billy is keen to oblige his super-rich guest so is soon sucking on Aaron's delicious dick, oblivious to what's expected of him next! Mr Dom lubes up his condom covered cock and pulls Billy down onto him, breaking in the former top-only manager, making him take his dick over and over whilst sucking on his boy still. The look on Billy's face is a sublime mix of pleasure and anguish, but he quickly gets back to his best act of fucking the life out of skinny young boys! Much happier here, Aaron is wedged between the two fuckers and end s up being the spunk rag for them both, leaving Billy to quickly pick up his clothes and leave his important guest in peace!

SCENE 2: Zac West fucks Cody Reed
Cute twink Cody comes to reception and sees sexy new face Zac West manning the desk. Needing some towels for the gym, Zac is curious about this Mr Dom and his boys, so delivers the towels to a sweaty, pumped up Cody and asks a few questions. Unable to answer, but more than willing to show what the game is all about, Cody leans in to suck on Zac's perfectly formed dick as he strips himself, looking like a mini-Adonis with his toned body, tanned skin and smooth shaped torso. Who could pass up some cock sucking from Zac, certainly not Cody as he loves every second, leaning onto his back as Zac takes control of the boy and slides his juicy dick deep into him right there in the hotel gym! The sight of Zac's great body thrusting upwards into Cody's pale butt is perfect, both young bodies working towards a great orgasm as Zac slaps ass and Cody leans back to kiss his fuck buddy as they work themselves closer and closer, Cody bouncing on top of Zac in every position possible until he can't hold back any longer and shoots his load all over Zac's abs!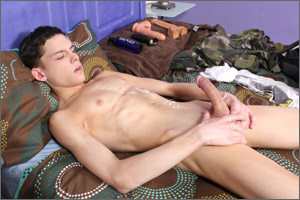 SCENE 3: Aaron Samuels solo
Little twink Aaron is resting up in his and Mr Dom's bed all alone. Chilling with some music whilst his man is out and about, he use the time to prep his hungry hole for the hard fuck session he's sure to get when his master returns! Pulling out some very large dildos, his smooth hole instantly opens up and takes a big black butt plug, his impressive dick standing to attention as he plays with his own hole, getting bigger and bigger toys into his ass, even sticking a giant pink one to the wall and backing his slim, lithe body onto it and taking it all the way to the balls, over and over, showing us the full length of rubber sliding in and out of that smooth hole, his face showing he loves every inch that works into him.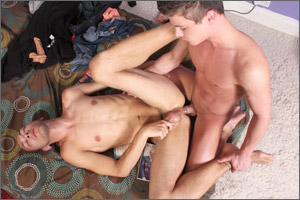 SCENE 4: Zac West fucks Domy Nick
Zac is back on duty and his curiosity has definitely got the better of him. Eager to find out just what Mr Dom is up to at the hotel, this new recruit to the DreamBoy Hotel lets himself in to his bedroom and noses around. He doesn't even know what he's looking for, but whilst he's buried in bags of dildos, Mr Dom returns and appears suddenly in the room, catching Zac in the act! Mr Dom works his magic words on Zac, and Zac falls for them without even realising! Leaning in, Dom takes the half-naked Zac in his arms and leans right over him, pushing him to the bed and slowly strips him. Zac's dick is already hard and leaking pre-cum, it's too good to miss out on and he laps it up and devours his new boys dick! Flipping thing completely however, Dom is the on who gets fucked by the top fucker Zac, he must be something special for Mr Dom to take dick, but damn it's hot to watch!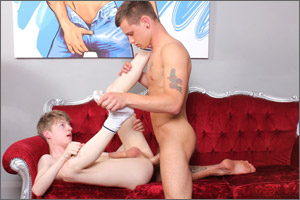 SCENE 5: Billy Rubens fucks Lyle Boyce
It's the last night of Mr Dom's dominance of the Hotel and Billy is tired, all those hot young boys and he's only been able to fuck one once! Taking down a glass full of vodka, He thinks he's had enough but along comes the very young looking blond boy Lyle. Introducing themselves and joining for a nightcap, Lyle lets Billy in on a secret, and that's all Billy needs to have a final fling of the week! Lyle, the slim, baby-faced blondie is soon stuffing his face with Billy's rock solid dick, and Billy, still in his shirt and trousers leans back to enjoy the sensation! Thrusting upwards, Billy fucks the angelic face of Lyle, his thick shaft stretching his mouth, but wait until the mouth is replaced with ass, Lyle moans out loud as Billy fucks him hard and fast on the sofa, getting all his tension out on that hot ass of his where anyone could walk in at any time, but luckily they are left to it, spunking all over each other and left dripping in the white stuff!

WATCH / DOWNLOAD ALL THE SCENES AT: EUROCREME
Members at Eurocreme can watch scenes from this film anytime.
Extensive photography and out takes available for members.