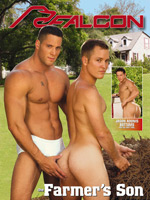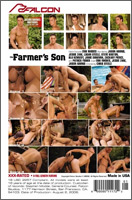 Studio: Falcon Studios
Directed by: Chris Steele
Year of Release / Production: 2007
Country of Production: U.S.A.

CAST:
Jason Adonis
Steve Boston
Jamie Donovan
Patrick Fisher
Blu Kennedy
Zackary Pierce
Erik Rhodes
Logan Steele
Jessie Zane
SCENE 1: Zackary Pierce (top), Patrick Fisher (top/bottom), Steve Boston (bottom/DP)
SCENE 2: Erik Rhodes (top), Jason Adonis (bottom)
SCENE 3: Blu Kennedy (top/bottom), Jamie Donovan (bottom), Logan Steele (top)
SCENE 4: Jessie Zane, Erik Rhodes
SCENE 5 (Bonus): Alone with… Jason Adonis (solo)
FROM THE FALCON WEB SITE:
The classic dirty joke about the "Farmer's Son" gets made even graphic in this sexy tale of a city boy going head-to-head with a seductive country boy. It features one of the most anticipated scenes of the year where legendary topman Jason Adonis bottoms for the first time in his career. When his car breaks down on a deserted country road, Erik Rhodes knocks on the door of a stranger, seeking shelter, having no idea the sexual escapades in store for him. Logan Steele allows him to stay under one condition: Stay away from his son, Jessie Zane… or else.
SCENE 1:
Jessie and his three friends Zackary Pierce, Steve Boston and Patrick Fisher, take a dip in the pool out back — without their bathing suits. Jessie begs Erik to join them, but he wisely refuses. Jessie goes after him, leaving Zackary, Steve and Patrick to their own devices and in no time the three quickly begin having sex, culminating in an impressive double-penetration and generous cumshots all around.
SCENE 2:
Erik Rhodes gets some bad news about his car from the mechanic, Jason Adonis. Seems he's going to have to order some parts and it will take a few days at least. Jason makes it up to Erik by letting him fuck his tight hole. After rimming his ass properly, Jason lowers himself on Erik's huge uncut cock. They two muscle studs go at it on the back of Erik's truck under the sweltering sun in a historic scene that's too hot to be missed.
SCENE 3:
Meanwhile, Logan Steele is out hunting when he finds two delicious pieces of game in the woods: Young Blu Kennedy and Jamie Donovan. It's daddy meets boy times two as the gruff tattooed daddy fucks Blu's and Jamie's nubile young bodies.
SCENE 4:
Jessie Zane is doing some hunting himself: He's still focused on defying his father and seducing his house guest, Erik Rhodes. So he hatches a plan that if he succeeds will get his ass filled with Erik Rhode's massive cock … but could get them both in deep trouble with Logan Steele.

WATCH IT NOW AT: FALCON STUDIOS