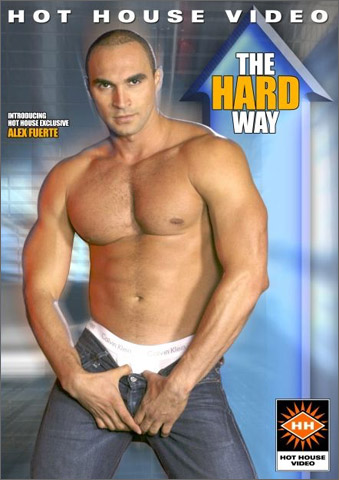 Studio: Hot House Entertainment
Directed by: Steven Scarborough
Year of Production / Release: 2005
Country of Production: U.S.A.

CAST:
Alex Collack
Jonathan Diaz
Fredrick Ford
Jon Galt
Rik Jammer
Anthony Lafont
Arpad Miklos
Carlos Morales
Kent North
Collin O'Neal
Marco Paris
Troy Punk
Mike Rios
Shane Rollins
INFORMATION FROM HOT HOUSE:
Hot House Exclusive Alex Fuerte leads a cast of 15 built rock-hard hunks that give it and take it The Hard Way, from Director Steven Scarborough and Hot House Video. Also starring Hot House Exclusives Alex Collack and Kent North, these 6 perfectly crafted scenes feature well over a ton (2,500 pounds!) of hot men with hard muscles and hard cocks in hard-hitting action. The superb award-winning Hot House production values are everywhere from the lighting to the editing to the music. This Hardcore Director's Cut Two Disc Set is packed with extras like an intense full-length Hardcore Bonus Scene, Hard Way Fuck Compilation, Cumshot Compilation and more, not to mention all the filthy action, extreme assplay and scorching-hot fucking you've grown to expect from Hot House Video. So you can make this easy or you can make it hard: get a copy of The Hard Way now!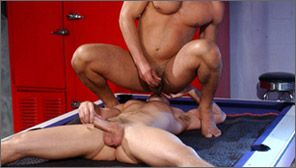 SCENE 1: Alex Fuerte & Shane Rollins flip-fuck
In the first scene, we meet gorgeous newcomer and Hot House Exclusive Alex Fuerte, who's shooting pool with Shane Rollins. Shane reaches over the table for a shot and that's all Alex needs to get the action going. In no time, the stud's pants are around his ankles while Alex goes to town on his smooth ass. Shane and his puckering manhole are begging for more of Alex's face but Alex would rather suck on his fantastically wide cock and low-hanging balls. Now it's Shane's turn to inhale Alex's long, uncut piece. Eagerly and sloppily trying to jam the entire monster down his hungry throat, he finally gives up knowing there's one other hole that he'd rather have Alex bury his bone in. After being plowed real good, Alex gives it up for Shane as he's propped up on the pool table. After some long, hard insertions, the two finally cum and collapse on each other.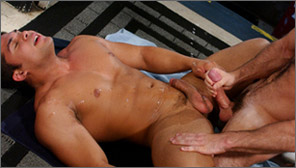 SCENE 2: Collin O'Neal fucks Mike Rios
In scene two, Collin O'Neal waits impatiently for hyper-buff muscle stud Mike Rios, who's half-an-hour late. How can he make it up to him? Collin's got some ideas. He starts by shoving his cock down Mike's throat, before bending him over a barstool and giving him a properly hard fucking. Collin's unrelenting fuck session leaves Mike rock-hard on his back and quivering for more. Even with his partner still pounding his ass, he still manages to milk a hefty load out of his own cock. Collin promptly spews a massive, geyser-like load all over Mike's chest.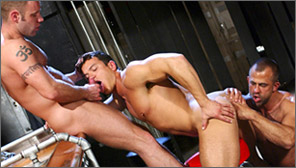 SCENE 3: Jon Galt & Troy Punk power-fuck / double dildo Carlos Morales
At a sleazy bar, Hot House favorites Troy Punk and Jon Galt run into each other and can barely keep their hands off each other's muscular, hairy bodies. Standing beside each other, they rip off each other's jeans and both their turgid cocks slap up against each other: as they begin to kiss, their cocks look like they're fighting. After eating his round, fleshy ass, Jon backs his own ass up onto Troy's willing cock. The two are joined by skilled powerbottom Carlos Morales. Jon and Troy are quick to fill Carlos up: Troy in his mouth, Jon with his fingers then cock in his ass. Jon shoots on Carlos' muscular ass and back and greedily laps his hefty load up with his hungry mouth. Carlos, his ass still hungry, gets up on the bar and spreads his legs for Troy, who works him over with two massive dildos until he works himself to climax.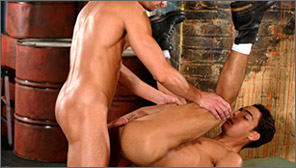 SCENE 4: Anthony Lafont fucks Fredrick Ford while fucking Jonathan Diaz
In the forth scene, Jonathan Diaz discovers Fredrick Ford jerking off his huge cock and helps him out with his wet mouth and throat. After priming Jonathan's hole with his tongue, Fredrick buries his bone deep inside him, first slowly but then building up to a feverish, pile-driving pace. Fredrick knows exactly how Jonathan likes it: Long, deep strokes, giving his ass the whole, impressive length of his stiff rod. Thick-dicked Anthony LaFont watches topman Fredrick in action and knows what he wants: to make him submit. Hunched over on his shoulders, with his legs and back in the air, Fredrick gets slammed by LaFont's massively thick member – and fingers – until he shoots his load straight into his own mouth.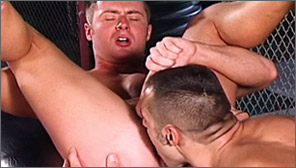 SCENE 5: Arpad Miklos fucks Marco Paris
The final scene of disc one begins with Arpad Miklos tenderly kissing Marco Paris. The romance ends there, as Marco throws Arpad down on a leather bench and hungrily slurps down Arpad's massively long, uncut cock. After several earnest attempts, he manages to slam the enormous bone down his gullet. Arpad returns the favor by licking his ass and tool, but he's desperate for that cock in his ass and Arpad is more than willing to comply. Marco squats down on Arpad's member, effortlessly sliding up and down on it, as his own rock-hard cock flops up and down with each enthusiastic bounce.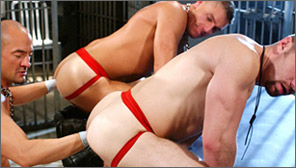 SCENE 6: Rik Jammer fist-fucks Alex Collack & Kent North
In the sixth bonus scene, Hot House Exclusive Kent North unlocks Rik Jammer from his prison cell. Kent pries his hole wide open with his tongue and fingers while Hot House Exclusive Alex Collack looks on hungrily from another cell. Kent eventually lets him free to join in on the butt-busting session. They form a daisy chain, Kent bringing up Alex's impossibly hungry, unstoppable rear with a thick dildo until a rosebud blooms. Next the two prisoners have Kent on the table and Rik works over his hole with another massive latex cock. Still hungry for more, Kent lowers himself on Rik's entire fist. Alex's ass finds its place on Rik's other fist, as the shaved-head stud punch-fucks them both simultaneously. Before their session is over, Rik gets his ass fisted, too, and the scene ends with the three studs working healthy loads out of one another.

WATCH IT NOW / MORE INFO AT:
HOT HOUSE & HOT HOUSE BACKROOM
Hot House Backroom Members can see this film anytime online.
With extensive additional photography from every scene.