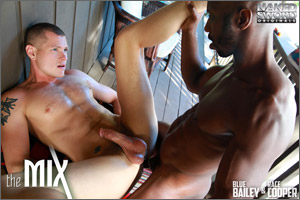 Studio: NakedSword Originals
Directed by: mr. Pam
Year of Production / Release: 2013
Country of Production: U.S.A.

CAST:
Blue Bailey
Race Cooper
Jack Ferren
Conner Habib
Connor Maguire
Angel Rock
Felix Warner
Christian Wilde
INFORMATION FROM NAKEDSWORD: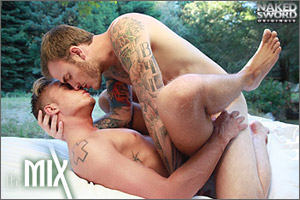 EPISODE 1 – A WILDE PROPOSAL: Christian Wilde fucks Felix Warner
Sometimes opposites attract óand sometimes they explode! In "The Mix," NakedSword Originals' brilliant and dirty take on the difference between friends and lovers, two groups head to the California woods for a sexy, dirty trip that will leave them shaken up ó and stirred. Boyfriends Christian Wilde and Felix Warner are getting married, but before they do, they invite some old friends up to a cabin to celebrate. But will the sets of friends mix? In the calm before the storm, Christian and Felix remind themselves that if love conquers all, and lust conquers even more. On a sun-dappled bed in a meadow under a tree, Christian takes his husband to be in a passionate, deep fuck that has Felix loving his new ball and chain.

EPISODE 2 – TROUBLE ARRIVES: Angel Rock fucks Jack Ferren
When oil and water don't mix, try using a little lube! In "The Mix," NakedSword Originals' wild weekend in the country, it's a pre-engagement party with two warring factions. First to arrive are Christian Wilde's free-spirited friends: Connor Maguire, Blue Baily, Jake Farrin and … Angel Rock? Sure, Angel's only a fuckbuddy along for the ride — but why waste that ride? The boys have barely unpacked when Angel starts to get a little restless for a taste of Jake's free-spirited ass. So while the rest of the boys settle in, Angel takes Jake for a ride in the country — and in the pool, in the hot tub and in front of Blue Bailey, who's happy to take in the view. Ah, the beauty of n ature! But what will husband-to-be Felix Warner's uptight friends think?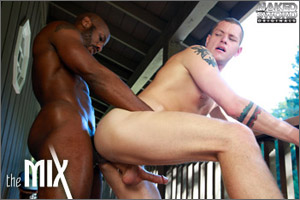 EPISODE 3 – A DANGEROUS TOAST: Race Cooper fucks Blue Bailey
Not everyone's made for the country life, and when uptight friends crash a free-spirited barbecue in "The Mix," the flames really start to jump. A-Gays Race Cooper and Conner Habib aren't happy that friend Felix Warner is getting married to a man they consider little more than a street trade. And those friends! They'll be damned if Felix marries this, this trash! But when Race is caught red-handed making trouble, Blue Bailey makes him take a dose of his own medicine. A little herbal surprise loosens Race up, and with a little prodding he and Blue shake the cabin with a flip-flop fuck that leaves Race laid out … and maybe just lightening up. After all, nothing equalizes like anal!

EPISODE 4 – DOWN ON BOTH KNEES: Connor Maguire fucks Conner Habib
In the finale of NakedSword Original's comedy of engagement, "The Mix," there's only one uptight asshole left to go, and Connor Maguire's on the case. Conner Habib doesn't like Christian Wilde's low-brow friends, but a little enhanced sangria may have him singing a different tune. Or at least swallowing one! Maguire takes his willing victim out for a little tour of the woods, and soon Habib is swinging from the branches and howling with pleasure. This uninhibited sex maybe more country than country club, but that only makes Habib hungrier for the sap. Maguire takes his big dick and screws Habib into submission — but will it be enough to get him to accept him and his friends as in-laws?

WATCH THIS AND A HOST OF OTHER FILMS AT:
NAKEDSWORD
On-Line Presentation, exclusive to NAKEDSWORD
Members can watch this with a host of other films in the NakedSword Library.