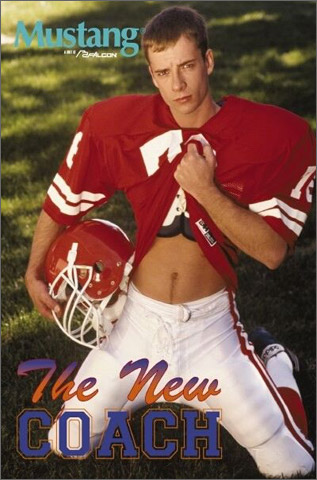 Studio: Falcon Studios / Mustang
Directed by: Chi Chi LaRue
Year of Production / Release: 1997
Country of Production: U.S.A.

CAST:
Jay Anthony
Rod Barry
Talvin DeMachio
Brad Eliot
Joey Hart
Kevin Miles
Raphael Perez
Shane Rockland
Aaron Wilde
FROM THE FALCON WEB SITE:
A new coach and his team of horny athletes try out one anothers smooth moves.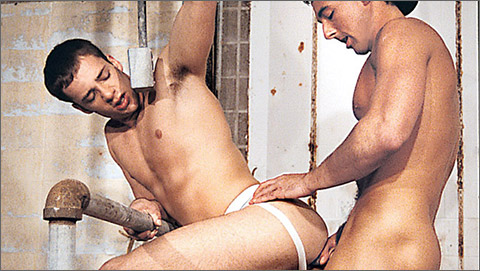 SCENE 1: Shane Rockland fucks Jay Anthony
The buzz on campus is that there's a hot new coach…janitor Shane Rockland and football player Jay Anthony get caught up in the rumors…and in their own lusty endeavors. Jay falls to his knees and treats Shane to some expert cocsucking. Jay works his tongue and mouth all around the janitor's hooded prick, sliding his tongue under the slippery flesh of Shane's foreskin. He then moves to Shane's ass, licking his crack and sending him into ecstasy. Shan turns his attention to the ballplayer and sucks Jay off, then rams his cock up the young jock's ass and fucks him till they both explode with streams of cum.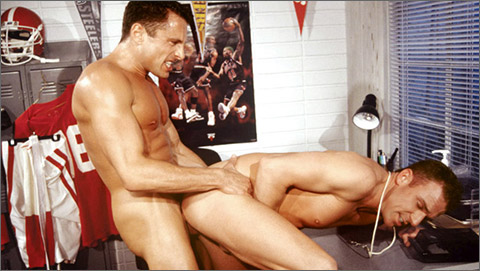 SCENE 2: Brad Eliot & Kevin Miles flip-fuck
Principal Brad Eliot wants new coach Kevin Miles to prove he's got the skills to keep his men in line. Kevin shows Brad that he coan offer more than lip services as he swallows Brad's thick cock. The two men strip nanked and suck and play with each other's musluclar bodies. Kevin rolls back on his shoulders and begins to suck himself as Brad plays with Kevin's hole. The horny studs exchange fucks and shoot their loads…demonstrating that they can score as a team.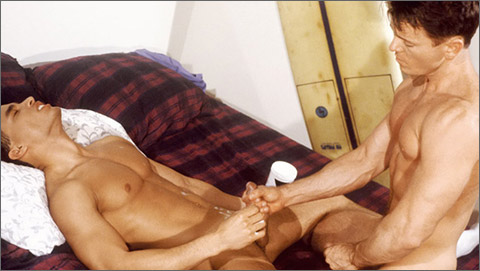 SCENE 3: Talvin DeMachio fucks Joey Hart
Roommates Joey Hart and Talvin DeMachio learn that their differences are small in comparison to their hunger for cock. Joey invites Tal to suck his cock and Tal eagerly complies…working Joey's cock to attention. Aroused, Joey gets a taste of Talvin's cock and ass…before surrendering his own ass to a heavy pounding by Talvin…the fury of which abates only as both studs splatter their juice all over…cementing their relationship in sticky cum.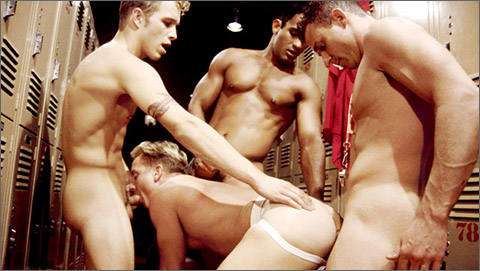 SCENE 4: Rod Barry, Raphael Perez and Aaron Wilde break in the new coach Kevin Miles
Players Rod Barry, Raphael Perez and Aaron Wilde grumble about Coach Miles riding them hard during practice when suddenly Kevin walks in and apologizes: the principal's been on him to push the team and produce. Willling to prove he's a team player, Kevin pulls out his "peace pipe" and soon all four are going at it hot and fierce. Raphael and Aaron begin by sucking Kevin's and Rod's cocks. Aaron works his tongue around Rod's uncut prick, savoring the taste of the meaty foreskin. The four studs suck and rim and kiss, playing each other into a sweaty frenzy. Aaron lays back on the bench and sucks Raphael's thick meat as Rod and Kevin poke their fingers into his tight hole. Rod then begins to fuck Aaron from behind as Raphael lays down with Kevin sliding up and down his prick, riding him fast. All four work it hard and in time they come, shooting explosives loads. The new coach proves he's with his team 100%.

WATCH THE SCENES NOW AT:
FALCON STUDIOS
Falcon Members can watch scenes from this Release anytime online.
DVD Releases debut online prior to DVD Release.

WATCH IT AT: AEBN / SMUTJUNKIES THEATER
BUY IT / WATCH IT AT: GAY HOT MOVIES