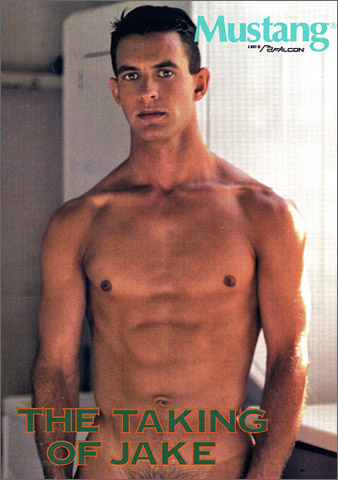 Studio: Falcon Studios / Mustang
Directed by: Chi Chi LaRue
Year of Production / Release: 1996
Country of Production: U.S.A.

CAST:
Jake Andrews
Derrick Baldwin
Jake Cannon
Steve Carlisle
David French
Troy Halston
Kevin Miles
Jack Simmons
Colby Taylor
FROM THE FALCON WEB SITE:
SCENE 1: David French and Steve Carlisle
The house butler, played by sexy Brit (or Scot) David French discusses his concern for Jake (Jake Cannon, the pouty, Blond son of his master) with his lover Steve Carlisle. Steve thinks Jake is a brat (which he is). Carlisle consoles French by sucking his large uncut meat. It's a struggle for Carlisle, but French doesn't seem to mind one bit. Carlisle gets his ass prepped for an anal assault… but oddly the first thing up his ass is a dildo while French beats off by it's side. But finally French gets fully hard and gets his plump dick up his lover's well prepped hole. French then jacks-off to a decent climax while Carlisle humps his leg. A rather unsatisfying exchange, which is a pity, this is French's only known role.
SCENE 2: Jake Cannon, Jack Simmons and Troy Halston
Obnoxious brat Jake Cannon is abducted for ransom by Jack Simmons and Troy Halston. While waiting for their demands to be met, they demand attention from pouty boy-toy. But in the end, Halston and Simmons ignore the little snot while they get down on each other. Halston makes a perfect receptacle for Simmons large erect cock. Both jack-off to finish in Slow-Mo while the bound Cannon just sits there with his eyes half closed. Simmons delivers his usual jumbo cum shot.
SCENE 3: Jake Andrews, Colby Taylor and Kevin Miles
Jake Andrews hires two Private Dicks (Colby Taylor and Kevin Miles) to help get his son back. Judging from the ill-fitting suits, neither Miles or Taylor owns one, but the suits are quickly removed. Taylor sucks on Andrews' chubby erection while Miles gets a taste of a young Colby Taylor. Andrews then gets his turn to swallow Miles long curved schlong, and excellently deep throats the thing with a rapid attack, good job Jake. Andrews then gets a chance to fuck Taylor while Miles is jamming his cock down Colby's throat from the other side. Andrews switches to jab his cock at Miles ass, who is flipped over sucking his own dick (a standard position for Miles). All three end the scene by standing over a Glass Table shooting their loads.
SCENE 4: Derrick Baldwin and Jake Cannon
Derrick Baldwin is one of Jake Cannon's abductors, but he has soft spot for Cannon. Baldwin releases Cannon who is now free to go home. But Cannon wants to stay and suck Baldwin's dick. Which turns Baldwin's soft spot into a hard-on up Cannon's bubble butt. Baldwin shoots his load on Cannon, Cannon jacks off to a dribbly finish.

WATCH THE SCENES NOW AT:
FALCON STUDIOS
Falcon Members can watch scenes from this Release anytime online.
DVD Releases debut online prior to DVD Release.

WATCH IT AT: AEBN / SMUTJUNKIES THEATER
BUY IT / WATCH IT AT: GAY HOT MOVIES