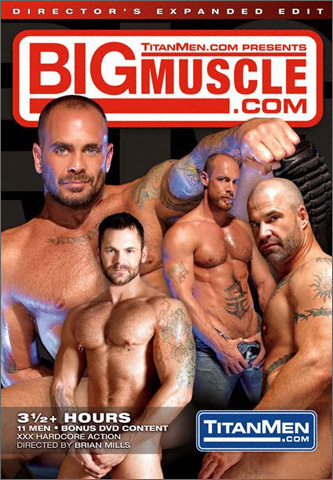 Studio: Titan Media
Directed by: Brian Mills
Year of Production / Release: 2005
Country of Production: U.S.A.

CAST:
Jay Armstrong
Tober Brandt
Chris Crawford
Jake Deckard
Fredrick Ford
Troy Moore
Markus Ram
Cliff Rhodes
Chuck Scott
Logan Steele
Jason Tiya


[jwplayer mediaid="66917″]

FROM TITAN MEDIA WEB SITE:
Calling this scorcher Big Muscle isn't quite right. It oughtta be BIG MUSCLE. It's got 11 of the biggest, roughest and hairiest muscle studs we've ever collected in one movie. It was created and released by TitanMen.com in partnership with www.bigmuscle.com, the site where men into gym culture find community. It's where we found the new faces you'll see in Big Muscle, and you'll hafta agree—these guys are overwhelming.
   Get ready for blond preppie muscle, unshaven trucker muscle, plus some muscle that's ultra-lean and ultra-hung, like TitanMen Exclusive Cliff Rhodes (MENS ROOM II: Gale Force; Spy Quest). And, in a stunning classic of a scene, prepare to be blown away by two power-packed and mighty potent new exclusive TitanMen stars, Chuck Scott and Jake Deckard.
   Tattooed wild man Chuck Scott will remind you more than a little of Dred Scott. Liable to explode at any moment, Chuck's a dangerous sex demon who's mean in all the good ways and roarin' to take you down. Jake Deckard has rugged looks, and coppery hair that glints not only across his muscular body, but most especially around the superbly relaxed and beautiful golden ring that's gotta be The Best Asshole of All Time. This gilded grand canyon demands lavish tongue worship, but watch out! This irresistible vortex sucks a cock in and never lets go.
   Chuck and Jake are joined by two other new TitanMen exclusives, bearded biker stud Tober Brandt and hunky Logan Steele (previously seen in MANPLAY 21). Returning to TitanMen films are Fredrick Ford (HORSE: FALLEN ANGEL 5), Markus Ram (SPY QUEST), and Jay Armstrong (MANPLAY 21). Completing the cast in their Titan debuts are smooth blond Troy Moore, beautifully buff Jason Tiya, and long-donged Chris Crawford.
   Big Muscle was directed by Brian Mills. Its four extended-length scenes total three hours, with two episodes of thirst-quenching water sports available only through TitanMenStore.com in the special Hardcore Edit. Another hour and a quarter of hot bonus material has cum shots, hard-on photo sessions with all the guys, surprisingly candid interviews, and more.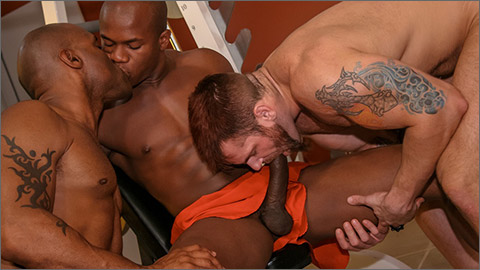 SCENE 1 – WEIGHT ROOM: Markus Ram and Jason Tiya top Tober Brandt
When Markus Ram delivers the cliché gym pick-up line of all time to Tober Brandt, "Hey man, would you come over here and spot me?" what he really means is "Hey, buttslave, get over here and bury your face in my bodacious big ass." Tober laps butt like a ravenous beast—and growls like one, too. He gets the skull fuck of his life, choking and gagging on the giant's gargantuan rod, and both studs shoot sweet nectar. Still in raging heat, Tober's battered from both ends, sitting on Markus' fat wang while cramming Jason Tiya's dick down his throat–a cock frenzy that makes the massive men pump out the cream.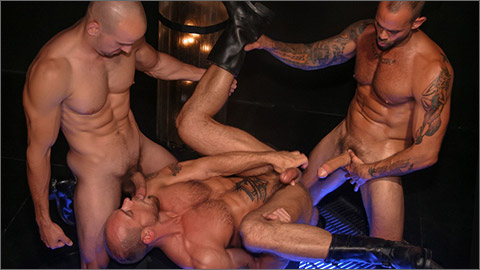 SCENE 2 – THE SEX ZONE: Chuck Scott tops Jake Deckard with Jay Armstrong
In the shower, horny dog Chuck lathers up a swelling cock as he dreams of a sensuous yet rudely demanding sex session with Jake. Chuck worships Jake's body—all the time making sure that smooth Jay Armstrong is watching from across the room and beating his hefty tool. He's an exhibitionist, that Chuck, and he's putting on a show, forcing the spit from Jake's drooling mouth with his monster cock. When Jake's amazing bronze eye is exposed, Chuck pisses right on it, and sends long streams over Jake's back. The gold rain rolls over Jake's face and drips off his nose, and the mens' cum explodes. Sweating and swearing, Chuck plugs Jake's sublime pucker, pulling out and taking aim before another rude plunge slams his colossal cock deep into the gate to heaven. The mens' cum spurts, and Chuck hungrily sucks his off Jake's hairy butt.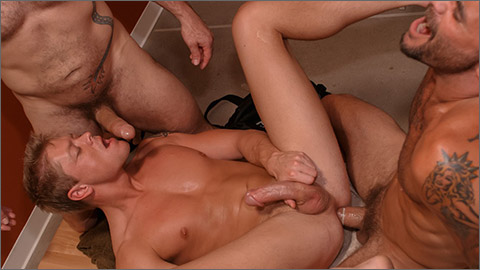 SCENE 3 – LOCKER ROOM: Logan Steele tops Troy Moore and Chuck Scott takes control
Burnished blond Troy Moore taunts gruff, unshaven hunk of beef Logan Steele with his golden rod and hairless butt hole. Logan buries his face in it, upending Troy for deeper delicious tongue-digging. Suddenly, preppie Troy is plugging rough Logan's burning hole with his gorgeous grinder, and the buddies blast together with a high flying spritz of jizz. Chuck's been watching from the shower, and takes over. Commanding Logan to lay on the bench, Chuck pisses him up and pisses him down and lets loose with full force jets that splat against the back of Logan's throat. Logan spits the hot whiz right back at Chuck, and the mean pisser cums. But he's unstoppable. Troy becomes his fuckin' pig hole, and Logan's tightly grasping ass lips stretch beyond belief with the furious assault of his thick gut-buster. Logan batters the pecker paste outta his big daddy dick as superloads from Chuck and Troy spray across his cum-wracked body.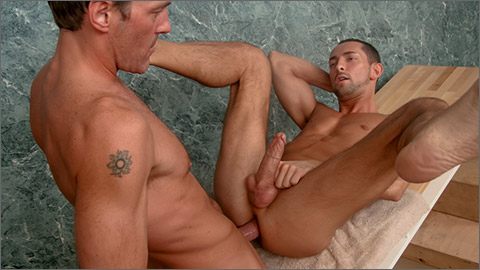 SCENE 4 – STEAM ROOM: Cliff Rhodes fucks Fredrick Ford and Chris Crawford
The three guys in the steam room have a yard or two of hard manmeat to grapple with when colossally cocked Cliff Rhodes decimates ultra-ripped Fredrick Ford, with Chris Crawford's foot-long fuckpole helpin' out. They take turns swinging on each other's rigid tools, and Cliff tries not to cum when Fredrick plants a lean rump on his face and Chris swallows his cock. But it's useless—licking Fredrick's ass is too much, and both men unleash gushers. Fredrick feels each and every inch as Cliff's mighty bone slides slowly into his willing asshole. His ripped body goes taut as steel as Cliff forces waves of cum outta him, before his lily white butt is covered in Cliff's dick-detonating cum blast. Big Muscle—hot, sweaty, piss-covered and versatile muscle studs tuff fuckin' each other's brains out.

MORE INFO, PREVIEW OR WATCH RIGHT NOW:
TITAN MEDIA
Scenes Premier online prior to DVD release and are available to view anytime in the Member"s Area.
Members can watch scenes from almost all Titan Media releases anytime online.