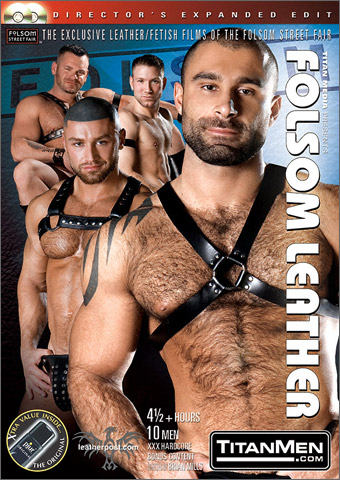 Studio: Titan Media
Directed by: Brian Mills
Year of Production / Release: 2007
Country of Production: USA

CAST:
Alex Baresi
Tober Brandt
Korben David
Brendan Davies
Adam Faust
Butch Grand
Arpad Miklos
Francois Sagat
Tyler Saint
Rick Van Sant
FROM TITAN MEDIA WEB SITE:
Folsom Leather pushes the envelope of hardcore man-on-man leather/fetish play. Packed with 4 ½ hours of hardcore content including some of the most spectacular hardcore leather, fetish and fisting you've ever seen, the 2-disk set features ten studs fisting, fucking and pissing on each other deep in a dungeon below Folsom Street—or is it deep in someone's twisted imagination?
   Our latest TitanMen exclusive—tall and sexy Rick van Sant—has an unbelievably talented ass which he gladly gives up to one fist after another, culminating in a doublefisting that you won't want to miss. Rugged, hard-bodied Brendan Davies (Folsom Filth, The Road to Redneck Hollow) whips stunning TitanMen exclusive François Sagat (Folsom Filth, Spy Quest 3, H2O), then Brendan, François and Rick soak each in a flood of piss and cum. Cigar smoking muscle bear Butch Grand (new to TitanMen) and hairy stud Arpad Miklos (Boiler) shove their cocks down the throat of hot, furry TitanMen exclusive Alex Baresi (Breathless, Spy Quest 3), and Alex rides Butch's fist, soaking his muscular forearm in elbow grease and butt juice. Sexy, tattooed new Titan Man David Korben gets his ass eaten and fisted and gets fucked in a sling by burly Adam Faust (Boot Camp: ManPlay 24). In the final scene, smooth, ripped Tyler Saint—also new to TitanMen—spit polishes the boots of TitanMen exclusive Tober Brandt (Folsom Filth, Boiler, The Road to Redneck Hollow) using Tober's own spit and piss, then Tyler and Rick tag team Tober's beefy butt.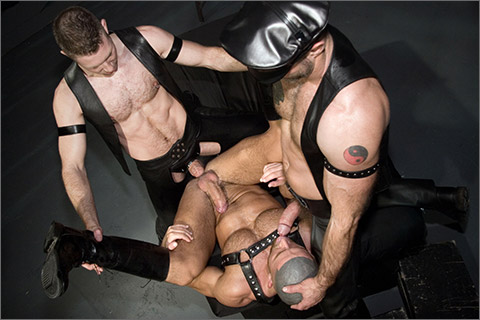 SCENE 1: Brendan Davies (top), François Sagat (bottom), Rick Van Sant (top/bottom/fist)
TitanMen exclusive François Sagat gets whipped, pissed on, and fucked by Brendan Davies before Francois and Brendan fist new TitanMen exclusive Rick
van Sant. Sexy, tall new TitanMen exclusive Rick van Sant is lying on his side asleep in bed in a shadowy room wearing nothing but a pair of tight white briefs. As he begins to dream, we see him wandering around a dilapidated warehouse. Through a hole in a wall, Rick watches hairy muscle stud Brendan Davies whipping TitanMen exclusive François Sagat, strung up and swinging on a metal bar with a ball gag in his mouth. Brendan pulls François' beefy ass cheeks apart, hocks a wad of spit deep in his crack and feasts on his hard, round ass. Brendan gets worked up eating and spanking François and drenches the stud's beautiful butt and thick, muscular back in a golden jet of piss, then resumes chowing down on François' tight, pink hole. Brendan peels François' leather jock off to reveal François's rock-hard boner which Brendan strokes and slaps, teasing him with the perfect combination of pleasure and pain. Brendan notices Rick in the shadows looking hot in chaps and a leather vest, and motions for him to come over and join the fun. While Brendan sucks on François' tongue, Rick quickly drops to his knees and engulfs François' stiff dick with his hot, wet mouth. Brendan grabs François' cock and aims a stream of warm piss all over Rick's hairy pecs and into his face and open mouth. As he sits in a pool of liquid and greedily drinks from François' piss cannon, Rick pulls his cock out of his leather jock and shoots a warm jet of gold all over himself. Brendan smacks Rick's beefy ass and soaks his butt cheeks and back with even more piss, and Rick dives down on François and Brendan, gagging on their still raging-hard dicks. Brendan shoots a huge load all over Rick and the floor while Rick jerks on François' cock until he spews his spunk all over his chest and the floor. Finally, it's Rick's turn to cum; he strokes his cock and dumps his creamy load all over François' black boots and then like the hungry cum pig he is, bends over and slurps it up. François lies back on a bench and Rick holds his legs up by his boots and plunges his dick into him mercilessly while Brendan stuffs his face with his cock. After François shoots a huge amount of jizz all over his tight abs and beefy pecs, Brendan scoops up the load and feeds it to cum-hungry François. Brendan pries Rick's hard ass cheeks apart and buries his handsome bearded face in deep, tonguing and teasing and lubing it up with spit to get it ready and open for deep-dicked penetration. Brendan drives his hard cock up Rick's fuckchute while François plunges his penis down his throat. Brendan flips Rick on his back and continues to pound and spear his ass while François holds up one of Rick's booted legs with one hand and jacks his stiff dick with the other. Brendan's brutal fucking makes Rick shoot a hot sticky load all over his leather jock. Brendan pulls out and, groaning loudly with his thick pecs and bulging biceps flexing, 3 sprays Rick's leather jock with cum. Finally, François shoots his load all over Rick's chest. Rick lies on his back with his legs hoisted in the air tied with leather straps to a metal bar. Brendan pulls on a pair of leather gloves, greases up and punches his fists one after the other deep into Rick's hungry ass, burying his rippling forearms deep in Rick's guts and leaving a fist-sized gaping hole each time he pulls out. Rick climbs up on a ladder and rides Brendan's fists, squatting on the ladder, jerking his dick and ultimately spraying the ladder with cum, which he eagerly licks up.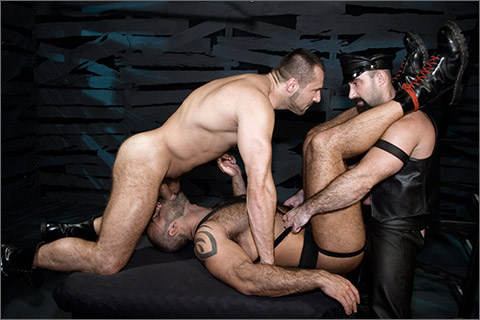 SCENE 2: Alex Baresi gets fucked by Arpad Miklos and Butch Grand
Arpad buttfucks Butch and Alex, and Butch fists Alex. Handsome muscle bear Butch Grand, with his thick, hairy pecs bulging out of a leather vest, chomps on a big cigar while sexy stud Arpad Miklos shoves muscled TitanMen exclusive Alex Baresi face first into Butch's dick, pulling Alex's mouth wide open and forcing him into Butch's hairy crotch. Butch splatters his cock and Alex's face with gobs of spit. Arpad and Butch go back and forth beating Alex in the head and face with their raging hardons, force feeding him their hard cocks and blowing cigar smoke in his face. Arpad soon dumps a load of jizz all over Alex before Butch hoses Alex's handsome face down with a flood of piss; Alex obediently sucks the last drop of liquid out of Butch's cock. Fixing some clamps to his nipples, Butch jacks out his cum all over Alex and Alex pounds on his uncut cock until he blows a thick load all over his hairy sixpack. With Alex kneeling on a bench, Butch eats Alex's hairy muscular ass while Arpad fucks his face, then Arpad drives his massive cock deep into Alex while Alex chokes and slobbers on Butch's dick. Arpad and Butch switch off, and Butch drives his shaft deep up Alex's ass while Arpad crams Alex' face with his dick. With Alex and Butch lying next to each other, Arpad fucks the cum out of the two hairy muscle studs one at a time while they tweak each other's stiff nipples, with Arpad eventually hosing the guys down with a fountain of sperm. The three studs are hardly done with each other, though; Butch pulls on a black glove, greases up Alex's hairy hole and shoves his fist deep up Alex's ass while Arpad holds Alex's hairy, hard ass cheeks wide apart. Alex groans in ecstasy each time Butch slides his fist further into his gut. Alex grabs onto a bar from the ceiling and rides up and down Butch's fist, getting it slick with lube and ass juice.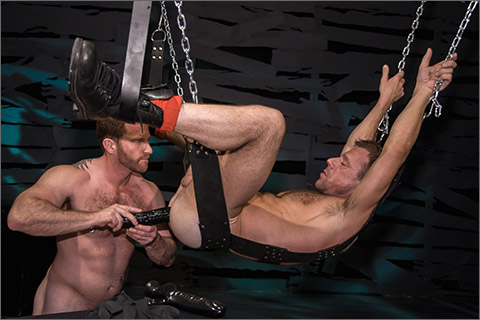 SCENE 3: David Korben [Korben David] (bottom/fist), Adam Faust (top)
Adam Faust and David Korben make out and suck dick, then Adam fucks and fists David in a sling. Hot and hairy stud David Korben and beefy blond and tattooed Adam Faust suck face and yank on each other's cum-swollen balls. Adam stands on a ladder, grabs David's head and face fucks him, then Adam sucks down David's uncut cock, pulling David's foreskin back and forth over his sensitive dickhead with his tongue and mouth. Adam eats David's ass, driving his tongue deep into his fuckhole, then Adam lies on his back and David crouches over him and drags his ass crack back and forth over Adam's tongue. They both jerk off with David dumping a huge thick load on Adam's furry pecs while Adam shoots his load all over his beefy, hairy torso. David bends over face down in a sling. Adam smacks David's ass to show him who's boss, slides his thumb up his butt to loosen it up, and then grabs him by his shoulders and sinks his cock deep into his butt, pounding mercilessly in and out. David flips over to lie back in the sling with his shiny black boots in the stirrups as Adam sucks his stiff dick, punches David's hard cut pecs and shoves a few fingers up his ass to get it good and ready. Adam grabs a hold of David's stiff cock and uses it to pull David back and forth onto his hard cock until he pulls out of David's ass and shoots his spunk all over David's balls and cock. With Adam's greasy fingers buried deep up his ass, David jerks his dick and shouts and grunts as he sprays himself with jizz. David's hot demanding hole still hasn't had enough, so Adam pulls some gloves on, greases up and shoves one fist after the other up David's ass while David rocks his ass back and forth onto Adam's fists, taking Adam in all the way up to his thick forearms. David moans and gasps for air as he gets split in two by Adam's fists, and adding to the sensory overload, Adam soaks David's hairy pecs and abs in a steady stream of piss.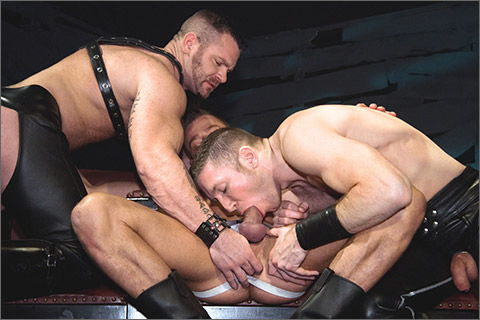 SCENE 4: Tober Brandt (bottom), Tyler Saint (top), Rick Van Sant (top)
TitanMen exclusives Tober Brandt and Rick van Sant get their boots spit and piss shined and their cocks sucked by Tyler Saint. Tyler and Rick take turns fucking Tober, and Adam Faust shoves both fists up Rick's ass. Tan, muscular and smooth Tyler Saint shines TitanMen exclusive Tober Brandt's boots while Tober smokes and Rick swills a beer. There's something about the cool nonchalance of the guys that gets Tyler extremely excited as he grinds his ass crack against Tober's boots, then spits on 'em and slowly licks them clean. Tober hocks spit and beer onto his boots and orders the obedient Tyler to lick them clean. Tyler gnaws on Tober's leather jock and eventually pulls Tober's fat, pierced cock out and slides his mouth and throat around the slick shaft. Tober stands up and lets a flood of piss fly all over Rick's boots and Tyler obligingly cleans them up before going back to sucking Tober's cock. Tober spits into Tyler's 5 open mouth, then forces his dick all the way down Tyler's throat. Tober and Rick kiss while Tyler gags and chokes on both of their dicks. Tyler's skillful cocksucking makes Rick spew his load onto Tyler's muscular pecs while Tyler simultaneously jerks Tober's dick. Rick jerks on and deep throats Tyler's massively throbbing cock while Tober fingers Tyler's ass until Tyler blasts his wad; Tober jerks off, adding his hot sticky load to Tyler's cum-soaked pecs. Tyler eats out Tober's ass while Rick swallows Tober's dick. Rick grabs Tober by his harness and drives his cock up Tober's beefy ass and piston fucks him while Rick continues to suck down Tober's dick. They switch, and Tyler takes a turn butt banging Tober, who bellows with overwhelming pleasure as Tyler fucks the cum right out of him. Tyler pulls out and shoots his huge load all over Tober's thick, muscular pecs and abs. Black-gloved Adam Faust appears back on the scene and proceeds to fist Rick, practically digging a cave in Rick's beefy ass as he shoves both fists in his hole at the same time. Adam shoves one arm up Rick's hungry ass all the way to his elbow, churning his chute until Rick lets loose with a volley of sperm. Tober shoots his load on Rick's pecs and Adam unloads his cum all over Rick's balls. Rick wakes up suddenly, lying in bed drenched with sweat and wearing nothing but a smile on his face. Was it memory, or was it all a dream?

MORE INFO, PREVIEW OR WATCH RIGHT NOW:
TITAN MEDIA
Scenes Premier online prior to DVD release and are available to view anytime in the Member's Area.
Members can watch scenes from almost all Titan Media releases anytime online.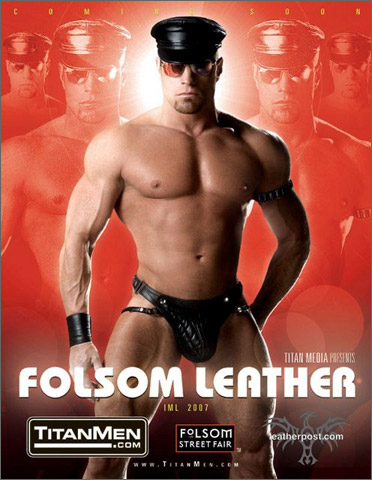 VIDEO ON-DEMAND: TITAN MEN @ AEBN SMUTJUNKIES THEATER
DVDs & ON-DEMAND: TITAN MEN @ TLA VIDEO