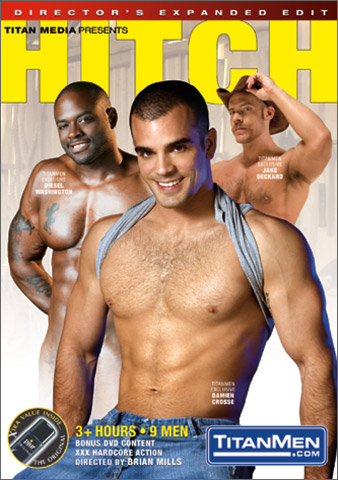 Studio: Titan Media
Directed by: Brian Mills
Year of Production / Release: 2006
Country of Production: U.S.A.

CAST:
Sergio Anthony
Jessie Balboa
Damien Crosse
Jake Deckard
Tamas Eszterhazy
Nick Horn
Brett Mathews
Dean Tucker
Diesel Washington
FROM TITAN MEDIA WEB SITE:
Rail riders. Drifters. The kind of guy who brings trouble to a town. Just hitchhiking through. "Where ya going?" "How far can you take me?" Hitch takes you all the way, baby. All the way. So take a ride with the rough and masculine cast delivered by GayVN Hall of Fame Director Brian Mills. New TitanMen exclusive Damien Crosse is such a scorcher in his film debut you'll be thrilled to see his intense looks and heavy, uncut cock in three scenes. Damien wrestles the big bone of stunning TitanMen exclusive Jake Deckard, tops nifty boy-next-door Dean Tucker, and takes down uncut TitanMen Tamas Eszterhazy and Sergio Anthony. A second film debut is for strapping stud Diesel Washington, a sensational new TitanMen exclusive, who tears into a three way with hunky Jessie Balboa and solid Nick Horn. Whatta horn of plenty he's got. And then boyish, furry sizzler Brett Mathews gets way, way down with Jake Deckard. The hot 'n sweaty, all stud sexplay gets even fiercer in the director's expanded edit, with three scenes of hose 'em down watersports and Jessie's fisting.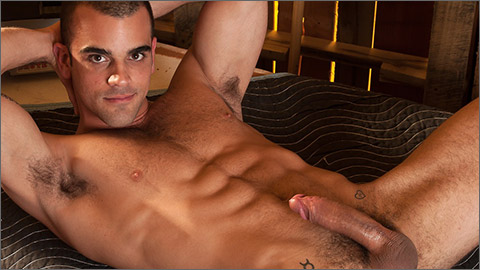 SCENE 1: Jake Deckard services Damien Crosse
A handsome, mysterious stranger drifts into a tiny burg and is immediately confronted by the local law authority. By the time the stranger has left town, many lives will have been affected by his presence.
   No matter what you think, you haven't seen this movie before — because in this case, the handsome stranger is played by beautiful Damien Crosse (a splashy performance, in more ways than one) and the local authority (the always fuckable Jake Deckard) apprehends him not because he's a threat, but because he's hot as hell. Jake isn't a policeman or a sheriff, he's a security guard, not that he feels any less empowered. He spots Damien on the side of the road, and makes an offer Damien can't refuse (really, it's either that or go to the police), a chance to rinse off the road dust. It seems a bit odd that Jake strong-arms Damien to take a shower — that is, it does until you get a glimpse of the shower: it's an indoor facility larger than most outdoor ones, with a deck expansive enough to have tea dance on it. Of course, Jake is lurking nearby as Damien undresses and gets wet, and he seems to almost drool at the sight of Jake's buff, lightly-furred body, not to mention his thick, uncut cock.
   The drool comes in handy. Jake downs Damien's meat all the way to the balls, his nose buried in Damien's pubes as the shower spray continues to douse them both in the act. Jake's own cock, another monster, curves upward as he towers over Damien, who sits on the floor and watches as Jake blows a load, his cum raining down on Damien's body. Jake drops to his knees and licks it up, while Damien's erection is still rock-hard, his load unspent, and somewhere along the way, his chest hair has disappeared (for a clue, check out the supplemental materials).

SCENE 2: Diesel Washington and Nick Horn top and fist Jessie Balboa in the barn
Later, Jake encounters Jessie Balboa, who is looking for work. Jake gives him a pass, and soon Jesse is putting the moves on his prospective employer, Nick Horn. As Nick and Jesse get better acquainted, the scene shifts to tall, muscular stud Diesel Washington (another notable performance), who drops the bib of his overalls and pisses off the side of a barn. There's no reason for this especially, except for the fact that Diesel looks so damn fine doing it. Diesel is Nick's helper, and so of course he pitches right in when the time comes to try out the new guy. Jesse deep-throats Nick as Diesel watches, but the look in Diesel's eyes is pure, unadulterated lust, and there's no doubt that when he gets his turn with Jesse, it's going to be all the way on. The action in this three-way rocks, from the daisy-chain suck that gets things started to the tag-team fuck Diesel and Nick give to Jesse, but one of the highlights in it, and indeed in the production overall, is the smacking, sucking kisses Diesel provides the assist by holding Jesse's legs apart and talking dirty. Following a trio of excellent cum-shots, Jesse's butt gets even more action, a fisting by Nick while Diesel watches and talks dirty. Hey, it's a living.

SCENE 3: Damien Crosse has his way with Tamas Eszterhazy and Sergio Anthony
Tamas Eszterhazy is the next arrival in town, but he doesn't bother looking for a job — well, make that work. He actually does get a job, a blowjob, right away. Tamas finds a private stable filled with hay and takes out his long dick, stroking it to full erection, while he's being spied upon by Damien and Sergio Anthony. Damien and Sergio seize the opportunity to overpower Tamas (not actually too difficult) and have their way with him. This is our first look at how the mostly monosyllabic Damien is like a simmering pot waiting to boil. In complete opposition to the first scene, where he was subservient to Jake in every way, in this scene Damien takes control like he was born to, slamming his dick down Tamas' throat and making him choke on it, then briefly forcing him to suck Sergio (in all honesty, though, Tamas begs for more throughout). This sequence ends with Damien and Sergio cumming on Tamas, then hosing him down with piss right after. Then they blindfold him, bind his hands, and leave him to air dry while they focus their attentions on each other. Tamas kneels, his cock still arcing away from his body fully erect while he listens to Damien wetly rim Sergio, then pound his ass from behind. Damien fucks hard, slamming into Sergio's ass forcefully, and later, he gives Tamas the same treatment, and this amazingly good three-way ends with more hot shots, this time aimed at Sergio.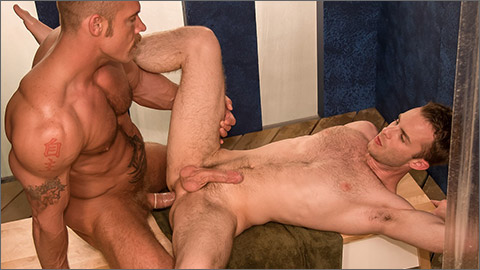 SCENE 4: Jake Deckard fucks Brett Matthews
Jake, still on the prowl, picks up Brett Matthews, takes him home, feeds him (real food), and then offers him the use of the hottest trysting place in this hamlet — yes, that's right, the shower. Starting with the moment Jake steps into the cascading water naked and rubs his erection against Brett's inviting asscrack, this scene never flags. Warm up blowjobs lead to a mirrored action pair of stroked-out cum-shots, with each stud finger-fucking his buddy until he blows a load. Jake's golden-brown fur is one of his best features, and it is very sexy glinting damp in the shower, both on his rounded, curved ass and ion fringes around his crotch, particularly in the fuck sequence, as he sticks it to Brett in several creative ways. The camera goes in close for several sizzling views of Jake's ass as it flexes with each thrust into Brett's open hole. Brett shoots a load while Jake is rhythmically pumping him, and then Jake pulls out and drenches Brett's crotch with big globs of white stuff.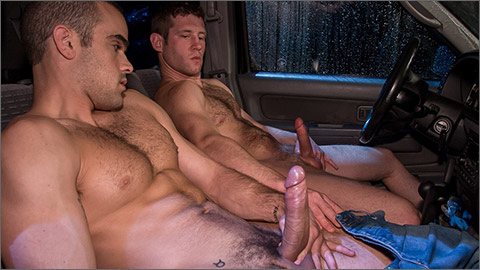 SCENE 5: Damien Crosse fucks Dean Tucker in the SUV
The duo finale unites hitcher Damien with hunky Dean Tucker on a rainy, dark night. Damien is on his way out of town, having already fucked just about every fuckable guy in it. Dean gives him the go-ahead to take a nap (which he obviously needs), but Dean is soon more interested in what Damien has between his legs than wherever they're going, and wakes him up. The two studs give each other hand-jobs as the car moves down the road, lightning striking in more ways than one, especially when Damien leans over and sucks Dean while he steers the wheel. With a rider as studly as Damien in the car, you can't blame Dean, but c'mon dude, pull over, that's dangerous. So he does — all the better to suck Damien's delicious-looking hooded meat. While Dean is blowing him, Damien pulls off his shirt, and raises his hands over his head. I am no armpit freak, but Damien's look so good that I could be converted by his. This part of the scene ends with big loads flying from both dudes, all over the inside of the cab, giving it that "new cum" smell that everyone loves (and an idea for a new air freshener flavor at the car wash). "Get in the back," Damien orders, and Dean jumps back there so fast he's a blur onscreen. Damien follows, and the two fuck like a couple of rutting beasts until the end of the scene, making the best argument for keeping the SUV imaginable, because no way would you have that much room to fuck in a sedan. Take that, environmentalists. Dean cums while Damien is pounding him doggy-style, and then Damien pulls out and spews all over Dean's tight butt (which he flexes suggestively all the while) at the end.
   The last image is also one of the most memorable: Dean and Damien get out of the car totally naked, and while rain pours down on them Damien pisses on Dean's chest, lit only by the bright truck headlights.

MORE INFO, PREVIEW OR WATCH RIGHT NOW:
TITAN MEDIA
Scenes Premier online prior to DVD release and are available to view anytime in the Member's Area.
Members can watch scenes from almost all Titan Media releases anytime online.