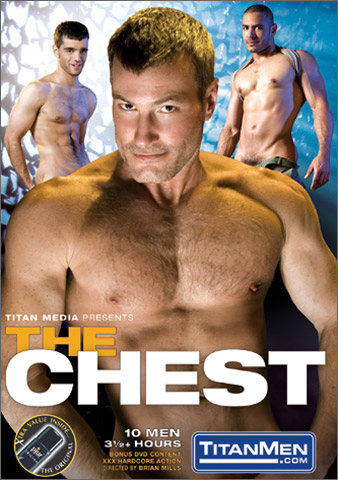 Studio: Titan Media
Directed by: Brian Mills
Year of Production / Release: 2006
Country of Production: U.S.A.

CAST:
Simon Angel
Felipe Carson
Diego De LaHoya
Tamas Eszterhazy
Nick Marino
Eric Masterson
Cliff Rhodes
Cole Ryan
Steve Trevor
Danny Vox
FROM TITAN MEDIA WEB SITE:
Sudden, sharp, and sweaty sex is an unexpected for these men who are pounded, prodded, and probed as they ravage each other through a series of heavy manhandling rounds of pure testosterone pleasure. You'd better be ready for some of the hottest men working each other over, because this one's gonna put a pulse-pounding in your day. In the cookie shop, scruffy muncher Gordon Gage comes face-to-big crotch with a studly redneck counterman, and the two go at it, fucking like rabbits. Big man Logan Reed and his friend find their sweaty run end in an even steamier grapple. Maintenance man Brett Clark and a horny homeowner engage in one of the best workbench fucks since the hammer met the nail. Finally, muscle stud Rick Hammersmith surprises his Latin lover with a package of dildos and lube, and even the delivery stud joins them in an afternoon sizzler.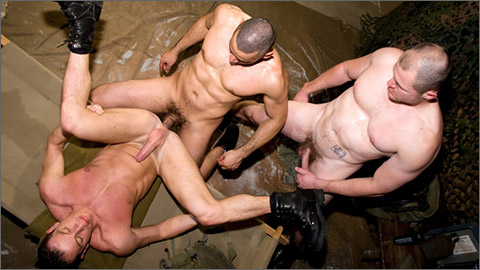 SCENE 1: The Front Lines: Diego de la Hoya and Steve Trevor top Felipe Carson
Cole Ryan returns home for his father's funeral. Taking a nostalgic survey of the attic, he opens his father's army footlocker. The stash of love letters from army buddies among a pile of old physique magazines he finds in the trunk tell a story Cole had never suspected. The first letter takes us on a flashback to the front lines. "Dear Jack," it begins, addressing Cole's father. "We've been holed up in this cave for almost a week now. We're tired, hungry and horny." Steve Trevor is jacking off under the covers, unaware that Diego de la Hoya is on to his action. Steve senses Diego's hefty, nut-colored nugget of prick-meat behind him, and turns his head to find it only inches away from his lips. They're drawn slowly to the shining cock head until his lips close down on it, and the throbbing cock slides down his throat. The sounds of his deep-throated gagging awaken Felipe, and he joins Steve in worshipping Diego's big bone—a scene so hot that the horny men almost immediately loosen their pent-up loads. Diego's hot for some hole, and Felipe is soon stretched out, sucking Steve's smooth shaft as Diego plunges his mammoth tool into the proffered deep darkness. Then Steve's plugging that ass, each hard slam pushing another jet of cum out of Felipe's bursting cock. Screaming in the agony of his pleasure, Steve cums too, and Diego sprays another load across Felipe's cum-drenched body.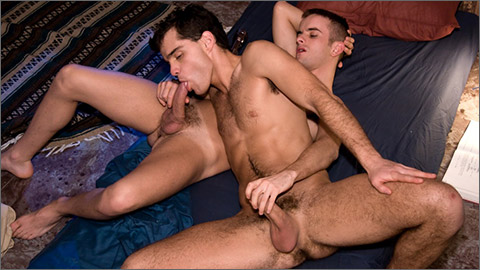 SCENE 2: A Dormer Room in the Attic: Simon Angel [Simone De Jesus] and Cole Ryan flip-fuck
In a second letter to his dad, Cole reads about the time Jack's Spanish friend visited and the boys bunked together in that exact attic. "You were the first guy," it says. It's bed time, and Simon's jacking off. Jack—played in a cunning performance by Cole—shines his flashlight across the room, and huskily commands his friend, "Show me!" First one cock, then the other, is caught in the flashlight's bright exposure. "C'mere," Jack demands. And Simon gets what he wants, as the young men explore each other's bodies in hesitant caresses that melt into full embrace. Gazing up into his friend's eyes, Simon guides Jack's cock deep into his mouth. They swing around into reverential sixty-nine. The sight of sweet young cock getting a first suck-job is thrilling, and they pull back to see it themselves, stroking to hotblooded explosions of young cum. Simon's cum lands on his nipples—not that far, really, when you realize his cock reaches halfway there already. But Jack's flies over his head, and Simon's face lights up. Jack pulls up on all fours, and Simon explores the offered hole. Jack moans at the tongue's lubing spit, the probing finger or two, and his eyes roll back in his head as Simon's long cock makes its slow but steady entry, deep to the hilt, and begins a regular rhythm of gentle but full-length plugging. Jack gasps, "Oh, yeah," as the tempo increases, and Simon rabbit fucks that now spread-open hole. Jack winces with each plunge, but you won't see his hole snap shut when Simon pulls out before plunging in again. And Simon's a kind lover—he straddles Jack and squats on the rigid pole, settling deep upon it. As Jack pounds Simon's ass in a first-timer's frenzy, Simon jerks off and explodes just as Jack pulls out and splatters cream across Simon's cum-covered belly.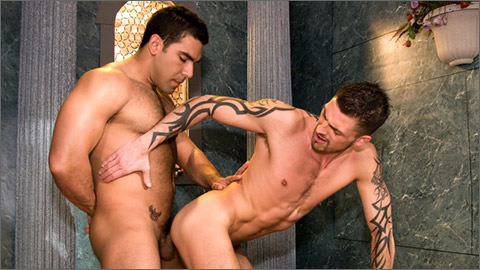 SCENE 3: A Cemetery Crypt: Nick Marino tops Tamas Eszterhazy
Attending Jack's funeral, two of his buddies comment how much his son Cole resembles him. The memory of their fuck buddy sets them off, and they attack each other in a secluded crypt. Burly Nick sucks Tamas' long pipe 'til it sprays cum across his furry chest, and then Tamas straddles a marble mausoleum bench and Nick's fat sausage is sucked right up Tamas' demanding hole. Nick pounds with abandon and Nick beats his meat until his balls bust up a couple gallons of prick juice and Nick's even bigger blast arcs clear across his buddy's wrenching body.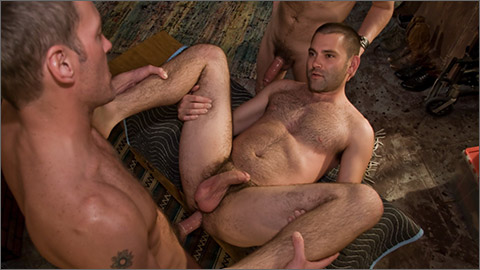 SCENE 4: Cliff Rhodes and Eric Masterson top Danny Vox
When the movers come to pack up the house, they find Jack's physique magazines, and the only things that get packed are their mouths and asses. Eric Masterson's only too glad to kneel before Cliff Rhodes and swallow the huge bone that springs out of his coveralls. This packer's packing a moving van's worth of meat. Danny Vox walks in as Eric's slurping the massive piece, and joins in double-sucking Cliff's cock, forcing it into shooting way over Danny's head and blat! in his face. Jizzed up, Danny's ready for more and gives up his famously furry butt hole to an unmerciful, ass-splitting assault. Cliff and Eric buddy-fuck Danny but good until Cliff's unable to withstand any more sensation, and shoots a socko fountain of steamy man-sauce across Danny's torso and right into his face. Again.

MORE INFO, PREVIEW OR WATCH RIGHT NOW:
TITAN MEDIA
Scenes Premier online prior to DVD release and are available to view anytime in the Member's Area.
Members can watch scenes from almost all Titan Media releases anytime online.