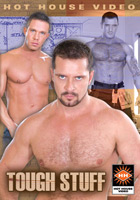 Studio: Hot House Entertainment
Directed by: Michael Clift
Videography: Richard Board
Director of Production: R.C. Drake
Make-Up: Marc Francois
Still Photography: Greg Lenzman (action), Chris Miles (Glamor)
Year of Production / Release: Summer 2007 Release

CAST:
Jessie Balboa
Vinnie D'Angelo
Francesco D'Macho
Kai Grant
C.J. Knight
Arpad Miklos
Tyler Saint
Kevin Armstrong [Ross Stuart]
SCENE 1: C.J. Knight (bottom), Kevin Armstrong [Ross Stuart] (top)
SCENE 2: Vinnie D'Angelo (top), Kai Grant (bottom)
SCENE 3: Tyler Saint (top), Francesco D'Macho (bottom)
SCENE 4: Arpad Miklos (top), Vinnie D'Angelo (top), Jessie Balboa (bottom)
SCENE 5: Vinnie D'Angelo (solo)
ON THE SET:
While up in San Francisco for the GayVN Awards, Hot House Public Relations Co-ordinator David McCambridge, suggested that I join him on the set of a new feature they were currently filming. I of course jumped at the opportunity.
   It seems they had available an entire Apartment Complex under renovation, and it set the theme of this still to be titled release. Basically, Construction Workers doing it, and each other, on the job.


Upon arriving, David asked if I could wait a bit, until there was a break in the filming. But while I wait, feel free to speak with a new man, Tyler Saint. Earlier that day, Tyler had finished his scene with Francesco D'Macho, and was now all scrubbed up and ready for his flight back to Los Angeles. New to porn, Tyler explained that he had just finished two other films with Titan while in San Francisco, before that, had done WORKLOAD for Jet Set (his first film) and MUSCLE PIT for Blue Blake. We chatted about the ups and downs of the Industry, but Tyler has really enjoyed his adventure in Porn so far, and would stay at it as long as it remained exciting.
David comes in, and it's now time to head up to the third floor where the shooting is in progress.
   We wait outside 3B, peeking through the window, looking for a break in the action. It becomes apparent that this is an ideal location. This building is severely skanky, and no one will care if a little spit and cum are spewed on the carpet (or anywhere else, for that matter), it will blend in just fine.
   After a few moments, we can enter.
   The bulk of the scene had already been shot, including the cum shots (damn!), but they were in the process of filming a few extra pick-up shots. These to be added later for different angles and variety to the main action footage. We finally enter, and low and behold, if it isn't Arpad Miklos towering over Jessie Balboa, with Vinnie D'Angelo sporting a raging hard-on off on the side. Director, Michael Clift is giving them a few details of what they need to film, while Marc Francois (Make-Up) is keeping their manliness under control. Clift and Marc go back to their posts, and Greg Lenzman jumps in, snaps off a couple of quick photos, and it's "Action!" Balboa starts chowing down on Vinnie's cock and then switches to Arpad, ferociously swallowing all the way down to Miklos' Pelvic Bone, then it's "Cut". Balboa now has the sweetest smile on his face.


Michael Clift now wants to get a new angle on the insertion shots, and gets Jessie (see above) into position for some additional ass-pounding. The guys all understand their scene. Vinnie is rock hard and ready to go, but Arpad is not ready. A hush fills the room. The hush continues for a while until "Arpad's ready" is called out. Clift yells "Action" and Arpad plows into Balboa's sweet ass. And before I know it, I hear "Cut" and David informs me that it is a good time to leave.
We head back downstairs, and I take a few moments to chat with Robert Drake from Hot House. We talk about casting, a little Hot House history and the relaunch of the Hot House website and the new content they are preparing for that. Photographer Chris Miles is there as well, and I discover that he was one of the main photographers at BIG Video and that he was also known as Christian Clyde (amongst others).
   Then it's back out on the street, heading to my Mini parked by Buena Vista Park, and I wonder… who will be the next tenant in Apartment 3B and what would they think if they ever got a chance to see the Film.

GO TO: HOT HOUSE ENTERTAINMENT

MANNET 100 BEST FILMS OF 2007
FILM REVIEW: MANNET