Studio: Staxus / Dirty Fuckers
Directed by: John Smith
Year of Production / Release: 2016
Country of Production: Czech Republic

CAST:
Lucas Drake
Alex Goldwin
Tom Jacobs (Mirek Madl)
Martin Rivers
Andy Scott
Milan Silver
Titus Snow
INFORMATION FROM STAXUS PRODUCTIONS:
Euro twinks get nasty with pissing, fisting, and bareback fucking!Euro twinks get nasty with pissing, fisting, and bareback fucking!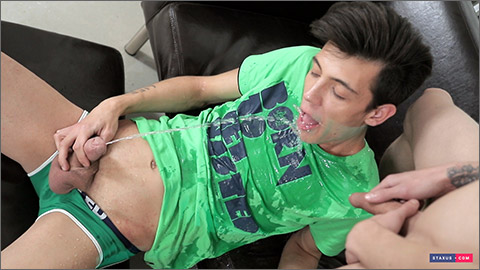 SCENE 1: Andy Scott, Titus Snow
DARK LUSTS LEAD HOT NEW BOY TO TITUS SNOW'S SPUNK & PISS FEST
There's a distinctly Czech-noir feel to the opening moments of this horny little escapade, as the almost deranged Titus Snow creeps around a local wood trying to find someone to love. It's a bizarre concept for sure; but it gets even creepier when he stumbles upon new boy, Andy Scott, who's happily whiling away his time lying on the forest floor, looking up at the autumnal canopy. Suffice it to say the young newbie doesn't get to remain undisturbed for long; with Snow dragging the poor lad to his feet, smooching the unsuspecting fellow and then bustling him back to his lair – in this instance, his city apartment!
   By this point, there's no denying that Scott is completely under Snow's spell – and with little wonder really given the eager manner with which the young Brit pulls the chap's cock out and begins to deep-throat him. After all, who in their right mind would refuse that kind of attention? Moments later and Scott is returning the favour – arguably even more enthusiastically! – with a blow-job on his assailant's totally hairless shaft that is completely at odds with his initial reluctance.
   Anyone who's seen Snow in action previously, however, knows that what he really wants is the feel of Scott's handsome ramrod in his butt – an ambition he promptly achieves by mounting his newfound lover's lap and bouncing up and down on the fellow's rod for all he's worth. No surprise that Scott is unable to hold back for long – delivering a fine wad of cum on his hole, before pissing it away. Cue a frenetic finale of jizz and the golden yellow nectar that leaves both lads utterly soaked!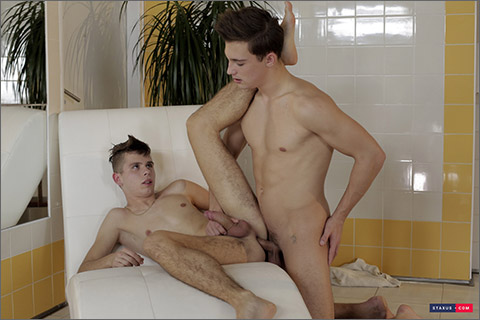 SCENE 2: Alex Goldwin, Milan Silver
WATER-SPORT LOVING NEIGHBOURS ENJOY POOLSIDE CUM-&-PISS-FEST!
Titus Snow continues to stroll through the woods, eyeing the antics of his horny neighbours – in this instance, Alex Goldwin and Milan Silver, who (according to Snow) have a taste for water-sports. Needless to say, we're not talking about swimming or water-polo – although admittedly their antics do begin harmlessly enough, with the two handsome buddies cavorting around in the house-pool. Being the bulkier of the two, it's perhaps not too surprising that Silver appears to take the lead in their frolics; tossing Goldwin playfully around, before lifting the boy onto the side to reveal Goldwin's fabulously curved hard-on for all to see.
   It's a revelation that immediately notches up the temperature in that room by about ten degrees at least; as Silver promptly dives down on that divinely swollen head and gobbles away for all he's worth. Not that he's alone in a taste for hard dick; as Goldwin then retires to a nearby lounger so that he can enjoy replicating the pleasure on Silver's now grossly engorged shaft, before eagerly parting his legs so that his mate can thrust every aching inch of manhood deep into his cute, hairless arse.
   Given the almost professional manner with which he takes the offering, it's hard to believe that this is a virgin display. But the sheer intensity of the occasion still clearly has an amazing effect on the young lad, who promptly pisses all over himself mid-fuck. Cue an absolutely breathtaking showpiece of top-notch twink action, that combines the joy of spunk and piss pleasure; and that leaves young Goldwin coated and soaked in equal measure!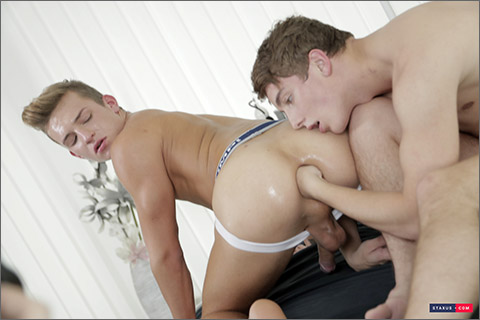 SCENE 3: Lucas Drake, Tom Jacobs
DIRTY TWINK GETS FUCKED & FISTED TO A HOT, SPUNKY CRESCENDO!
Peeping Tom extraordinaire, Titus Snow, continues his travails in the woods – on this occasion taking time out to see what horny boyfriends, Lucas Drake and Tom Jacobs, get up to when they're alone together in their nearby cottage. It goes without saying, of course, that we don't catch these two young fellows passing the time with DIY or doing the cleaning! Instead, they're ensconced in the favourite room of any guys their age – the bedroom – playfully engaged in a sensuous game of tonsil-tennis; before newbie, Jacobs, finds he can no longer hold back from taking a close examination of what his pal has got stashed inside his jocks.
   Seconds later and Drake's handsome ramrod is on full display; prior to Jacobs consuming the thick, meaty shaft courtesy of some energetic fellatio. Not that Drake is averse to giving head, as we already well know; and it will surely come as no surprise to anyone that he's soon replicating the act, with both lads rigorously 69-ing each other like a couple of cheap tarts. But Drake's never been one to resist getting the inches inside his guts for long; and fans who like to see him being speared in a whole variety of positions will soon be relishing his brutal deflowering.
   That said, it seems that a meaty dick isn't quite enough for him on this occasion. Indeed, the dirty little bitch is soon crying out for Jacobs to provide him with a no-holds-barred fisting – literally stretching his arsehole to buggery and creaming him off in the process. A top-notch display that leaves Jacobs to cream his filthy mate's outstretched tongue for the finale!
SCENE 4:

WATCH IT / DOWNLOAD IT AT:
STAXUS.COM
Members at STAXUS.COM can watch or download the scenes at anytime.
Download extensive High Quality photo sets from each scene.

AVAILABLE FROM: RAD VIDEO
WATCH IT NOW AT: AEBN / SMUTJUNKIES THEATER