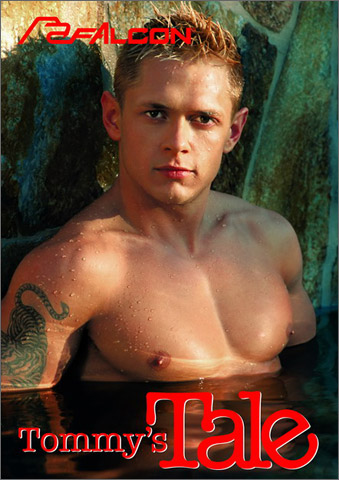 Studio: Falcon Studios
Directed by: Chi Chi LaRue
Year of Release / Production: 2004

CAST:
Tag Adams
Tommy Brandt
Erik Campbell
Talvin DeMachio
Maxx Diesel
Clay Foxe
Tyler Gunn
Jacob Hall
Chase Hunter
Brad Patton
Bobby Williams
FROM FALCON STUDIOS:
Join Falcon Exclusive Tommy Brandt and a lusty entourage of chiseled Falcon men for a weekend of erotic indulgence in Palm Springs. These guys know what it … Expand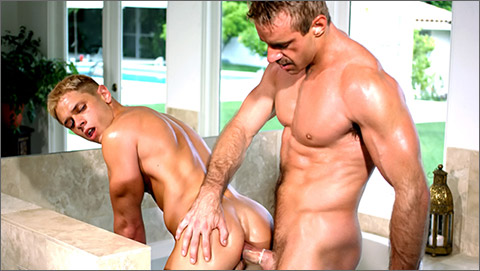 SCENE 1: Chase Hunter fucks Tommy Brandt
As Falcon Exclusive Tommy Brandt relaxes in the bath, he spots Chase Hunter soaking in the rays on the lawn. Entranced by Chase's muscled form, Tommy calls him over and the two studs size each other up. Soon the hungry men are hotly engaged in a soapy session of cock-sucking, rimming and ass-play. Overtaken by desire, Chase takes Tommy from behind and gives him a hearty ass-pounding – driving deep and riding hard. The intensity compounds itself and soon the eager studs find themselves spilling their loads.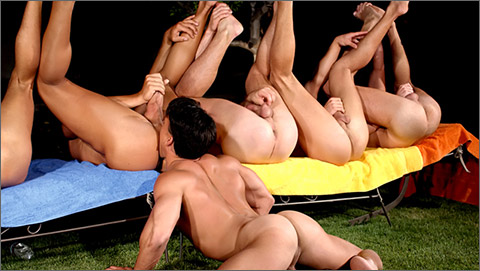 SCENE 2: Brad Patton fucks Tommy Brandt with Talvin DeMachio, Bobby Williams, Chet Roberts and Clay Foxe
Tommy Brandt joins Falcon Exclusives Brad Patton, Tyler Gunn and Bobby Williams along with Falcon men Chet Roberts, Tal DeMachio and newcomer Clay Foxe poolside as they enjoy the exhilaration of a lusty group encounter. Stiff cocks probe the depths of hungry, eager throats – fingertips find their way between ass-cheeks and over the sculpted contours of their fellows. Duos and threesomes merge and separate before these lusty studs settle into a line to be rimmed. Finally Brad Patton buries his tool in Tommy's ass and the group surrounds the lusty duo – working themselves into ecstasy and splattering Tommy with their urgent orgasms.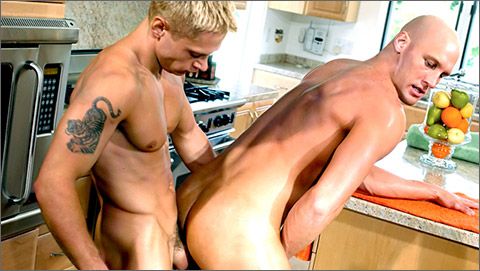 SCENE 3: Tommy Brandt fucks Maxx Diesel
Tommy has his work cut out for him when he approaches fellow Falcon Exclusive Maxx Diesel in the kitchen. The two muscle-men eagerly wind their way over each others forms, kissing, sucking, stroking and rimming. Overcome by desire, Tommy takes Maxx from behind, pounding his ass with forceful intensity – but Maxx wants more and Tommy gladly obliges – filling Maxx's hole with a monster latex dildo. As Maxx moans and begs, Tommy picks up the pace – thrusting deeper and faster until at last Maxx is pushed over the edge of release–before delivering his own hefty load,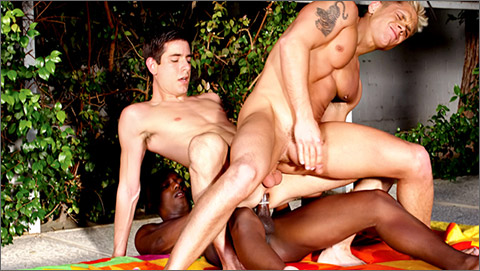 SCENE 4: Erik Campbell fucks Jacob Hall and Tommy Brandt
Jacob Hall beckons Tommy Brandt from his lounge chair for some three-way play with newcomer Erik Campbell. Tommy and Jacob experience the best of Erik's oral skills and do their best to service him in turn. The three young studs abandon themselves to lust, sucking, rimming, and fucking their way into a state of erotic furor – each exploding in splattering climax and relaxing into the embrace of the others.

WATCH THE SCENES NOW AT:
FALCON STUDIOS
Falcon Members can watch scenes from this Release anytime online.
DVD Releases debut online prior to DVD Release.

WATCH IT AT: AEBN / SMUTJUNKIES THEATER
BUY IT / WATCH IT AT: GAY HOT MOVIES