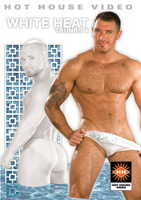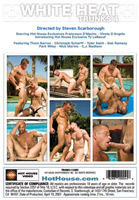 Studio: Hot House
Directed by: Steven Scarborough
Year of Production / Release: 2007
Country of Production: U.S.A.

CAST:
Thom Barron
Vinnie D'Angelo
Francesco D'Macho
Ty LeBeouf
C.J. Madison
Nick Marino
Dak Ramsey
Tyler Saint
Christoph Scharff
Park Wiley
ADDITIONAL COMMENTS:
Hot House Backroom Members can see this film anytime online.
INFORMATION FROM HOT HOUSE: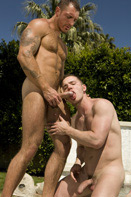 SCENE 1: Christoph Scharff and Francesco D'Macho flip-fuck
After a game of tennis, Hot House Man Christoph Scharff invites Exclusive Francesco D'Macho home for a swim. Once inside the enormous estate the two men head out to the secluded back yard where they dive into a gorgeous custom-made swimming pool. D'Macho wastes no time pulling Sharff's fat uncut cock out from behind his speedo, then stands up to reveal his own massive cock. They greedily swap deep-throat blow jobs until D'Macho decides to get a taste of Scharff's pristine hole. He licks and probes Scharff's ass, priming it for invasion by his rock-hard, fat Italian ramrod. On the verge of blowing his load, Scharff turns the tables on D'Macho and takes a turn drilling his muscled ass. Finally D'Macho blows his load, followed by Scharff, who explodes in streams of flying white cum.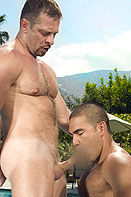 SCENE 2: Vinnie D'Angelo fucks Nick Marino
Sun worshiping Exclusive Vinnie D'Angelo stands by the pool, spraying himself with oil and rubbing himself down. Nick Marino enters just in time to help D'Angelo with his back. Before you know it, D'Angelo has Marino's thick tool out, which he takes to the base. The two men move into a sixty-nine position on a nearby chaise lounge. D'Angelo mounts Marino's face for a deep rim job while he goes to work on the hot Latin cock. Insatiable top D'Angelo works Marino over onto his shoulders and proceeds to fuck him deep. He pulls out, flips over and sucks Marino's cock until he shoots his load. Marino does the same.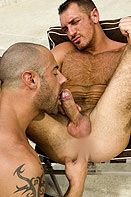 SCENE 3: C.J. Madison fucks Francesco D'Macho
Exclusive Francesco D'Macho and C.J. Madison are sitting around the pool, showing off their big meat. Both men have more cock than their small speedos can contain and D'Macho falls to his knees to worship Madison's 10+ incher. Next D'Macho stands up and fucks Madison's thick pouty lips, followed by his giant round ass. Madison aggressively throws D'Macho into a nearby chair and finger-fucks his hole and sucks his uncut cock. D'Macho orders Madison to put his big dick inside him and Madison eagerly complys, pounding D'Macho's hungry hole from every angle. Both men stand up and jerk off, shooting huge loads onto the camera lens below.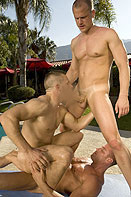 SCENE 4: Tyler Saint and Thom Barron fuck and spit-roast Park Wiley
Two of the biggest cocks in Palm Springs battle it out under the white hot sun when Hot House favorite Thom Barron finds chiseled, horse-hung Tyler Saint lying by the pool. They take turns expertly sucking and jacking each other until Saint decides he's ready to fuck. Barron bends over a chair and opens his hole to Saint's monster cock. Fresh from a shower Park Wiley joins the action and goes down on Saint, taking all 11 inches down his throat. All three men dive into the pool to cool off and return with raging hardons. Middle-man Wiley gets both holes filled by the giant tops, Barron taking his ass and Saint filling his mouth. They swap sides and pound the willing bottom until all three dump their loads.

SCENE 5: Dak Ramsey and Ty LeBeouf flip-fuck
Exclusive Ty LeBeouf licks, chews and works Dak Ramsey's huge cock right through his speedo. Ramsey pulls it out and the more LeBeouf sucks it, the harder both cocks get. Ramsey gets a taste of LeBeouf's beef before they move onto a nearby lounge chair where LeBeouf offers up his twitching hole. LeBeouf squirms and sweats until he can't bear it any longer. He jumps up and throws Ramsey down for a sizzling flip-flop fuck, drilling his hole like a solar powered jackhammer. Drenched and panting, the horn dogs sit next to each other and rub one out.

WATCH IT NOW, GO TO: HOT HOUSE

MANNET 100 BEST FILMS OF 2007
FILM REVIEW: MANNET