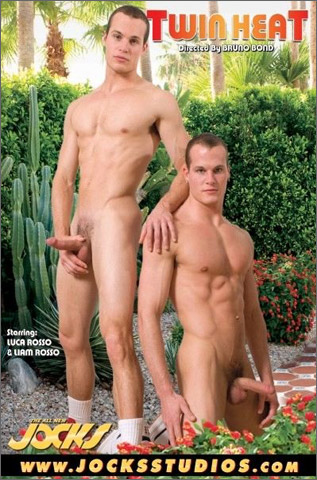 Studio: Falcon Studios / Jocks Studios
Directed by: Bruno Bond
Year of Production / Release: 2012
Country of Production: U.S.A.

CAST:
Landon Conrad
Tony Douglas
Spencer Fox
Andrew Jakk
Jay Kohl
Luke Milan
Kyle Quinn
Liam Rosso
Luca Rosso
FROM FALCON STUDIOS:
Nine jocks have descended on a sweet rental home, and things get hot immediately. Especially between Falcon Exclusive Landon Conrad and his horny twin buddies, Luca and Liam Rosso. The "Twin Heat" generated by the Rosso brothers gets all the housemates jacked up with sexual energy, and passionate, steamy and scorching action follows. Jay Kohl's big wiener in Tony Douglas's hot buns, kitchen counter flip-flop fuck with Spencer Fox and Luke Milan, and Andrew Jakk entertains Kyle Quinn with his ass when they can't find anything to watch on TV. Somebody just turned up the heat!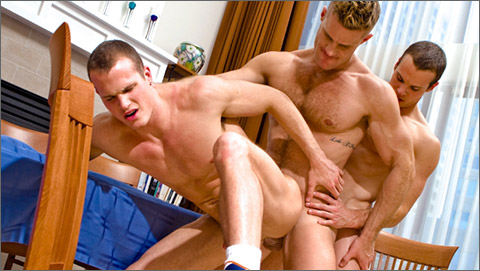 SCENE 1: Luca Rosso fucks Landon Conrad while fucking Liam Rosso
Landon Conrad's in hog heaven rooting around with twin sex fiends Luca and Liam Rosso. Left and right, he's got someone nipping at him, hungry to kiss, suck his dick and lick him all over. And it's just as rewarding for the feisty brothers as they jockey for position to service their lucky playmate. Landon soon gets down to fellate the dynamic duo, his head pivoting left and right to suck down their swollen cocks. Luca and Liam then kneel side by side and bottoms up so Landon can tongue their asses, digging deep inside their holes with slurping jabs. Then they reposition themselves with Landon on his back nursing on Luca's dick while Liam rides his pole. Their harmonized moaning continues as they get up with Landon still plowing Liam up the ass while Luca is behind him fucking his hole. Ready to cum and flanked by the rowdy Rosso bros, Landon jerks off. His hefty climax is quickly followed by the explosive blasts from the twins' over-stretched cocks aimed at his sweaty chest.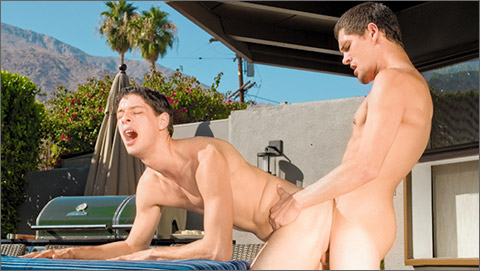 SCENE 2: Jay Kohl fucks Tony Douglas
Jay Kohl is one busy dude grilling hot dogs on the back porch when his buddy Tony Douglas comes out to join him. Starving for some grub, Tony checks out his hunky buddy and then the sizzling slabs of barbecued meat. Without skipping a beat, he quickly makes it clear which wiener he'd prefer. He falls to his knees facing Jay's crotch and crams his mouth full of cock. His lips slide easily over the tip and then down the lengthy shaft of Jay's tasty meat pole, letting his tongue massage the fleshy sex muscle with hungry slurps. Both men happily push each other's buttons and grow anxious for more man play, so Tony yields his ass to his partner willingly. Jay skewers Tony's tight bunghole fast and hard, slamming his erect poker all the way in with strong deliberate thrusts. They grind back and forth and continue even faster when Tony climbs aboard Jay's tool and bucks up and down like a well-greased piston. Finally, ready to finish, the guys jack off until they shoot their loads.

SCENE 3: Kyle Quinn fucks Andrew Jakk
With a tub of popcorn to share, Andrew Jakk and Kyle Quinn settle down for some mindless TV. All the guys need is something to watch, but the boob-tube's got nothing to offer. Anxious to improvise, the two friends go off script to create their own entertainment. Hot and horny Kyle goes down on Andrew and gobbles up his beautiful hard cock. He sucks it down greedily, getting worked up by the taste and smell of the sexy blond's groin. And wanting to satisfy himself just as much, Andrew goes after Kyle's sausage, feeding on it fiercely and savoring its ample girth. The guys 69 sucking each other off contentedly with Kyle going for more by rimming Andrew's tasty asshole. With his pulse racing and wanting a lot more, Kyle begins to screw Andrew, fucking him hard and fast in the ass. Their connection is electric and both of them rock back and forth fucking doggie-style with sheer pleasure until one after the other, they both climax, basting each other with their warm creamy loads.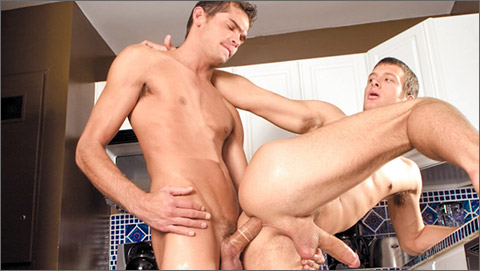 SCENE 4: Spencer Fox and Luke Milan flip-fuck
Spencer Fox and Luke Milan raid the refrigerator for something to cool themselves down. They find popsicles to suck on but the relief is temporary and just doesn't satisfy. Eyeing each other slyly they know they'd rather wrap their lips around another kind of treat: the hefty boners they're both packing inside their shorts. Luke is first to service his sexy friend, milking his schlong with oral tugs; and Spencer soon responds, giving head as good as he received. The tanned Luke eats his buddy's ass, licking the pinched hole and priming it for a good fuck. He rams his huge dick deep inside, making Spencer twitch with excitement as they share the sensations of heated friction. Spencer is ready for his turn in this flip fuck session and he quickly jams his pole inside his Luke's tight hole. In and out, faster and faster, he drives his hips. They end up fucking with Luke splayed out on the kitchen counter, his eyes shut close as he surrenders to the pleasure until they both finally bust their nuts.

WATCH THE SCENES NOW AT:
FALCON STUDIOS
Falcon Members can watch scenes from this Release anytime online.
DVD Releases debut online prior to DVD Release.

VIDEO ON-DEMAND: AEBN SMUTJUNKIES THEATER
DVDs & ON-DEMAND: TLA VIDEO