Studio: Hot House Entertainment / Club Inferno
Directed by: David Lamm
Year of Production / Release: 2005
Country of Production: U.S.A.

CAST:
Rod Barry
Nick Capra
Billy Cochran
Rik Jammer
Chris Neal
Kent North
Joey O'Bryan
Tim Rusty
Nick Savage
Jordan West
INFORMATION FROM HOT HOUSE: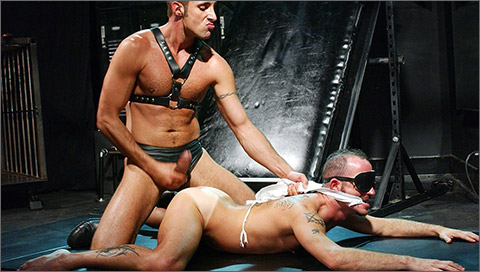 SCENE 1: Nick Capra fucks and dildo-fucks Joey O'Bryan
The filth opens with Joey O'Bryan blindfolded, caged, and awaiting orders from tough guy Nick Capra. Capra unlocks the cage and grabs O'Bryan who tries to escape; but Nick throws him down on his belly and rips off his t-shirt and underwear to expose his lily-white round bubble butt. Capra grabs him by the throat and tells him that the only words he wants to hear out of his mouth is "Yes, Sir!" Then he proceeds to invade Joey's open mouth with his horse hung prick. Capra sucks his hole inside out in a rim chair, getting O'Bryan's manhole moist and ready for a full assault. Joey straddles atop Nick and rides him in a reverse cowboy before mounting a giant dildo for some deep tissue massage. After some deep probing, Joey blows his load. Then, in one of the best cumshots of the year, Capra stands up and shoots gob after gob of thick cum all over O'Bryan's grateful face.

SCENE 2: Jordan West fists, fucks, dildo fucks (DP) Billy Cochran then both dual-dildo fuck themselves
Billy Cochran is hanging by his arms from chains in the ceiling while Jordan West whips him with a riding crop. Cochran is delirious from the sting of the whip as Jordan stops to sniff his armpits and work over his nipples with his teeth. West lets the stud down, rolls him back, and drops yards of chain link right into Cochran's giant pink deposit box. Next Cochran lies back in a sling for some inflatable dildo action to open his inner chamber us good and sloppy. Satisfied that it's ripe for the plunging, West inserts his gloved up mitt straight in the gaping hole facing him. The scene ends as the two mount opposite ends of a double-header, bucking back and forth on each end until they pop their wads all over the scene.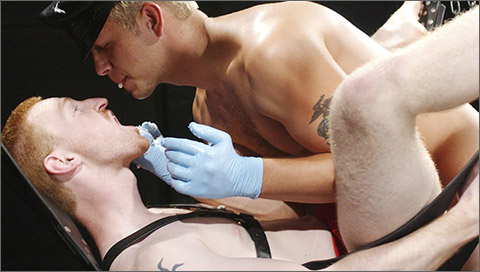 SCENE 3: Rod Barry fucks and fists Tim Rusty
Rod Barry picks up Tim Rusty, throws him over his shoulder, and body slams him into a sling where he proceeds to lift up his booted foot and drive it into Rusty's crotch. Tim's a hot fucking redhead with smooth porcelain skin and the most beautiful pink hole buried deep in the round crevices of his ass. After some foot worship, Rod slips his big dick inside Tim and starts thrusting. Rod fucks him fast and furious then bends him over the sling and grabs the Crisco. Tim pushes his hole back onto Rod's gloved hand and opens wides, taking him in deep. Barry pumps his arm in and out, barking orders for the stud to "follow his fist." He pulls out to show you the damage he's done to his fuck chute then blows his load all over his crotch.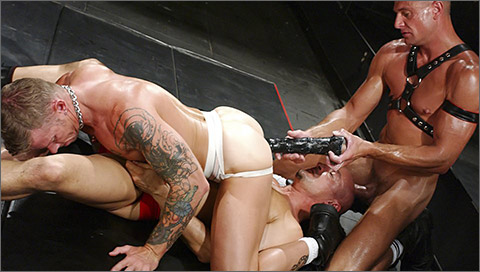 SCENE 4: Kent North, Rik Jammer, Chris Neal fuck, fist and dildo-fuck each other and themselves
Kent North and Rik Jammer battle to get all of Chris Neal's giant tattooed cock in their mouths; the three continue to warm-up with a rim and suck feast, spreading the saliva thick on their cocks and assholes. Later, Neal chokes on North's fat meat as Neal takes a notched 14-inch black dildo up his ass to the base. The toys start to get bigger as North and Neal mount two 20-inchers, cramming every bit of it in their deep holes, assisted by Jammer. North moves onto an enormous orange pylon, stretching his hole out to the size of a small watermelon. Then the three powerbottoms begins to fist the lights out of each other. Jammer's up first in a sling where his hole awaits a tag team excavation by North and Neal. Then Neal's on all fours getting split by Jammer and North's one-two punch, his huge rock hard dick dangling between his legs. The scene ends with North in the sling, his well-worn hole pushed out as the cum starts to fly.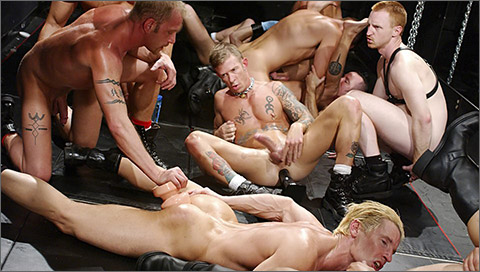 SCENE 5 (BONUS): Entire Cast fucks, fists and dildo fucks: TOPS: Nick Capra, Rod Barry, Jordan West BOTTOMS: Billy Cochran (DP), Tim Rusty, Joey O'Bryan (DP), Nick Savage TOP/BOTTOM: Rik Jammer, Chris Neal
Twisted ends with an unbelievable, powerpacked 10 man orgy in scene 5, the kind of sex party we all dream of being in the middle of. The scene reeks of Crisco, sweat, and manjuice as the studs pile on top of each other and begin their midnight revel. There's plenty of big-dicked bossy tops to take charge of the action, loads of ungodly sized toys to tame the hungry holes, and two cameras that roam the party keeping you in the thick of the action every second of the way. The party revs into high gear as the men descend on Hot House Exclusive Kent North and gangbang his party hole with their fists. North earns a spot in the history books with an unrivaled performance here as the filthiest marathon handballer ever! Get Twisted today!

WATCH IT NOW / MORE INFO AT:
HOT HOUSE CLUB INFERNO DUNGEON
Hot House Club Inferno Dungeon Members can see this film anytime online.
With extensive additional photography from every scene.