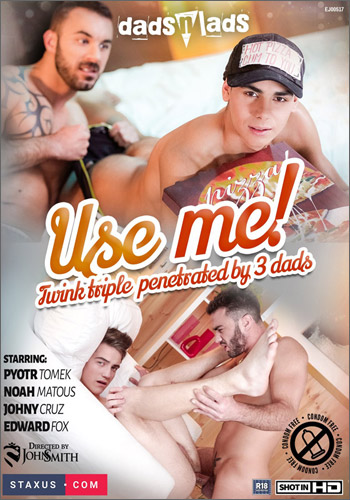 Studio: Staxus / Dads N Lads
Directed by: John Smith
Year of Production / Release: 2015
Country of Production: Czech Republic / Spain

CAST:
Alejandro Alvarez
Johny Cruz
Xavi Duran
Edward Fox
Jonny Kingdom
Noah Matous
Jace Reed
Pyotr Tomek
INFORMATION FROM STAXUS PRODUCTIONS:
Delivering pizzas is a competitive business, and these hot and spicy buddies will do anything to satisfy their horny, big-dicked customers – which is perhaps just as well given that the clientele always want extra sausage on their topping! STAXUS exclusives Noah Matous and Pyotr Tomek join new-boys Xavi Duran, Johny Kingdom and the delicious Alejandro Alvarez for a hardcore round of cock-sucking, ass-pummelling fun; with the insatiable Johny Cruz getting three dicks for the price of one in an unbelievable triple-penetration that will literally have you creaming like never before! Fantastico, as Italians would say …

SCENE 1: PIZZA BOY GETS FUCKED OVER & CREAMED BIG TIME BY COCKY CLIENT!
Jonny Kingdom, Noah Matous
It's a storyline that's as old as porn itself – the pizza delivery boy getting hit on by his horny, over-sexed customer – but what this terrific scene lacks in terms of originality it more than makes up for by the fact that the guy doing the delivering is none other than Noah Matous! No fucking wonder that Jonny Kingdom is so keen to "pay with his cock", having taken exception to the quality of the pizza that's been presented – let's face it, who wouldn't want to fuck the living daylights out of this floppy-haired bundle of sexual joy?
   Not that Matous appears to be in any way put out by Kingdom's advances. In fact, you can almost hear the boy purr with delight from the very moment that his disgruntled client forces him down onto that thick, veiny cock; and within seconds he's slurping and gobbling his way down to the root like a bitch on heat. Not only that, but he also soon develops a particular penchant for Kingdom's balls, which he sucks and pleasures with such gusto that Kingdom is quite literally left gasping and groaning in delight! Yet there's no disguising the fact that Matous is a lad who never truly happy until his legs are akimbo as far as they'll go and his ass is being stretched to the point of buggery – and believe us, he's come to the exactly the right place!
   Indeed, the older fellow shows little if any mercy on the youngster's fuck-hole, bundling him over a sofa and promptly pummelling the poor pup like a jack-hammer in overdrive! No doubt Matous struggled to put his legs together for a week after this shoot; with an arse load of jizz as a souvenir!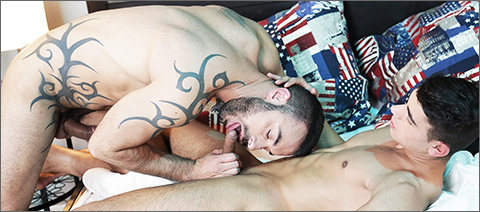 SCENE 2: YOUNG PIZZA BOY GETS A DEEP-PAN STUFFING FROM A HORNY STUD!
Pyotr Tomek, Xavi Duran
Let's be honest here, if young Pyotr Tomek came delivering pizza to the door of your hotel room wouldn't you be tempted to make some kind of pass at the fellow? Especially if – as is the case here – he was wearing a baseball cap with a distinctly provocative maxim daubed all over it. Certainly Xavi Duran doesn't seem to have any reticence in taking full advantage of the situation, but that shouldn't come as any surprise given his unmistakably cocksure approach.
   Indeed, he brushes aside Tomek's initial rebuttal, and has the cute twink down on the bed in no time at all – by which point the horny little pup is already putty in the stud's hands! Why, the boy doesn't stand a chance as Duran strips him of his jeans and promptly engages in a head-on encounter with Tomek's dick; before pushing the lad's ass into the air and rimming his hot little fuck-hole like you won't believe. Needless to say it's all more than enough to get Tomek into the mood for action, and what doubts he may have initially had about being this stud's latest notch on the bedpost are promptly forgotten as he first gives head and then finally allows Duran to finger and fuck his ass!
   What follows is a superb masterclass in man-on-boy action, with Tomek banged for all he's worth doggy-style; before the lad positions himself over Duran's handsome fuck-pole and quite literally lands himself down on every inch that the dude has to offer. Little wonder that the boy is soon squirting for all he's worth; but it's arguably the sight of Tomek's winsome little face getting jizzed that'll prove the highlight!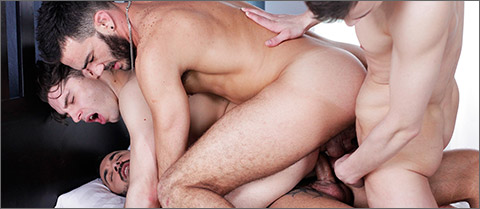 SCENE 3: COCK-MAD JOHNY CRUZ ENJOYS AN UNBELIEVABLE TRIPLE PENETRATION!
Alejandro Alvarez, Jace Reed, Johny Cruz, Xavi Duran
Some scenes are just so fucking wonderfully predictable that they almost don't need any kind of narration, and this truly amazing escapade – featuring Johny Cruz doing what he does best, i.e. being a total and utter man-slut! – is just such an offering! Indeed, if you ever for any reason thought that young Cruz was a fellow who might just have some element of sexual restraint, or indeed a degree of morality about him, then what you're about to see him get up to with Alejandro Alvarez, Xavi Duran and (eventually) Jace Reed will almost certainly leave you in no doubt that that's just not the case at all.
   Cruz is, in every sense, a young fellow whose last vestige of impropriety has been eclipsed by an almost obsessive desire for cock en-masse – and fuck, don't we just love him for it! In fact, he's pretty much on sexual overdrive from the moment that two hunky, tattooed pals (Alvarez and Duran) arrive in the bedroom to give him a good working over, just moments after he's placed a telephone order for pizza. Indeed, you might be even left wondering what aphrodisiac this boy is one as he guzzles on both dicks like his life depends on it.
   But it's what happens after the arrival of delivery boy Jace Reed – and his monster dick! – that really fires this escapade into the stratosphere; with all three fuckers now gagging for a piece of the gigantic shaft, before Cruz succumbs to the inevitable results of his hyper-charged libido and takes the dicks of all his co-stars up his ass simultaneously! It's an almost unbelievable performance; topped off by Cruz taking his buddies' spunk all over his face and in his mouth! In short, abso-fucking-lutely brilliant!!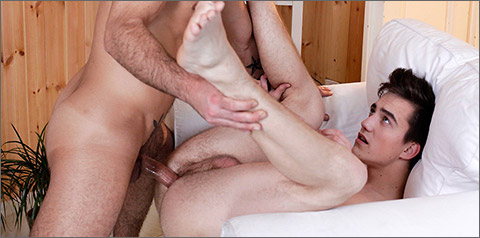 SCENE 4: COCK-HUNGRY PUP GETS HIS HOLES PLUGGED BY SMOKING HOT STUD!
Alejandro Alvarez, Edward Fox
So okay, he's maybe a little older than most of us have come to expect from STAXUS guys, but there's still something wonderfully sexy about Alejandro Alvarez – not least of all when he's brooding manfully with a cigarette, as is the case here in the opening moments of this terrific pairing with Edward Fox. Mind, the young pizza-boy isn't too bad at blowing smoke, it has to be said; although (as very quickly becomes apparent) it's blowing of a very different kind that's soon concentrating the minds of both these over-sexed buggers.
   Indeed, given the manner with which they take it in turns to slurp on cock like it's going out of fashion, it's pretty fucking clear that these lads won't be content until they've had the chance to bang each other senseless; with Fox soon presenting his ass to his buddy with an air of near-desperation, his legs spread akimbo so that the older fellow can tongue his gaping fuck-hole to ecstasy. An invitation that the Spaniard accepts with no hint of restraint; before first fingering and then finally fucking the youngster's pucker to seal the deal.
   By this point, of course, there's every good chance that you'll be so lost in your own little world of tight-fisted pleasure that you'll be edging dangerously towards a premature jerk-off; but hang on in there as Alvarez gives the young pup the fuck of his life, hammering into the lad for all he's fucking worth. It's little wonder that Fox is quite literally soon spurting like a fountain; with the Spanish stud giving an equally ferocious cascade, before burying his spent shaft deep into the lad's jizzed-up little hole!

WATCH IT / DOWNLOAD IT AT:
STAXUS.COM
Members at STAXUS.COM can watch or download the scenes at anytime.
Download extensive High Quality photo sets from each scene.

AVAILABLE FROM: RAD VIDEO
WATCH IT NOW AT: AEBN / SMUTJUNKIES THEATER