Studio: Hot House Entertainment
Directed by: Steven Scarborough
Year of Production / Release: 2007
Country of Production: U.S.A.

CAST:
Rafael Alencar
Kristian Alvarez
Trey Casteel
Alex Collack
Dillon Crow
Rodrigo De Leon
C.J. Knight
Dak Ramsey
Tyler Saint
Dominic Sol
Alexy Tyler
Josh West
INFORMATION FROM HOT HOUSE ENTERTAINMENT:
Posted August 27th, 2007 5:33PM by roma
With the approach of the Folsom Street Fair looming (September 30th to be exact,) director Steven Scarborough and the Hot House Team are working feverishly to ensure that their latest leather epic Verboten (Part 1) is available at the Hot House booth on Folsom Sunday. Part 1 proved to be one of the most exciting shoots in recent memory with two brand new faces making their porn debut with Hot House. Be sure to check back in the coming days for pics from these two hot newbies.
   One of the men being considered for the Verboten cover is Dak Ramsey, fresh off his scorching-hot scene for Hot House with Ty LeBeouf in Trunks 4: White Heat. Dak turned in another explosive performance in Verboten in a double-domination scene with co-top stud Trey Casteel (who also has never looked better – stay tuned for pics of Trey's booming body.) Dak's sexy leather gear is provided courtesy of Mr. S Leather in San Francisco, our style partner in crime during the shooting of Verboten (and many other Hot House hits.)
   Part 2 of Verboten is scheduled to begin production in San Francisco during the week leading up to the Folsom Street Fair and will no doubt capitalize on the explosive sexual energy in the SF air that week. Thanks again to our partners Mr. S Leather and Dungeon Beds for helping trick out the sets on one fucking fantastic fetish fantasy: Verboten!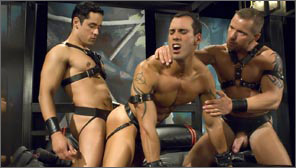 SCENE 1: Rafael Alencar and Alex Collack fuck Alexy Tyler; Rafael Alencar fucks Alex Collack while fucking Alexy Tyler
Chiseled Lifetime Exclusive Alex Collack and horse-hung Rafael Alencar stand stroking their rock hard cocks, watching Alexy Tyler struggle against restraints in the center of a Dungeon Bed. The two top men release Tyler and immediately put him to work on Collack's tool. Tyler sucks cock like his life depends on it while Alencar probes his ass crack with his fat meat. Alencar mercilessly shoves his giant cock in and out of Tyler's hole while Collack silences Tyler's cries by shoving his uncut rod down his throat. Next the harness-wearing Masters throw Tyler down and switch places allowing Alencar to feed Tyler his cock while Collack plows Tyler's ass. The sight of Collack's chiseled ass proves too much for Alencar so he moves behind him and shoves his 11″ cock in his hole. While he's being punished from behind Collack rips open Tyler's leather codpiece and begins sucking his cock. Tyler takes matters into his own hand and blows his load all over Collack's face. Collack gets his revenge by showering Tyler in cum, shortly followed by Alencar who pumps his monster and releases on Tyler's chest and face.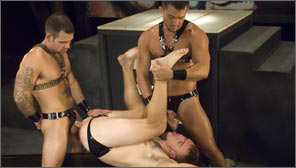 SCENE 2: Dak Ramsey and Trey Casteel abuse and fuck Dillon Crow
New Exclusive tough guy Dilon Crow sits shackled, making him easy prey for rugged sex pigs Dak Ramsey and Trey Casteel. The two studs approach Crow and rough him up by spitting on him and making gag on Ramsey's extra large cock. Casteel and Ramsey pull out a roll of celophane and wrap it around Crow's head, turning him into a cock-sucking slave. The brutal tops turn their attention to Crow's giant bubble-butt, lubing it up with spit and shoving their paws deep in his hole. Ramsey takes charge of Crow's fat pierced cock, expertly taking the whole thing and both his balls into his warm mouth. Casteel grabs Crow and throws him on a bench, taking his ass. While Crow sucks Ramsey's cock Casteel pounds his hole, thrusting his entire cock in and out of Crow like a jackhammer. They spin Crow around so Ramsey can take his turn man-ramming Crow's big hungry ass. The two tops take turns mercilessly fucking Crow's ass and mouth at the same time. Casteel blows a fat juicy load all over Crow's tattooed torso, followed by Ramsey. Crow works his own thick load out, adding his cum to the puddle on his tight stromach.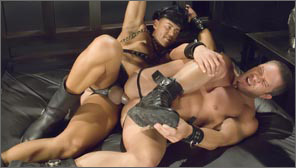 SCENE 3: Kristian Alvarez fucks C.J. Knight
Donkey-dicked Daddy Kristian Alvarez finds Hot House Exclusive C.J. Knight laying face down on a Dungeon Bed. Alvarez releases him from his cuffs and Knight wastes no time working on Alvarez's meat. Knight proves to be a champion deep-throat cocksucker as the sex-club echoes with the sound of Alvarez's giant tool reaching past Knight's gag reflex. With his cock slick with drool, Alvarez jumps on top of Knight and fucks him deep. Muscle-man Alvarez fucks Knight in every position, from the side, and hanging from the top of the tricked out specialty bed until he pulls out and shoots a hot white load. Finally Knight pulls out his own manmeat and jacks off until he blows his own thick load.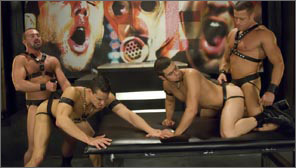 SCENE 4: Josh West and Tyler Saint tag-team fuck Rodrigo De Leon and Dominic Sol
Newcomer Dominic Sol and Latin stud Rodrigo De Leon stretch their oral limits as they take on two of the biggest cocks ever to enter the Verboten Sex Club; Tyler Saint and Josh West. Saint and West free De Leon from a cage and feed him their enormous cocks. De Leon does his best to take both tools – almost two feet of hard cock – into his mouth at once. Tied up nearby, Sol demands some of the cocksucking action. Saint releases him and fills his throat with cock. Meanwhile West has turned De Leon over and buried his 12-incher in his hole. Saint and Sol soon follow their lead, with Sol pushing his ass back farther and farther on Saint's hard cock. The tops take total control, contorting the willing bottoms into their favorite positions, then switch places. It's West's fat rod up Sol's ass that gets him off while Saint brings De Leon to release. The tops pull out of the exhausted bottoms and work their own cocks until they both shoot.

WATCH IT NOW / MORE INFO AT:
HOT HOUSE & HOT HOUSE BACKROOM
Hot House Backroom Members can see this film anytime online.
With extensive additional photography from every scene.