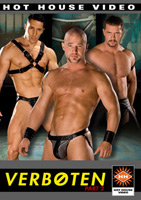 Studio: Hot House Entertainment
Directed by: Steven Scarborough
Year of Production / Release: 2007
Country of Production: U.S.A.

CAST:
Dillon Crow
Enrique Currero
Vinnie D'Angelo
Francesco D'Macho
Matthew Ford
Ty LeBeouf
C.J. Madison
Dominic Sol
Romario Faria [Romario Souza]
Josh West
SCENE 1: C.J. Madison fucks Dillon Crow
Angry power bottom Dillon Crow spits in hung top-man C.J. Madison's face. Madison punishes him by shoving a fat butt-plug deep in his tight hole then unties him and forces him to feed on his 11+ inch cock. Madison tea bags the cock-hungry Crow until his nut sack and ramrod are slick with spit. Crow eagerly flips over so Madison can mount him and pummel his bubble-butt. Crow's ass opens and swallows every inch of Madison's tool. Finally Madison pulls out and jacks off, blowing a fat white load all over Crow's ass and back then eats it. Crow gets his nut, spraying Madison's enormous meat with cum.
SCENE 2: Vinnie D'Angelo fucks Dominic Sol with Matthew Ford assisting
"Heads or tails?" asks Vinnie D'Angelo when he and Matthew Ford find Dominic Sol prone and ready on a bench in the Verboten sex club. Ford calls head and shoves his fat cock into Sol's hungry mouth while D'Angelo goes to work on Sol's fat round ass. Sol deep throats Ford while D'Angelo eats Sol's ass, preparing him for a major anal invasion. The top men flip Sol around, allowing D'Angelo to get his huge tool worked over while Ford power-fucks Sol's ass. D'Angelo moves around to get a better look at the ass-fucking action and shoves his fat fingers into Sol's ass next to Ford's cock. Next D'Angelo pushes Ford out of the way and mounts Sol, shoving his cock deep into his ass. He rides him like a horse then lays on his back, allowing Sol to bounce on his fat rod. D'Angelo sits on Sol's face, jacking off while Sol rim's his ass. All three men work their cocks into a frenzy, finally blowing their loads all over each other's sweaty bodies.
SCENE 3: Romario Faria fucks Francesco D'Macho
Two of the most chiseled muscle-men to ever play at the Verboten sex club come together when Romario Faria finds Francesco D'Macho in a cage begging for cock. Faria pulls off his leather jock to free his mammoth meat and teases D'Macho through the bars. Romario fucks his face then pulls a key from his boot and releases D'Macho so he can fuck his ass. D'Macho's huge Italian sausage grows harder as Faria pounds his hole until Faria pulls out and jacks off, literally covering D'Macho's face in cum. Faria throws the used condom at D'Macho and walks away, leaving D'Macho to sit and work a load out of his own cock then crawl back into the cage, lock it, and wait for more…
SCENE 4: Josh West fucks Ty LeBeouf
Ty LeBeouf can't see who is untying him because of the blindfold, but when Josh West slowly fucks his face with his 10″ x 7″ cock he doesn't really care. Now that his cock is wet and hard, West moves around to fuck LeBeouf. Knowing that LeBeouf wants to see the action, he removes the blindfold and fucks him slow and deep. There's nothing better than a man with a huge cock who knows how to use it – and West is that man. He expertly fucks LeBeouf in every possible position, turning him around and flipping him over without ever taking is fat cock out of LeBeouf's hungry hole. The intense fucking proves to be too much for LeBeouf when West lays down and orders LeBeouf to sit on his cock. LeBeouf blows his load first, allowing top stud West to stand up and stroke his giant cock until he blows.
SCENE 5: Enrique Currero fucks Francesco D'Macho
Cock-pig Francesco D'Macho has fallen asleep in his cage at the end of Scene 3. Little does he know that the cock of his dreams lies waiting in the pants of Enrique Currero. The filthy-mouthed punk Currero orders D'Macho to lick his boots before he allows him to feast on his 11+ inch cock. D'Macho crawls on his knees, begging to be gagged by Currero's tool. Currero pushes his head down the length of his cock until D'Macho chokes, calls him a "fucking pussy" and fucks his face some more. All of this cock-heavy abuse makes D'Macho's tool rock hard and be starts to crave Currero's big cock in his ass. D'Macho gets on all fours and Currero fucks D'Macho like a jackhammer, forcing him to beg for more. D'Macho sits on Currero's cock in a reverse cowboy and jacks off while Currero punishes his hole. D'Macho's fat uncut cock spews a load first, followed by Currero who rubs one out and shoots all over D'Machos' head and face.

NOW SHOWING ON-LINE: HOT HOUSE BACKROOM
GO TO: HOT HOUSE ENTERTAINMENT

MANNET 100 BEST FILMS OF 2007
FILM REVIEW: MANNET