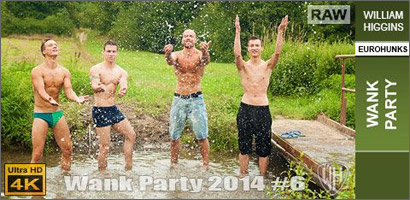 Studio: William Higgins Productions
Directed by: William Higgins & staff
Year of Production / Release: 2014
Country of Production: Czech Republic

CAST:
Marek Borek
Tomas Melus [Dick Casey]
Martin Merlot
Marek Prohodil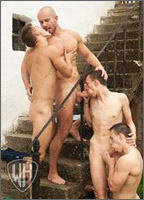 INFORMATION FROM WILLIAM HIGGINS PRODUCTIONS:
In WANK PARTY 2014 #6 we have Tomas Melus, Marek Borek, Martine Merlot and Marek Prohodil. We find them in the river, splashing each other. Then they go back to the house, washing themselves in cold water, outside, before entering. They also wash each other, and then strip off, leaving their trunks and shorts to dry. Marek B wonders what they can do next and Marek P responds by taking his cock in his mouth. The cock gets hard, very quickly, as Marek P sucks it. His own cock is being sucked by Tomas too. Then Marek P sucks Martin as well, taking turn with Marek B's cock. All the guys cocks are rock hard with Tomas stretching his mouth to get as much as Marek P's as it can. Martin leans over and sucks on Marek B, before giving it up for Marek P again. Marek B grabs his head and pushes it further onto his upturned boner. Tomas wraps his hand around Marek P's dick and wanks it before sucking again. Marek P is gorging on two dicks, taking turns on each. Then the guys move, Marek B sitting on the steps so that Martin can suck him some more. Marek P rims Martin's ass hole as Tomas continues working on his dick.Then they daisy chain, mouth to cock, as Martin sucks Marek B, and he is sucked by Tomas, whose dick is worked by Marek P. That gets everyone so hot and horny, ready to fuck. Tomas sits his hot ass down on Martin's throbbing cock, as Marek B pounds his dick deep into Marek P's hole. As he his cock is ridden by Tomas Martin reaches round and wanks him. Then they swap partners and Marek P takes a ride on Martin's massive cock. His own cock is huge too and Martin wanks on it. Meanwhile Marek B has his thick, upturned dick deep in Tomas' tight, but eager, hole. Marek P's ass really works up and down Martin's thick shaft as his cock is wanked, and Tomas shoves his ass back in time with Marek B's thrusting cock. Moving to be side by side our pairs of horny fuckers continue to work those asses. With Martin fucking hard and fast Marek P really wanks himself. His hole is really stretched and his cock throbs and he speeds up his wanking until he shoots his hot juice. Martin pulls out, ready to cum and Marek P takes the cock in his mouth catching a big load of cum, which oozes out as he sucks. Marek B is ready to cum too and shoots his massive, creamy load all over Tomas' chest. Then Tomas sucks on the spent cock to make sure he got it all. Marek P isn't finished, he wants more cum and after Tomas shoots his load he drops down and sucks the last drops from the throbbing cock. What a fantastic Wank Party from four very horny guys.

WATCH / DOWNLOAD THE SCENES AND IMAGES AT:
WILLIAM HIGGINS PRODUCTIONS
Members can download the High Definition and other versions of this film. Extensive Photosets are always offered to members as well.