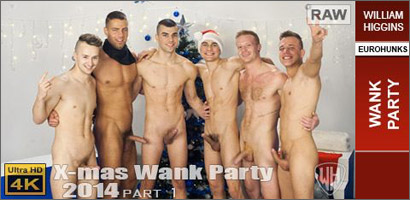 Studio: William Higgins Productions
Directed by: William Higgins & staff
Year of Production / Release: 2014
Country of Production: Czech Republic

CAST:
Hugo Antonin
Arny Donan
Tomas Hozman
Tom Vojak
Petr Zuska
Romi Zuska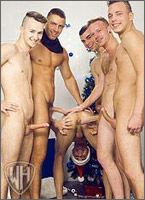 INFORMATION FROM WILLIAM HIGGINS PRODUCTIONS:
For our CHRISTMAS 2014 WANK PARTY we have a stellar cast, Hugo Antonin,Tomas Hozman,Tom Vojak,Arny Donan,Petr Zuska and Romi Zuska. In this first part we find the guy as they begin their celebrations with some wine, enjoying a chat as they do so. They sing and laugh a little before deciding to play some games. Spin the bottle seems to be the popular choice. Sitting in a circle the bottle is given its first spin, which results in Tomas having to remove his shirt. He is followed by Hugo, then Petr. Tom is next. When he spins the bottle it rests again, pointing at Tomas who has to remove his pants. Then Arny has to take off his shirt, and his spin results in Tom getting completely naked.Last off with his shirt is Romi. He spins the bottle and has Arny remove his pants. Then Arny has his revenge, with Romi taking off his. Only Petr and Hugo remain. It is Hugo who is next to get naked and lastly Petr does the same. The spinning resumes and settles on Tom and then Peter. So Tom has to give a little suck on Petr's cock. Romi is the next to be chosen by the bottle, and he has to suck Hugo. Then Arny decides to change the game. The bottle spinning will decide who will be active and who will be passive. Arny spins and is quickly chosen as one passive guy, then it seems that Hugo and Tomas are also chosen. But before they move onto that the guys decide on some hardcore sucking. Petr, Arny and Tom sit down, with Romi, Tomas and Hugo between their legs, to suck some cock. Those mouths quickly get to work on the cocks as Peter and Arny kiss each other. Then Arny turns and kisses Tom as well. The cocks quickly get very hard indeed , with Romi sucking Petr, Tomas working on Arny's meat and Hugo giving some hot mouth to Tom's massive dick. Then Tomas and Romi change places so they get to taste a differentn cock. Tomas really works Petr's throbbing cock well. He sucks and licks at it as Romi's head bobs up and down on Arny's. Hugo has Tom's big cock rampant and his mouth is wrapped tightly around it as he sucks. Then he swaps places with Tomas, and sucks on Petr for a while. Tomas gets to work on Tom's cock too as Romi is still with Arny. Hugo wanks his own stiff cock as he looks up into Petr's eyes and starts sucking him again. All change has Tom sucking Arny, with Hugo leaning over to suck Tom. Romi is busy on Hugo's cock too and his own is being sucked by Petr. Tomas stands behind them encouraging the all. Then as Petr, Tomas, Arny, Tom and Hugo stand in a sort of circle Romi lays in a revolving chair and is able to take turns on each cock. Romi has a great time as each guy's cock goes into his mouth. Moving again we find Hugo on the chair, with his ass exposed so that Tom can rim his tight hole. Tomas is laying down too and Romi has a great time tonguing his ass. Meanwhile Petr is wanked by Tomas and Arny is able to slide his cock into Hugo's mouth for more sucking. Those holes will soon be ready for some hot cock, as we will see in part two.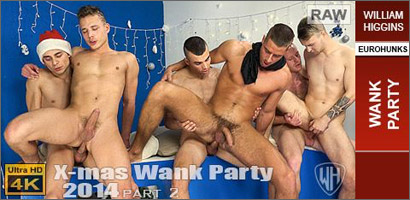 In part two of our CHRISTMAS WANK PARTY we rejoin Hugo Antonin,Tomas Hozman,Tom Vojak,Arny Donan,Petr Zuska and Romi Zuska as Tomas is sucking on Romi and getting his ass fucked deep by Petr. Tom, meanwhile is slipping it to Hugo who also feasts on Arny's cock. Tom's big, thick cock really stretches Hugo's tight ass, going in right up to the balls. Petr is giving a good hard fuck to Tomas as well, and he keeps it up until they all move, with Arny getting some cock in his ass too. He takes a ride on Petr's cock as Hugo slides up and down on Romi's throbbing cock. Tomas isn't left out as he gets to feel Tom's massive dick deep in his hole. Then it is all change again, with Tom pounding away at Hugo again, as Romi takes a turn in Arny's eager hole. Petr fucks Tomas deep as well. Then Tomas positions himself on the chair so that Romi can fuck him again, until Petr takes over. He really works that hot ass deep and hard. Tomas really can take a good hard fuck and after Petr has tired a little Tom takes over. His huge pole really works that ass good. Next it is Hugo who takes a turn, replacing Tom. He shows that he can fuck real good as well as take it. Arny then gets onto the chair and his hole is fucked deep by Petr who unloads his hot cream inside that ass. Arny pushes the cum out and then lays back as the others crowd around to cum on him. Hugo is first to release a hot load, milking his cock dry. Then Tom's big dick blows a big creamy load too. Romi is next, his cock throbbingly hard as he drops his cum. What a great time they all had in a very good Wank Party.

WATCH / DOWNLOAD THE SCENES AND IMAGES AT:
WILLIAM HIGGINS PRODUCTIONS
Members can download the High Definition and other versions of this film. Extensive Photosets are always offered to members as well.