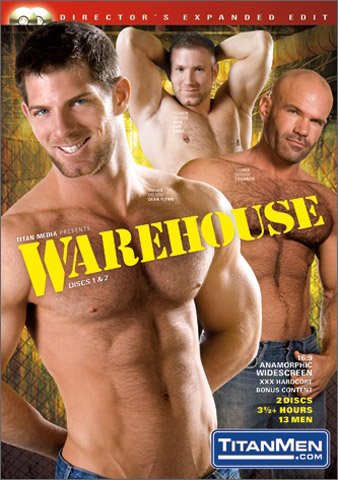 Studio: Titan Media
Directed by: Brian Mills
Year of Production / Release: 2008
Country of Production: USA

CAST:
Victor Banda
Tommy Blade
Damien Crosse
Eduardo
Darius Falke
Dean Flynn
Dirk Jager
Chad Manning
Dak Ramsey
Dominic Sol
Rick Van Sant
Ago Viara
FROM TITAN MEDIA WEB SITE:
Celebrated director Brian Mills brings together 13 of the hottest men around to the Warehouse for almost three hours of sweaty and raunchy, non-stop man-onman action by the likes of TitanMen exclusives Victor Banda, Damien Crosse, Dean Flynn, Rick van Sant, Eduardo, Dirk Jager, Darius Falke, Chad Manning and more.
   Dak Ramsey finds Damien Crosse jerking off in a dark corner and pissing all over himself and quickly drops to his knees to deep-throat his massive cock. When they find Ago Viara watching them from the corner, they tie him to a scaffolding and piss all over him before fucking him senseless.
   The second scene pairs Eduardo with Chad Manning, and the results are explosive. The two massive studs suck and fuck and end up flip-flopping for each other, showing their awesome sexual versatility.
   Next we find Darius Falke going at it in a dark alley with Tommy Blade. After devouring each other's massive cocks until they both shoot their loads, they're joined by newcomer Matt Baxter, who yields his hungry ass to the two studs. Later that night, the evening security guard (Dirk Jager) spots Victor Banda trying to break in and quickly goes after him with his fat, uncut cock. He teaches him a lesson he won't soon forget…
   In another part of the warehouse, Dean Flynn and Rick van Sant are going at it while being watched by Dominic Sol, who joins in by burying his face into Rick's ass. While Dean fucks Dominic, Rick fists himself, before Dean and Dominic plunge their own fists deep into Rick.
(NOTE: Fisting and watersports only in director's expanded edit, available at titanmen.com).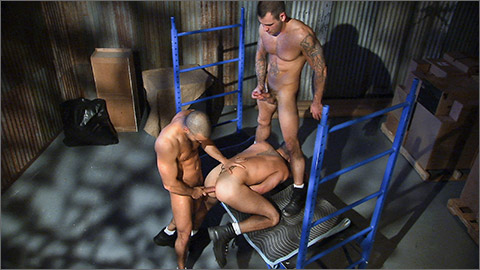 SCENE 1: Damien Crosse with Dak Ramsey fuck Ago Viara
Somewhere in a dark corner of an imposing industrial warehouse, TitanMen exclusive Damien Crosse finds himself alone, whips out his fat cock and starts drenching himself with a hefty stream of his own piss. The muscled pig is extracareful to get piss into his own mouth. When his body is wet and glistening, Dak Ramsey finds him and quickly drops to his knees to deep-throat Damien's uncut cock. The massiveness of Damien's cock literally has Dak gagging and spit dripping down his face. When Damien returns the favor, the two take turns spitting back and forth onto each other's faces and chests. The intense scene leads both guys to cum.
   But they're not alone … from behind some boxes Ago Viara jerks off to what he's watching. When Dak and Damien hear him moan in ecstasy as he cums, they tie him up to a scaffolding and piss all over him until he's completely drenched. They untie him and rim him, and Damien fucks him brutally before Damien and Dak take turns on his ass. Soon, all three cum a second time.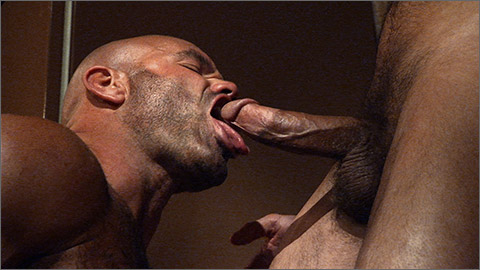 SCENE 2: Chad Manning probes and fucks Eduardo
The second scene pairs long-time TitanMen exclusive Eduardo with the newest TitanMen exclusive on the block, Chad Manning, in a scene that spotlights the two studs' impressive sexual versatility. Chad goes to get a cold one from the fridge when he finds Eduardo in the shadows smoking a fat cigar. The intense sexual magnetism between the two draws them together immediately as they begin exploring their bodies and cocks with their mouths. As Chad drops to his knees before Eduardo, Eduardo's uncut cock unleashes a stream of piss onto Chad, which he eagerly laps up as he sucks on Eduardo's fat dick. Eduardo goes down on Chad's long cock, and before long, the two studs have each blown a load onto each other's hairy, well-muscled bodies.
   Then it's more watersports, with Chad pissing on himself as Eduardo drenches him with his own golden stream. Eduardo then probes deep into Chad's quivering asshole with his tongue and fingers before plunging his rock-hard cock ballsdeep into Chad's ass. After fucking him for a good long time, Eduardo assumes the position and lets Chad ream him in return. Chad fucks the cum out of Eduardo before he pulls out and spews his own load of spunk all over Eduardo's furry chest and stomach.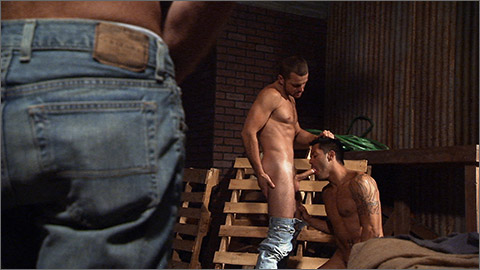 SCENE 3: Darius Falke fucks Tommy Blade fucking Matt Baxter
TitanMen exclusive Darius Falke pulls up in a dark alley and runs into Tommy Blade, and the two immediately start deep kissing each other and ripping their clothes off. As the two begin devouring each other's cocks, they're being watched by newcomer Matt Baxter, who strips off his clothes and jerks himself off while observing from a dark corner. They know they're being watched so they give him a little show, slapping and spitting on each other while Darius rims and fingers Tommy's tight muscle butt.
   After they've both shot their loads, they're joined by Matt, who's already totally naked except for a pair of leather boots. In no time flat, Matt's on his back with his legs in the air with Tommy's face buried deep in his hairy hole. After some deep rimming and fingering, Tommy power-fucks Matt while Darius pins his legs back. Darius thrusts into Matt's ass deep and hard before giving Matt's ass back to Tommy. While Tommy's pounding Matt, Darius comes up behind him and plunges his cock deep up into Tommy's butt, creating a three-man fuck chain. Tommy gets on his back and Darius fucks him until he shoots; Matt and Darius quickly follow suit.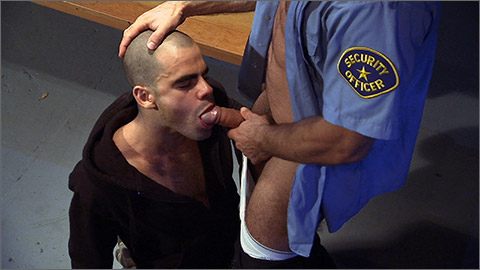 SCENE 4: Dirk Jager fucks Victor Banda
TitanMen exclusive Dirk Jager is the security guard working the night shift. He's doing his nightly rounds; all's quiet in the warehouse, so he figures he'll take a well-deserved break. He unzips his pants and pulls out his hard, long uncut cock and begins stroking it. He unbuttons his shirt to pinch his nipples, revealing his rock-hard abs and tight, defined chest. He hears a noise and spots TitanMen exclusive Victor Banda hiding behind some boxes. Dirk aggressively stuffs his cock down Victor's throat until his balls are pinned against his chin; after more face-fucking, Dirk takes Victor's thick, uncut cock down his hungry throat for an equally intense and spit-lubed blowjob, bringing Victor to orgasm in no time flat. Dirk plants his own thick load onto Victor's foot.
   They've just gotten warmed up, of course; Dirk stands Victor up against a shelf and gets his round, hairy ass ready with his probing tongue. He's soon delivering a pounding ass-fuck to Victor from behind, the sound of their slapping bodies echoing throughout the warehouse. Dirk throws Victor onto his stomach and continues to pile-drive his ass from behind, flipping him over onto his back before they booth shoot another set of huge loads.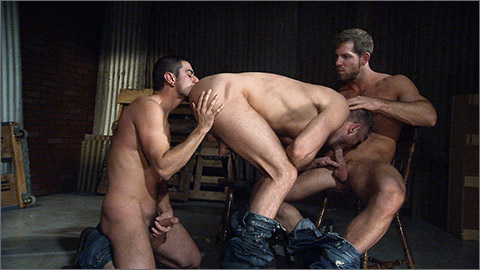 SCENE 5: Dean Flynn and Dominic Sol fuck & fist Rick van Sant
In another dark corner of the warehouse, TitanMen exclusives Dean Flynn and Rick van Sant are busy going at it, kissing and tasting each other's bodies while being watched by Dominic Sol, who's stroking his hard cock from behind a crate. It doesn't take long for Dominic to join in, burying his face into Rick's hungry ass while Rick's swallowing Dean's cock. The three exchange deep, gag-inducing blowjobs, with a special emphasis on the tonguing of Rick's hole. The three all shoot big loads of jizz, with Dominic's being particularly impressive.
   They move on to fucking, with Dean fingering and tongue-fucking Dominic's gorgeous bubble-butt while Rick face-fucks him. While Dean plows Dominic, Rick fists himself; Dean and Dominic then plunge their own fists deep into Rick, never taking a break from fucking each other all the while. With Dominic's fist and forearm buried deep in his ass, Rick shoots his second load. Dominic and Dean shoot again – and then Rick manages to shoot an amazing third time before they're all done!

MORE INFO, PREVIEW OR WATCH RIGHT NOW:
TITAN MEDIA
Scenes Premier online prior to DVD release and are available to view anytime in the Member's Area.
Members can watch scenes from almost all Titan Media releases anytime online.

VIDEO ON-DEMAND: TITAN MEN @ AEBN SMUTJUNKIES THEATER
DVDs & ON-DEMAND: TITAN MEN @ TLA VIDEO